I, Photographer: Museum Shooter
Robert Hasimoto documents the art institute of Chicago.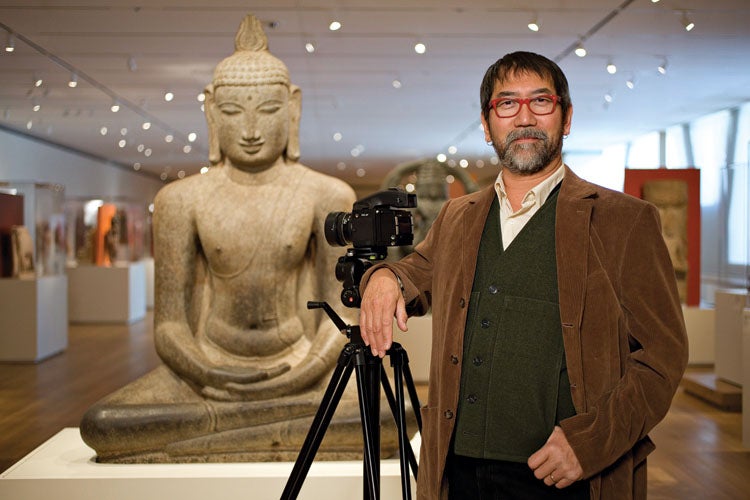 What does your job entail?
Photographing paintings and three-dimensional objects in the museum's collection. In the studio, we have an easel set up for paintings of every type and size, and other two-dimensional work. The three-dimensional objects range from tiny, ancient artifacts to large sculptures and pieces of furniture.
You've shot everything there?
Yes. Every major piece needs to be photographed, not just for archival purposes, but for publications.
What's the process?
We get requests for some pieces, and we have ongoing exhibitions and publication schedules, which are done as projects—I'm working on Russian posters now. It's unusual for me to spend more than 15 minutes setting up an object, but I spend a lot of time in Photoshop. I'll clean up the background, adjust the perspective.
So it's like a commercial studio?
In many ways, but we have to be much more sensitive to the objects—we aren't looking to enhance them. With a painting, it has to be a very accurate reproduction of the colors and textures.
What gear do you use?
For the painting easel I use bare bulbs—reflectors throw a pattern that varies in color and in level along the edges. And bare bulbs bring out the the texture. If there are problems with spectral highlights, I can deal with it in Photoshop. For three-dimensional objects, I mainly use reflectors behind big diffusers, but also softboxes. I use a Phase One body primarily for three-dimensional objects; we also have a Sinar p3 view camera for paintings or for perspective control. And we have Canon DSLRs for smaller-format work, but more for publicity and portraiture.
How many of you work there?
There is another studio photographer who does all works on paper—photographs, prints, and drawings—and two others who do publicity, events, and portraiture.
What are the challenges?
These come from objects that are difficult to photograph because of their material or their subtlety of technique. Sometimes the challenges are more in reproducing the exact colors in a painting—blues are difficult to reproduce digitally.
How did you start out?
I worked in camera stores and photo labs around Chicago while I was growing up, and met a food photographer who hired me as his assistant—I learned studio lighting from him. After a few years, I decided to focus on fine-art photography and went back to school at the Art Institute, which then turned into a part-time job, then a full-time job, and now a lifetime career. I've been here for 26 years.
What's your favorite piece?
I don't think I could pick one. I'm one of probably less than 10 percent of the staff who can actually handle objects in the museum, and I've handled every type of piece we have, so I've learned to appreciate art objects of every kind. One of the best things about working here is being so close to such a major art collection—it's the second largest in the country, and we have the finest examples of every type of artwork imaginable. Almost daily, something will come into the studio that's amazing.