I, Photographer: Greeting Card Artist
Toby Shingleton's images give a pictorial voice to people's feelings.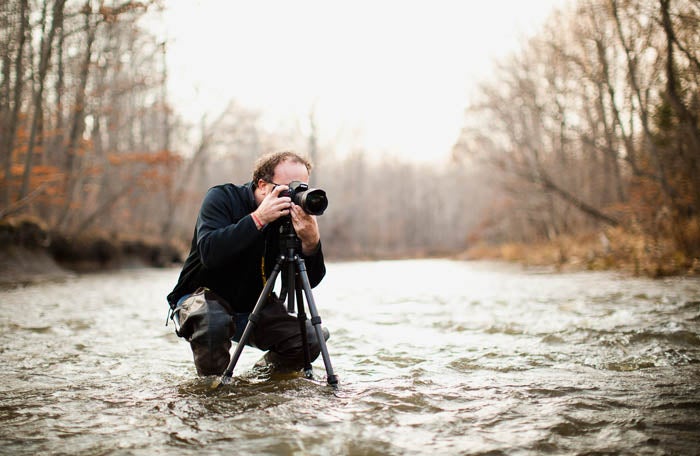 What's at the core of your work?
We are not selling a product, we're selling an emotion, so we have to capture emotion in a way that anyone can identify with. It's not as easy as it sounds. We can't always show faces because someone may not want to buy a greeting card with someone else's mug on it. We're always thinking about how we can communicate in a clever way and reinvent the standard, clichéd, greeting-card look.
What's your biggest challenge?
One is to make the emotions and situations look authentic and spontaneous, like we're capturing a moment. We also have to be creative with locations and props—making a Lake Erie beach look like Miami, or a local farm look like it's in Texas. The job involves a lot of problem-solving.
How has your work evolved?
We photograph a wide variety of things, but our core subjects have always been animals, babies, children, romantic couples, family situations, florals, and landscapes. But we've changed the way we photograph. We used to be very straight—now we're more relaxed. There's more of a lifestyle feel.
Who's the "we" here?
Our studio consists of a manager, five photographers, two stylists, a digital artist/retoucher, a librarian, and an administrative assistant. We often collaborate with other creative areas of the company.
How does that work?
The planning department designs the card, pulls examples of the types of photo looks, and makes a drawing to show us a general idea of what they'd like to see—basically a mock-up of the card. But now we're trying to take more of a leadership role, doing what's called open or bank shooting: We'll pick a specific subject and take six weeks to create scenarios around it. We'll produce shoots and come out with a bank of images that the planners will pull from and design the card around the image.
What's a typical day?
No day is the same. One day I could be shooting a dog in the studio, and the next day kids jumping into a lake. We work on deadline—usually about two weeks if we're working from a designed card. Any given day, we may be working with stylists to pick models, wardrobe, or location; executing a shoot; or retouching an image.
What do you shoot with?
Mostly a Nikon D700 and 50mm f/1.4D or 85mm f/1.4D lens wide open to get the very short depth of field. We use a lot of natural light, or only one light bounced off a wall, or a fill light. Often I just take a reflector on shoots. When I'm in-studio I'll either shoot the D700, tethered to an Apple iMac running Capture One Pro, or a Hasselblad H2 with a Phase One P21 back, also tethered. We use Adobe Photoshop daily for almost all of the images, from making minor tweaks on lighting or textures to creating impossible scenarios that are more photo-illustration.
What's best about your job?
I love being able to be constantly creative—I can explore different looks and ways of shooting. It's a constant learning process, and I am surrounded by other great artists: illustrators and painters. There's incredible resources and sharing of ideas and talents.