How To: Shoot an Unconventional Executive Portrait
Learn the tricks of the trade from a portrait master.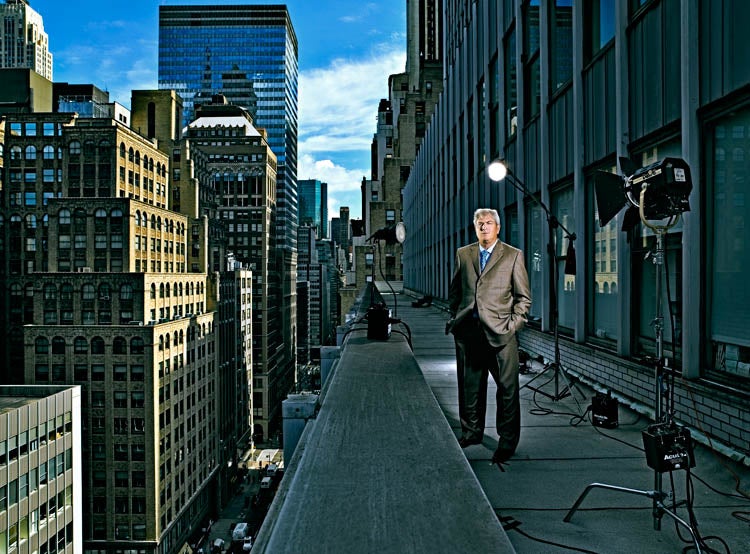 Creating a strong portrait of an executive is a daunting task. Business magazine photographers often have only a few minutes with their subjects, so most shots are scouted and planned in advance. And when a portrait needs to convey authority and power, funky poses won't do.
Yet despite these limitations, magazine photographer Brad Trent finds a little spontaneity and adds a dash of drama by pulling back the curtain, and the camera, to reveal the wizardry of his set, including his lighting tools.
The New York-based freelancer has long done portraits that way, like this environmental shot of Howard Sontag of Sontag Advisory LLC, for Barron's. See his best in a series called "Artificial Portraits" at www.bradtrent.com.
When he first saw Sontag's office Trent feared he might have to resort to a seamless backdrop. Then he stepped through a door and discovered this balcony on a canyon of skyscrapers, filled with leading lines—a perfect set.
Originally, Trent didn't plan to show his Desisti and Profoto Acute strobe lights. He shot a standard business portrait using a telephoto lens on his Hasselblad H1 with Leaf Aptus 75 digital back tethered to a laptop. But the result, with the focus squarely on his subject, merely suggesting the buildings, was too "one-note," he decided.
So he switched to a wide-angle and 35mm f/3.5 HC Hasselblad lens, stepped back, and straddled the edge of the setback, taking in the view of the city. A dozen frames later and he was done.
Trent also heightens the sense of artificiality in his portraits by using dramatically increased contrast and, often, desaturated colors: "Photoshop allows me to create these pictures the way I see them in my head," he says.
Despite his planning, serendipity with the composition helped produce something visually dramatic and unexpected. "You have to crank up the creative juices to make your pictures look special," he says, "something completely theatrical and far from reality."