How To: Plan the Perfect Trek to Patagonia
Welcome to a land of awe-inspiring mountains, jaw-dropping glaciers, and stunning wilderness.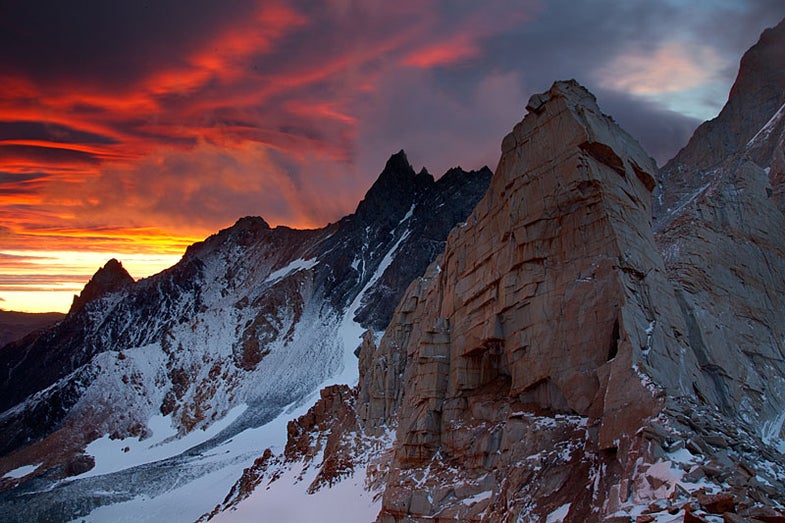 Patgonia spans a vast area, comprising most of the southern portions of Argentina and Chile. So rather than giving you a broad overview, I'm focusing on one of its best photo destinations, Los Glaciares National Park in Argentina—the famous Monte Fitz Roy area. Here you can photograph mighty granite spires capped with hanging glaciers, lakes as blue as the sky, and one of the greatest wilderness areas on the planet.
Los Glaciares is not for the faint-hearted. Although there are plenty of opportunities for roadside shooting, many of the most beautiful photo destinations require hiking—and even backcountry trekking—to reach.
Your base for Los Glaciares exploration will be El Chaltén, the self-proclaimed trekking capital of Patagonia. Surrounded on all sides by the national park, you can walk along just about any street in town, and keep going until it turns into a trail heading into the mountains. Chaltén has recently become a hot spot for trekkers and travelers the world over, and it is quickly transforming from a dusty border outpost to a comfortable tourist destination.
When you arrive in Chaltén, a trip to the National Park Visitor Center is essential. There, you can purchase maps and guidebooks to the area, and learn other useful information.
Photogenic Places:
Relatively short hikes from the visitor center in Chaltén lead to Mirador de los Cóndores and Mirador de las Águilas, two steep hills with panoramic views of the Andes Mountains. By car (or just over two miles on foot), you can easily reach Chorrillo del Salto, a scenic waterfall that plunges 70 feet over a rocky cliff. For one of the best views in Patagonia, hike up to Laguna Capri by headlamp for sunrise (plan on at least 90 minutes of hiking time) and thrill to the sight of first light on Fitz Roy.
Some of the best photo ops are deeper in the backcountry. Consider staying overnight at Laguna Torre, with great views of 10,262-foot-high Cerro Torre. A glacier empties into the far side of the lake, spilling icebergs into the frigid waters. Another can't-miss overnight option is a trek to Camp Poincenot. From there, you can hike to Laguna Sucia for sunset, at the bottom of a steep and beautiful glacier-carved valley. For sunrise, join dozens of other hikers to make the relentlessly steep climb in the dark to Laguna de Los Tres in order to photograph one of the most stunning alpine lakes in the world. Just hold onto your jaw to keep it from hitting the ground when you see the lake's sapphire blue waters reflecting mighty Fitz Roy bathed in dawn light.
Consider hiring transportation in town to take you to some of the more remote destinations. Lago del Desierto, a little less than 25 miles outside of Chaltén and reached by a dirt road, offers great views of Fitz Roy and the Andes. A trail follows the entire east side of the lake, so go as far or as little as you please. Halfway between Lago del Desierto and Chaltén is Laguna Azul, a brilliant blue lake reached by a short hike.
For a different view of Los Glaciares, Patagonia Aventura leads boat trips daily onto Lago Viedma (just south of town), including a close encounter with the massive Viedma Glacier. Consider the optional "ice trek" package, which includes a three-hour hike over the glacier using crampons. Along the way, you'll get a chance to photograph crevasses and ice caves. Compressed glacial ice is deep blue in color, and looks most brilliant on a bright, sunny day.
Although Los Glaciares has a great, easy-to-follow trail system, you might consider hiring a local guide and outfitter, especially ifyou want to get into some of the gnarlier backcountry locations. I've used, and highly recommend, Mountaineering Patagonia (www.mountaineeringpatagonia.com), located in Chaltén. There are a number of other guides and outfitters available.
How to Shoot:
The mountains face east, so sunrise will be your best chance for getting light on the peaks. Don't rule out sunset, however, especially when high clouds appear: When the sun sets behind the mountains, you can often get great light in the sky and clouds above.
Even on crystal-clear days, you'll often have some attractive clouds clinging to the high Andes. This weather can lend moodiness to images, even at times other than the magic hours of sunrise, sunset, and twilight. Consider converting images taken at less colorful times of day to black-and-white.
Because you're far from any major cities, on clear, moonless nights you'll be treated with a magnificent view of the stars. Set your tripod-mounted camera to Bulb, open your aperture to f/4 or f/5.6, and use a remote electronic shutter release with a locking mechanism to trigger long exposures of 15 minutes or more. That way you can record star trails as the Earth spins on its axis. Just make sure your battery is fully charged.
You'll definitely want a wide-angle zoom (such as a 16–35mm for a full-frame camera, or a 12–24mm for an APS-C model) when photographing Los Glaciares. The park's many scenic lakes and glacier-fed streams make attractive foreground elements for wide scenic views. A moderate telezoom (such as a 70–200mm) will come in handy for homing in on distant peaks.
Filters? A polarizer will be useful to cut down glare when photographing streams and waterfalls, and to darken blue skies (but beware of uneven polarization in the sky when using a wide-angle lens). Split neutral-density filters will help when balancing the exposure of the sky with that of the land at sunrise and sunset.
And consider using overall neutral-density filters to lengthen exposure times to blur the movement of fast-moving clouds over the mountains for an impressionistic look.
Pack light when hiking in the mountains. Although most of the trails aren't unduly strenuous, you'll appreciate lighter equipment when roaming the backcountry. A sturdy carbon-fiber tripod and a good photo backpack will make your experience much more enjoyable.
When to Go:
Our winter is Argentina's summer. Spring arrives in Patagonia in November. From January through March, high summer temperatures are very comfortably in the 70s F. Early April is the time for peak fall color and the approach of winter.
Be aware that the Andes make their own weather. Although summer temperatures are often comfortable, cold weather can strike at any moment—I've experienced 75-degree weather one day and snow the next. Be prepared and bring some winter clothing along, just in case. A down parka packs light and will keep you toasty warm if you need it. Wet weather is not uncommon, so bring some rain gear, including protection for your equipment, as well.
Finally, Patagonia is infamous for its winds, which can make even warm days seem like cold ones. A windproof layer will definitely come in handy.
Travel Tips:
International flights arrive in Buenos Aires at Ministro Pistarini Airport (airport code EZE), also called Ezeiza Airport. To get to the town of El Chaltén, you need to transfer by cab or bus from Ezeiza to Jorge Newbery Airport (AEP) to catch a flight to El Calafate (FTE). From Calafate, there is regular bus service to Chaltén, or you can rent a car. The drive from Calafate to Chaltén is about three hours over a newly paved highway.
U.S. citizens need only a passport when traveling to Argentina, although you will have to pay a visa fee ($140) when arriving at Ezeiza airport, plus an exit fee of $28 when you leave. Most businesses in Argentina take either Argentine pesos or U.S. dollars, and many take credit cards.
Lodging is typically inexpensive, but nonetheless clean and comfortable. Make sure you have an appropriate international calling plan to use your cell phone—when you can. Although Chaltén doesn't currently have cellular service, you'll find many phone/internet shops in town where you can make calls and log onto the web for a relatively low price.
You won't find a camera store in Chaltén, so bring backup gear. Argentina uses 220–240-volt electrical outlets, which require an adapter for North American plugs (U.S. outlets are 110–120 volts). Most laptops and camera-battery chargers are compatible with 220 volts and won't need a voltage converter, but check to be sure before plugging anything in!
Professional nature photographer Ian Plant lives in Virginia. He leads several workshops a year, including one in Patagonia this March. For more images, workshops, and instructional e-books, visit ianplant.com__.