I, Photographer: Disney Park Shooter
David Roark photographs the happiest place on earth.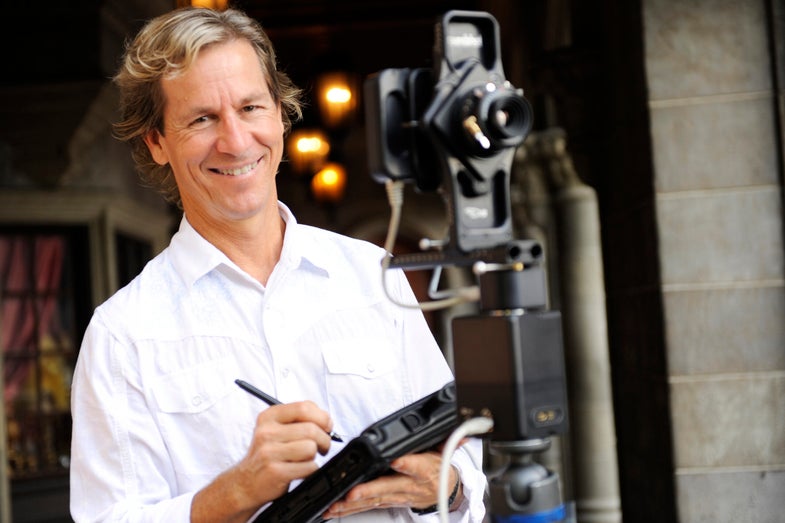 What's your typical day?
It's tough to say. Tomorrow I'm photographing hippos in Animal Kingdom, because we have a new Experience there. Normally I'd be doing a studio job—we try not to have our photo shoots overlap when guests are in the park.
What's best about the job?
The diversity. Disney is a huge company, with theme parks, resorts, a travel business, TV networks, retail stores. I could be going to Germany to shoot for a cruise ship or to the new resort in Hawaii.
How did you start there?
I studied photography at the Southeast Center for Photographic Studies [now at Daytona State College] and then worked at a small commercial photo studio. I got hired at Disney in 1982.
How big is your team?
There are four other staff photographers. Three trained as photojournalists, and two of us are advertising- and studio-trained. Our work ranges from architectural to food photography. You have to be good with people, studio lighting, location lighting. And we have to adapt to a lot of different art directors.
Who are your clients?
We work for Yellow Shoes, Disney's in-house ad agency, as well as outside ad agencies. Our work is about 60 percent advertising and about 40 percent public relations and social media.
Is all your work on assignment?
We also self-assign projects. I'll bring a white seamless into the park and take portraits of guests, out of their element; some of these were used for editorial in Redbook. Runner's World has used my portraits of Disney half-marathon finishers. And we'll put photos like this on Disney's blog.
What gear do you use?
All of our 35mm-format gear is Nikon—we use the D3 a lot—and we have a Mamiya 645 with a Phase One P45+ digital medium-format system. For lenses, everything from 14–24mm to 24–70mm to 80–200mm to 300mm to specialty lenses. We'll use tilt-shift for photos to make stop-motion videos. For ultra-high-res panoramics, we use a Seitz D3 Digital Roundshot.
What is your biggest challenge?
Creating a portfolio for a resort long before it opens—I was first hired to make Epcot look finished six months before it was. To do this, we shoot the grounds, model rooms, and Experiences elsewhere that will be offered there. For an attaction like a new roller coaster, we build a miniature and shoot that. This is one of our specialties and it has a big impact on advanced bookings. Our resort in Hawaii opens in August 2011, but on the website it would be hard to tell it's not already open.
Along with his still work for Disney, David Roark is also know for his breathtaking tilt-shift and time-lapse videos. Below are four of his favorites:
A Model Day at Disney Parks
Aulani Resort Opening
A Day at Epcot
Vacation on Disney Cruise Line.