How To: Plan the Perfect Photo-Tour to Costa Rica
The ideal exotic offshore destination for nature photographers.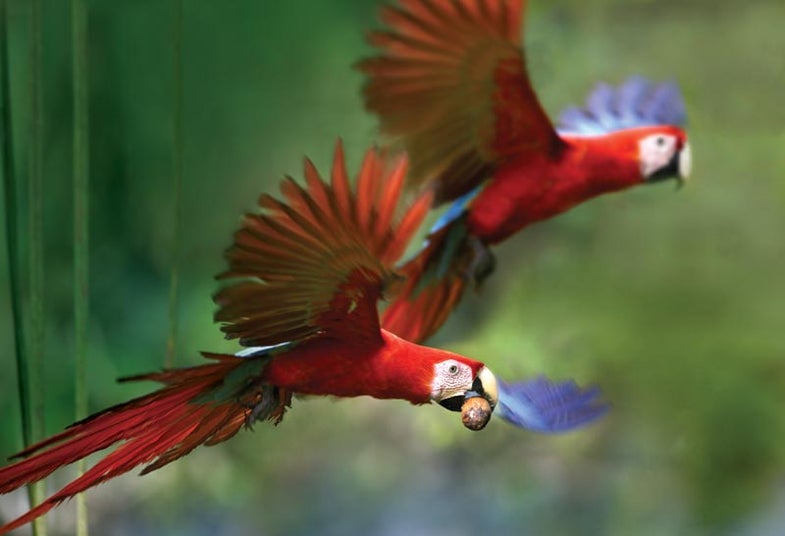 It offers no-jetlag access, lots of drive-yourself or guided shooting junkets, eco-lodges galore, mild weather year-round, and a nonstop variety of subjects in great light. The country's mountainous terrain makes for a plethora of photo opportunities—cloud forest, steamy coastal jungle, pine forest, and semi-desert scrub land, to mention a few.
Follow the Big Four:
Organize your tour to capture birds, beaches, wildlife, and volcanoes by leapfrogging from one nature lodge to the next. Follow this strategy over a selected itinerary, and you'll return with memory cards stuffed full of rewarding photographs.
The best lodges have websites describing their photo attractions, including species lists, weather, and even blogs of recent wildlife activity. Make it easy for yourself by signing up with one of the many guided nature, birding, or hummingbird photo tours, some conducted by U.S. operators.
If you want flexibility to react to weather conditions and subject dynamics, a you-drive safari is best. Study the itineraries of tour companies and modify yours to suit. Driving Costa Rica is not difficult if you plan well and travel during daylight. Buy a decent map, learn a few words of Spanish, and you won't get too lost.
Paradise Beaches:
Oceanside shooting requires sunshine—strong, directional light that can tint the landscape in fiery hues at sunrise and sunset, or carve out the shapes of beach boulders and impart cyan tints to open sea at mid-day.
Many of the prettiest beaches are in Guanacaste and northern Puntarenas along the dry Pacific coast, where open skies are the norm. Look for shorelines with boulders, rocky headlands, overhanging palms, lagoons, river mouths, sand bars, tide pools, and breaking surf. Nesting sea turtles provide an added attraction in their peak seasons.
BEACH TIP: Scout for compositions at midday. Look for strong foregrounds with a view to the rising or setting sun (carry a compass). That way you'll be ready for the magic light of sunset/sunrise—in the tropics it's all over in a few minutes.
Avian Bedazzlement:
Tiny Costa Rica supports nearly 900 bird species, including some of the planet's most exotic: scarlet macaw, resplendent quetzal, and jabiru stork.
For photographers, hummingbirds are the headliners (40-plus species) and numerous lodges are set up to attract them. The best lodges (inquire by e-mail) also maintain fruit feeders that attract parrots, toucans, and other neotropical varieties. Hummingbirds are mostly denizens of the cloud forest, so be prepared for damp days, chilly nights, and lovely soft light.
HUMMINGBIRD TIP: Arm yourself with a 500mm (or equivalent) telephoto and 50mm worth of close-up extension tubes. Shoot under bright overcast skies. Build a better background by repositioning a feeder near flowers or by setting up your own bouquet. Focus manually and make hundreds, even thousands, of in-flight exposures (scores of hummers hover about a feeding station at one time). Trash the preponderance of misfires and save only the prizewinners.
Volcano Country:
Costa Rica's volcanoes are irresistible to photographers bent on making long exposures of red-hot rock streaming down a mountainside or exploding into a night sky.
Arenal Volcano near the town of La Fortuna offers the best opportunities for iconic imagery, but you'll need luck to capture the dramatic eruptions, normally obscured by cloud and fog.
Luckily, you won't have downtime waiting for skies to clear. You can spend days shooting waterfalls, jungles, cloud forests, and a Noah's ark of butterflies and frogs at mom-and-pop vivariums and ponds while keeping your eye on the mountain.
VOLCANO TIP: Oddly, your chances of getting a clear shot of the volcano improve during the rainy season (May through November). Scout tripod holes beforehand (best views are on the way to Tabacón hot springs from La Fortuna), as skies may clear only very briefly. Look for a foreground—tree groupings most commonly—that can be used to frame the volcano and give scale to the scene. If you're blessed with a clear view, chimp your LCD histogram for the best-looking exposure, especially if shooting at night.
Wildlife, Free and Captive:
You'll encounter plenty of wildlife as you motor from lodge to lodge. You may get good photos of coatimundi, deer, armadillo, sloth, anteater, and giant iguanas.
Visit the numerous ranarios (for frogs and snakes) and mariposarios (for butterflies), advertised in tourist centers (Arenal Volcano, Manuel Antonio National Park). The creatures often are in natural walk-through enclosures. In private ranarios, for a small fee handlers will place specimens in settings of your choice.
WILDLIFE ON-THE-RUN TIP: Keep your camera ready to use by leaving it turned on, setting controls for autofocus and aperture-priority autoexposure at maximum aperture, activating image stabilization, and mounting a moderate telephoto or telezoom lens (300mm) with lenshood.
Costa Rica protects more than 25 percent of its land in parks and preserves, making it a vast playground for nature photographers. Do your research and start packing!
WILDLIFE LODGES:
Rancho Naturalista
Two hummingbird photo locales, a fruit feeder (refilled each morning) and a unique hummingbird bathing site lure a variety of subjects, including the rare snow-capped hummingbird. (www.ranchonaturalista.net)
Savegre Mountain Lodge
Nestled in a secluded pocket valley beside a trout stream, these hummingbird feeders literally swarm all day long. Just down the road is a photo-dependable hangout for the highly-sought resplendent quetzal.(www.savegre.co.cr)
Lookout Inn Lodge
High on a hill above the Pacific next to Corcovado National Park on the Osa Peninsula, this wilderness site is the place to shoot scarlet macaws in flight. Best time is when they are feeding in the date grove below the lodge. (www.lookout-inn.com)
BEACH SITES:
Playa Carillo
Near the laid-back town of Samara in Guanacaste, this beach boasts excellent sunrise/sunset orientation, sand, rocks, and palm groves, plus large undeveloped sweeps of sand.
Manuel Antonio National Park
Costa Rica's top tourist destination, this compact collection of beaches offers all-natural settings with boulder-, sand-, lagoon-, and palm-fringed forests, accessorized with tame monkeys.
Mal Pais
This surfer-friendly outpost on the Nicoya Peninsula is a gateway to off-the-beaten-path beaches (Santa Teresa, Hermosa, Playa Carmen) best accessed by four-wheel drive along the primitive coastal route.
Nature photographer and filmmaker Tim Fitzharris is author of the bestselling National Audubon Society series of photography guides and producer/director of the feature film, A Far Away Life (www.afaraway lifemovie.com). See lots of his images at www.timfitzharris.com__.