How To: Photograph Nature From Your Car
Wildlife drives can be the best and safest way to get close to the action.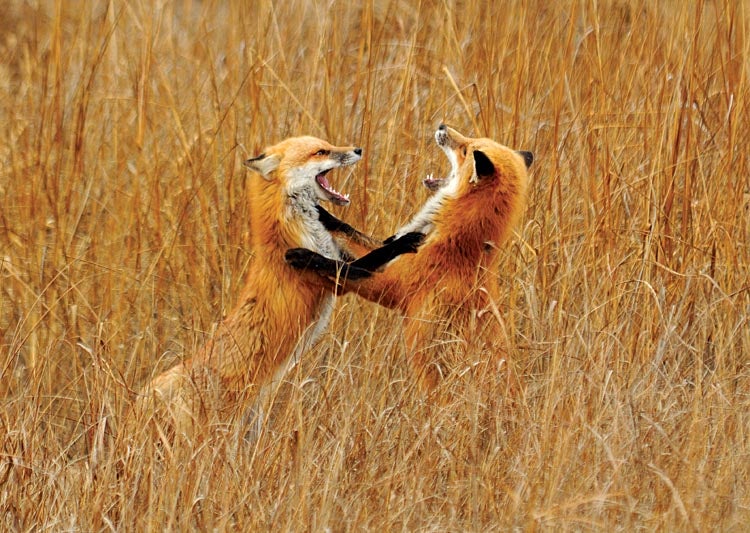 Wildlife drives can get you surprisingly close to scenes like Jon McRay's image of two foxes fighting in Bombay Hook NWR. Photographed with a Nikon D300 and 80–400mm f/4.5–5.6 VR Nikkor lens; 1/800 sec at f/7.1, ISO 500.
It may be the easiest way of getting close to nature: taking a wildlife drive through a wildlife refuge. These routes, designed for the best views of birds and beasts, also provide one of the best ways to photograph them.
The benefits? Being able to cover miles of terrain without hauling your camera gear on foot, and gaining quick access as you go from one photo destination to another. Staying in your car protects you from weather and mosquitoes, allowing you a more comfortable shooting experience, and keeps you safe from any wildlife threats. And because birds and animals tend to ignore cars, your vehicle works as a rolling blind.
Many wildlife drives have designated viewing areas and plenty of pull-off room that allows you to stop and photograph at will.
But although it's acceptable to get out of the car at many sanctuaries, staying inside puts a lot less stress on wildlife. Steady the camera with a sandbag or rolled-up sweater in the window frame, or use a specially made window tripod. My Leonard Lee Rue Groofwin 'pod ($259; www.rue.com) easily handles my 400mm lens with a 2X tele-extender.
On your first visit, grab a sanctuary map on the way in, and do a drive-through to get the lay of the land and scope out hot spots. Look for active feeding stations—tidal pools if you're shooting egrets, for example. Then settle in one place with your engine off, and let the critters come to you. Shooting from the back seat will give you more elbow room.
The same rules apply to drive-by shooting as any wildlife outing: Arrive early and stay until twilight, when lighting is better and the residents more active. Finally, keep in mind that many refuges (oddly enough) have a hunting season that may temporarily close wildlife drives—be sure to check the refuge calendar.
Winter is prime viewing time, particularly for bird migration routes. Here are notable wildlife drives:
-Cibola National Wildlife Refuge, Cibola, AZ: Also called Canada Goose Drive, it's a 3-mile auto-tour.
-Bombay Hook National Wildlife Refuge, Smyrna, DE: A 12-mile loop.
-Neil Smith National Wildlife Refuge, Prairie City, IA: 740-acre drive-through bison and elk sanctuary.
-J. N. "Ding" Darling Wildlife Drive, Sanibel, FL: 5 miles; closed Fridays.
-Black Point Wildlife Drive, Titusville, FL: 7 miles of birding ops.
-Edwin B. Forsythe National Wildlife Refuge, Oceanville, NJ: 8 miles of coastal habitats.
-Bosque del Apache National Wildlife Drive, San Antonio, NM: 12 miles in two loops—marsh and farm.