How To: Capture a Sense of Speed
Regis Lefebure captures the excitement of driving fast.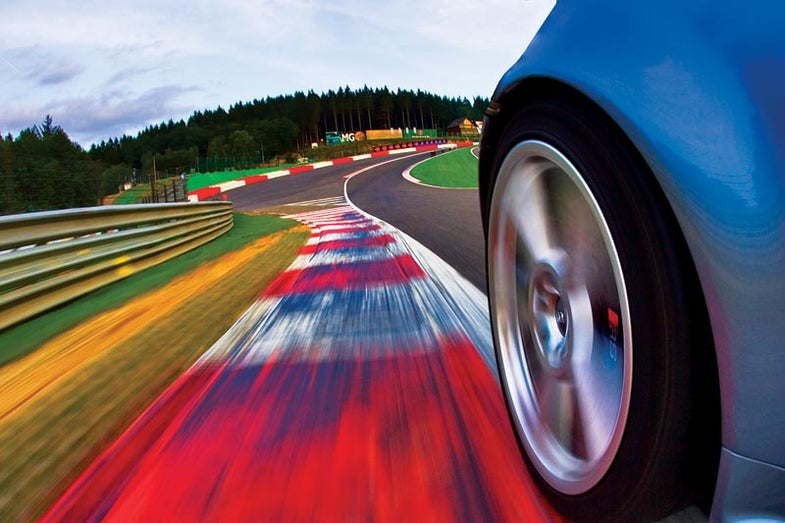 Ever tried getting a good shot out the window of a car that's going 80 miles per hour? It gets a little bit easier when you're in the left-hand front passenger seat of a British Audi RS6 sedan, riding with Formula 1 racing star Allan McNish.
This was how Washington DC-based motorsports photog- rapher Regis Lefebure managed to capture the speed and drama of Eau Rouge, a famous seg- ment of the twisty Circuit de Spa-Francorchamps racetrack in Belgium, while working on a pro- motional project for Audi in 2004.
As the car dropped downhill approaching the famous turn, Lefebure saw his chance to combine all the visual ele- ments of the track's landscape into a signature image for his client. "The left side was perfect for photographing the down- and-up, left-then-right progres- sion of the curve," he says.
The photo appears to have been taken with a camera mounted to the side of the car, but Lefebure uses external camera rigs only at slower speeds, where the risk of los- ing the camera is low. Instead, leaning his head and left shoulder out the window, he was able to two-handedly hold his Canon EOS-1D Mark II away from the car with the camera strap wrapped around his arm.
Because finessing composi- tion under the circumstances was impossible, Lefebure chose a 15mm f/2.8 Canon fisheye lens and focused it manually to hyperfocal distance using the depth-of-field scale on the lens barrel. By stopping down to f/10, the depth of field would be adequately deep to render everything from the front wheel to the background relatively sharp. He particularly wanted the RS logo on the wheel's brake caliper in focus—important for identifying the car as an Audi.
To ensure some motion blur in the wheel and foreground, conveying a sense of forward motion and speed, Lefebure set the camera to ISO 200 and 1/80 sec in shutter-priority mode. During races, "this turn is usually taken at 160 mph. It's very impressive and I wanted to convey that sensation," he says.
To make sure he got his shot, Lefebure used the high-speed continuous shooting mode, capturing several frames in rapid succession. Only this one was a keeper.
See more of Regis Lefebure's work HERE.