How To: Shooting Waterfalls
Tips from a pro for going with the flow.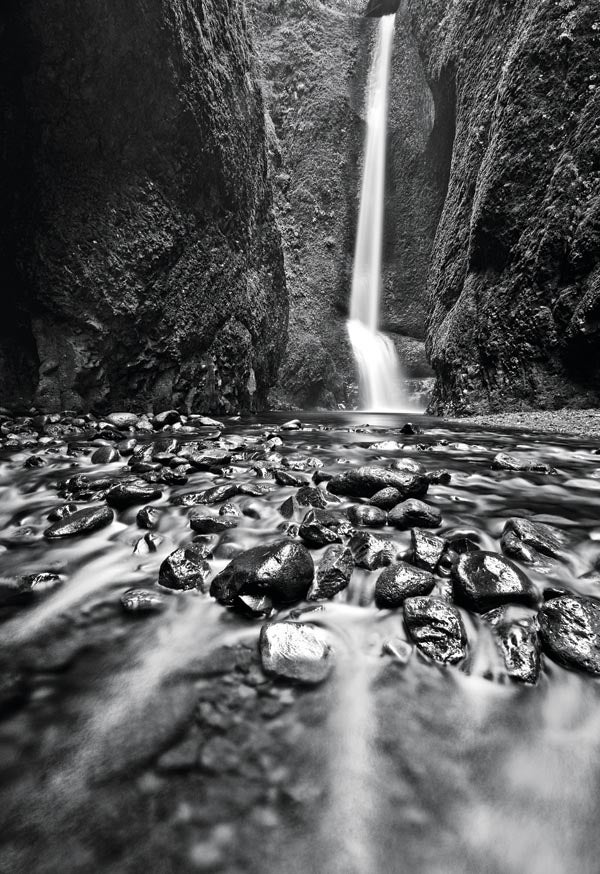 Whether it's a stream tumbling over rocks or a natural landmark, when water and gravity meet, the effect is captivating. But capturing that aquatic magic requires special consideration for time of day, exposure, composition, and mood.
Dramatic waterfalls are not hard to find even in the desert (check out Sabino Canyon near Tucson, AZ). Do a Flickr or Google image search for your locale, and study topography maps (at topomaps.usgs.gov) of a region for contour lines that bunch up where they intersect a stream.
Don't settle for the glare and contrast of high noon—get up early or stay late to capture clouds of mist rising up. As sun meets mist, rainbows may add an arc of color. Rain, fog, snow, and ice add their own ambiance.
Controlling your shutter speed will let you either exaggerate or freeze the stream. For smooth ribbons of water, use a tripod and set your shutter between 1/2 and several seconds, depending on the water's velocity. On bright days, use a neutral-density filter to cut the light and extend your shutter speed. Or, to freeze every droplet, shoot at 1/500 sec or higher. Dim lighting? Boost the ISO.
Before setting up, scout for a variety of angles. Foreground elements—rocks, branches, ferns—provide depth cues, and you can gain a sense of the scale by including a person in the scene. Try to match camera orientation to the natural shape of the falls. Use a wide lens (at least 28mm equivalent) with your camera turned vertically to accentuate height; frame wide falls horizontally.
Finally, go prepared. Wear good hiking shoes and a rain poncho, and keep your camera in a waterproof bag. And always read park rules and stay on approved trails.
Where to Go:
Here are the favorites of some pro photographers:
Cumberland Falls State Park, Corbin, KY "Shoot by full moon," suggests Lisa Aliperti. "A 'lunar rainbow' or 'moonbow' is formed by the mist of the falls and the light of the full moon."
K****aaterskill Falls, Catskill Mountains, NY "The half-mile uphill hike to the falls, from the trailhead on Route 23A, is fairly easy," says Derek Doeffinger. The falls face southwest, so they're best in mid- to late afternoon.
Kent Falls, Kent, CT You can get nice views from the base of these multi-level falls, and the parking lot on Route 7 affords easy access.
Multnomah Falls, Columbia River Gorge National Scenic Area, OR Advises Ron Niebrugge, "Walk up the trail and onto the Benson Footbridge for a unique perspective."