Photographing Alaska
Jon Cornforth took to the water to capture the wonders of the great northwest.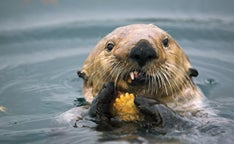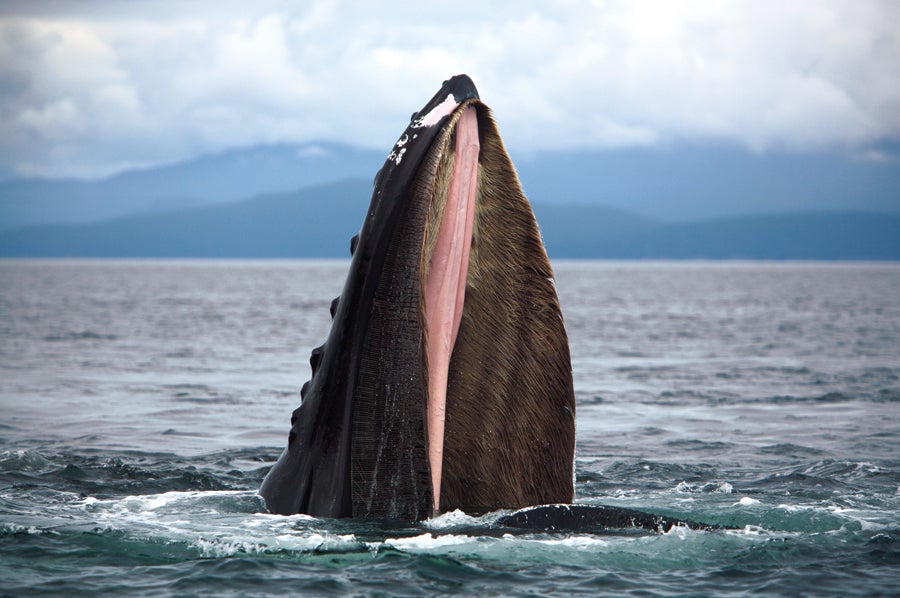 Humpback Whale
Humpback whale captured with handheld Canon EOS 5D and 70– 200mm f/2.8L Canon EF IS lens with 1.4X Canon EF teleconverter; 1/1600 sec at f/4, ISO 100.
Most alaskans refer to the panhandle simply as "Southeast." It's the last leg of the Inside Passage, the famed coastal route that extends north from Washington State, through British Columbia, and into Southeast Alaska. More than two million people visit each year, most often on a cruise ship.
When I started imagining how to photograph Southeast's spectacular rainforests, ice-choked fjords, adorable sea otters, and breaching humpback whales, I decided to do it on a cruise, as well—but one of a very different sort. For the past three summers I've explored the region in my 22-foot C-Dory Serenity, a cabin cruiser with a single 90 HP motor.
Trip Planning
Travel by small boat has advantages for a photographer. Its fully enclosed cabin allows me to stay dry while navigating in the region's notoriously bad weather. A small canopy that fully covers the aft deck allows me to store extra gear in a dry area and to change out of wet clothes before entering the cabin. After anchoring Serenity in a protected cove, I can use a 12-foot inflatable with a 15 HP engine to explore remote fjords and to go ashore in otherwise inaccessible areas.
Still, I'm never more than a few hours from a town where I can refuel and get supplies.
I often spend 12 or more hours a day exposed to the elements in my inflatable, while covering up to 100 miles daily. The typical weather on a summer day in Southeast is 60 degrees and overcast, with light rain. It often gets much worse, but seldom much better.
Gore-Tex backpacking clothing failed to keep me dry under extreme conditions, so I now wear only rubberized clothing on top of layers of fleece and a down sweater. My most important gear is a pair of Xtratuf rubber boots that keep my feet dry while getting in and out of my inflatable. The locals call these ubiquitous brown boots "Southeast slippers."
Keeping my camera equipment dry is critical. When I need my camera out all day in the pouring rain, I cover it with an Op/Tech Rainsleeve, but protecting stowed equipment from moisture is just as important. I've tried several alternatives (including dry bags), but I've found a Pelican 1510 case works best: It allows me immediate access when I'm in the inflatable, and the hard case protects my gear even at the bottom of a heavy pile. When not shooting, I keep gear in the Pelican inside the heated cabin.
Photographing Wildlife
Most of my wildlife shooting in Southeast is done handheld from my boat. The two lenses I use most for this are my 70–200mm f/2.8L Canon EF IS and 400mm f/4 Canon EF DO IS. Both hang around my neck and allow me to react quickly to the action.
I occasionally use a 500mm f/4L Canon EF IS on a tripod on my aft deck, where I can stay dry. As this lens is almost impossible to handhold, I don't bring it out very often—I use a 1.4X Canon EF teleconverter with the shorter lenses instead.
Humpback whales migrate to Alaska in summer to feed. While people traveling on day tours from Juneau or Gustavus might be thrilled just to see a whale, because I can get closer I look to photograph them breaching, spyhopping (holding a position with their heads above water), and bubble-net feeding— when whales work together to blow a circular ring of bubbles under a school of herring.
The rising bubbles form a net that scares the herring into a tight ball. The whales then swim up through the middle with their mouths open. The image on the opening spread shows a postbubble-net-feeding humpback at the surface, mouth still open.
Note that federal law prohibits bringing a vessel closer than 100 yards to marine mammals, humpbacks included. But if you are fioating nearby with the engine off, they may come closer to you.
Another iconic Southeast animal is the sea otter. They are very hard to approach—a good thing since they were once hunted almost to extinction. On rare occasions, they've allowed me near enough to photograph them.
The sea otter pictured above showed almost no fear as I followed him around a remote bay in my infiatable. I could see him foraging for food underwater and could anticipate where he would surface. I trailed him for two 8-hour days in pouring rain, and while I got soaked, with the Rainsleeve's protection my camera kept working.
I was unsuccessful the first year I tried for harbor seals in Tracy Arm/Fords Terror Wilderness. They saw my bright red inflatable a mile away in the iceflows, and slipped into the water before I got the chance to photograph them. The next year, though, I covered my red pontoons with white shower curtains to look more like an iceberg. It worked, and I was able to photograph seals at close range without disturbing them.
Many sea birds inhabit this region, but getting close enough to photograph them is very difficult. I shot the tufted puffin on the calm waters of Letuya Bay with the 500mm lens. Unable to set up a tripod, I stabilized the lens on the side of my inflatable.
I've rarely managed to get close to eagles with my boat, and then I'm forced to shoot from underneath. Fortunately, one of the best places to see bald eagles is along the Chilkat River near Haines each November, when the last salmon run of the year draws them by the thousands. Getting a flying eagle with a clean bokeh background like the one above takes a lot of patience, but it's exhilarating.
Capturing the Landscape
The biggest challenge in photographing dramatic landscapes in southeastern Alaska is limited sunlight—it's just too cloudy most of the time. The image from Khadashan Valley conveys what it usually looks like: lowhanging gray clouds and rain.
Even in these conditions, I use a polarizer to reduce glare on foliage to make the green more vibrant. For most landscapes I prefer a focal length around 28mm or equivalent, which allows for a balance between foreground and background subject without exaggerating one over the other.
The photo of floating icebergs in front of the Margerie Glacier in Glacier Bay National Park is not a picture you can get from the deck of 10-story-high cruise ship. I spend a lot of time drifting among the icebergs in my little inflatable, a serene experience to have a place like this all to myself.
Since the weather is so consistently awful in Southeast, the rare days that I get to shoot dramatic sunrise or sunset colors are all the more rewarding. Usually, there are plenty of dramatic clouds in the sky when that fleeting golden light appears, as in the shot of Johns Hopkins Inlet. When my alarm went off at 3 a.m. and I saw blue sky to the east, I jumped into my inflatable and sped off to the low tide that I knew would strand hundreds of icebergs on the moraine bar in front of the Lamplugh Glacier. I used a Singh-Ray 3-stop split neutral- density filter to balance the contrast in this dramatic scene.
One early May, I was lucky to have golden light while exploring Leland Island in Glacier Bay. I tied my inflatable securely to the shore and set off for the shellcovered beaches on the island's south side. The clouds parted that afternoon, and sun bathed the Beartrack Mountains.
The most difficult location that I have photographed with the aid of my boat was outside the Inside Passage—Letuya Bay, located on the outer coast of Glacier Bay. It took me two summers of waiting for the right weather conditions to safely motor there and back. I spent a week waiting for the right light to photograph the incredible display of wildflowers along La Chaussee Spit.
While I never got the epic sunset light that I was hoping for, this image still captures the drama of this impossible-to-reach location.
Seattle-based Jon Cornforth grew up sailing and has more than 20 years of backpacking experience. He leads photo tours everywhere from Alaska to Patagonia. Check out his website, www.cornforthimages.com.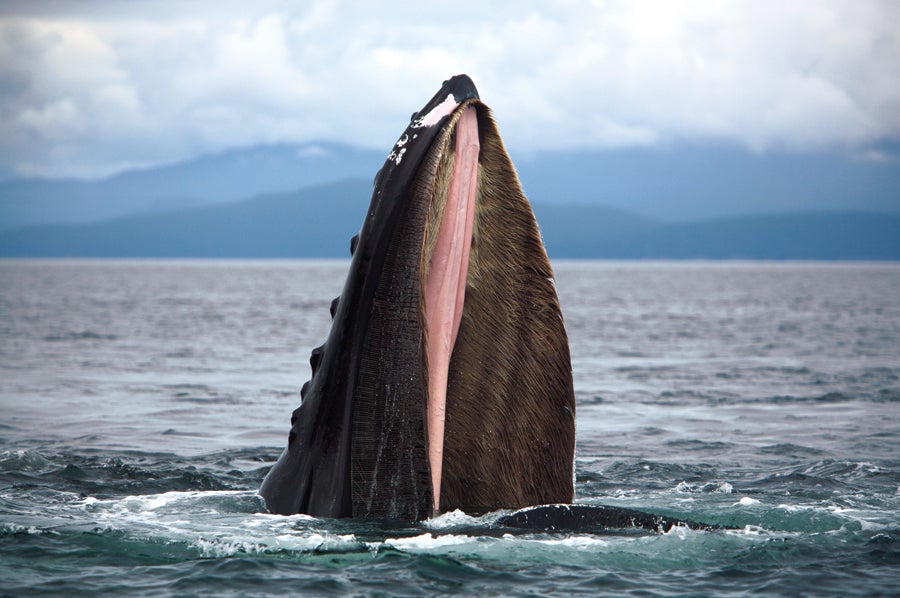 Humpback Whale
Humpback whale captured with handheld Canon EOS 5D and 70– 200mm f/2.8L Canon EF IS lens with 1.4X Canon EF teleconverter; 1/1600 sec at f/4, ISO 100.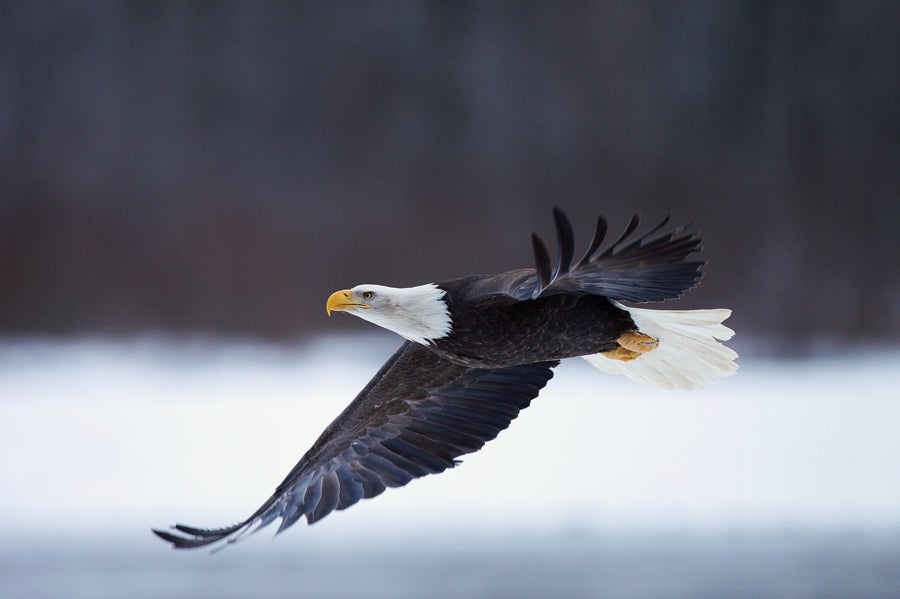 Bald Eagle
Canon EOS 50D and 500mm f/4L Canon EF IS on tripod; 1/800 sec at f/4, ISO 400.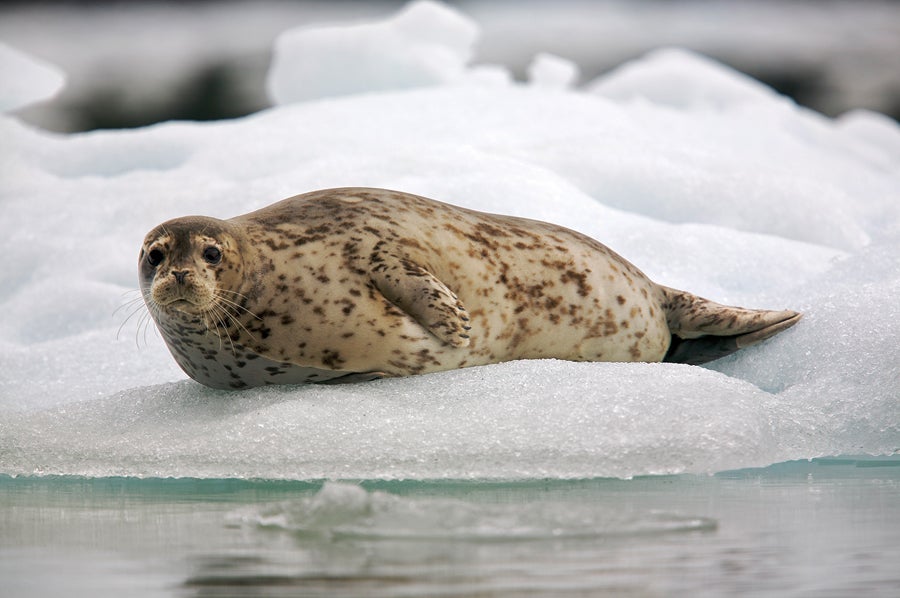 Harbor Seal
5D and 500mm lens with 1.4X teleconverter; 1/640 sec at f/5.6, ISO 100.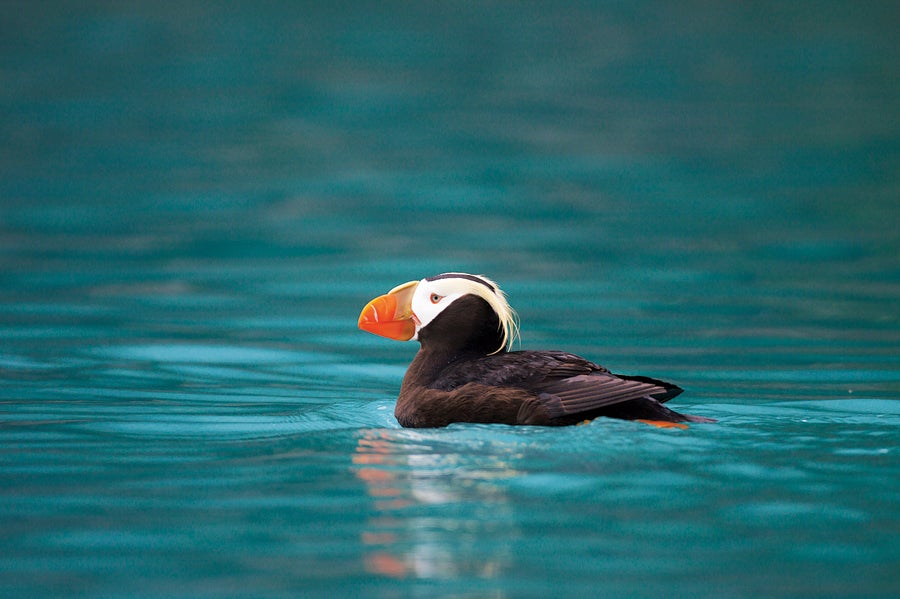 Tufted Puffin
Canon 50D and 500mm lens; 1/800 sec at f/4, ISO 400.

Margerie Glacier
His photograph of Margerie Glacier was taken with a Canon EOS 5D Mark II and 17–40mm f/4L Canon EF lens; 1/30 sec at f/16 (+1.3 EV to keep the glacier bright), ISO 200. A 2-stop split ND filter balanced the exposure of sky and water.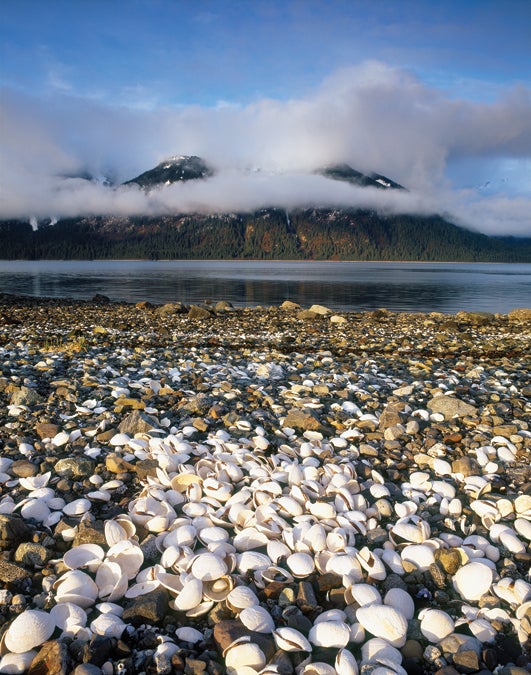 Leland Island beach
Leland Island beach taken with Pentax 67II and 55mm f/4 lens on tripod; 1/2 sec at f/22 on Velvia 50; Singh-Ray 2-stop split ND filter.

22-ft Serenity
The 22-ft serenity.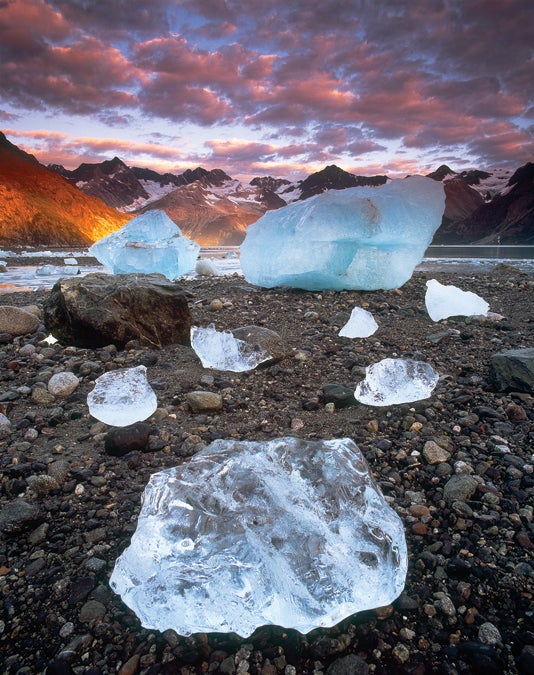 Johns Hopkins Inlet
Johns Hopkins Inlet taken with Pentax 67II and 55mm f/4 Pentax lens (about 28mm equiv.) on tripod; 10 sec at f/22 on Fujichrome Velvia 50 through a split ND filter.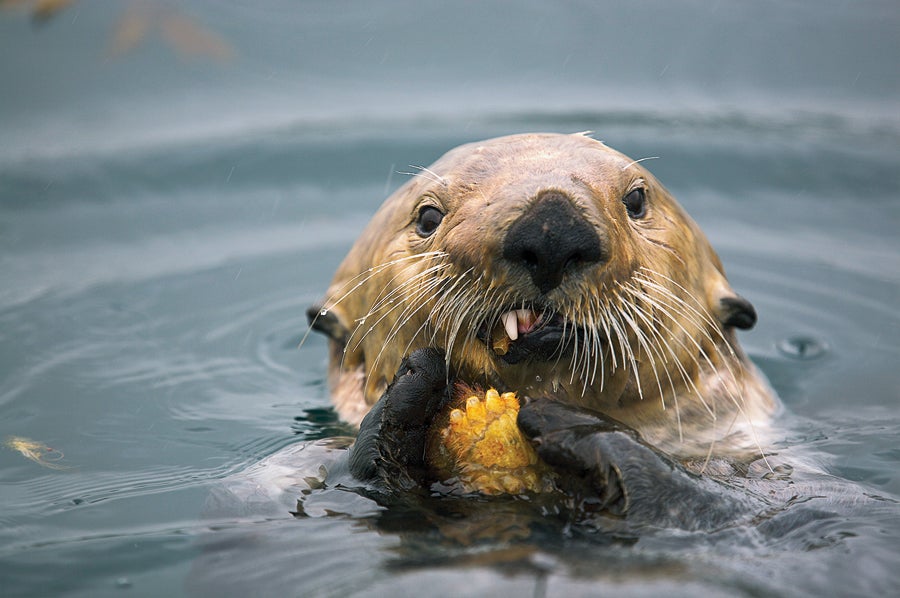 Sea Otter
Handheld Canon EOS 5D and 400mm f/4 Canon EF DO IS lens; 1/400 sec at f/4, ISO 200.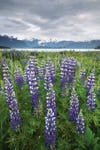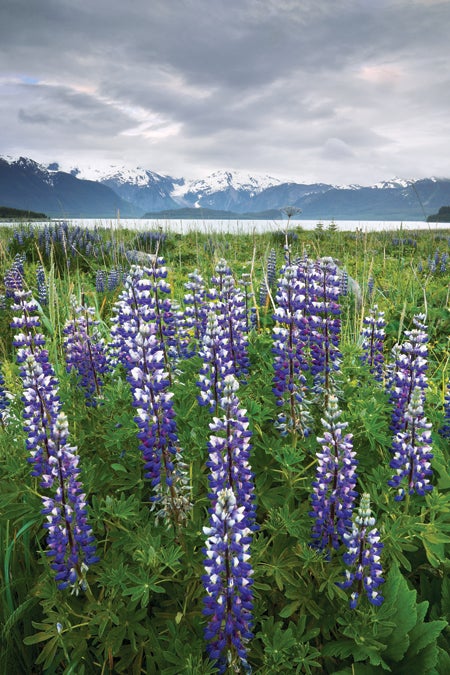 Lupins
Lupins along Letuya Bay shot with Canon EOS 5D Mark II and 17–40mm f/4L Canon EF lens on tripod; 0.8 sec at f/22, ISO 320.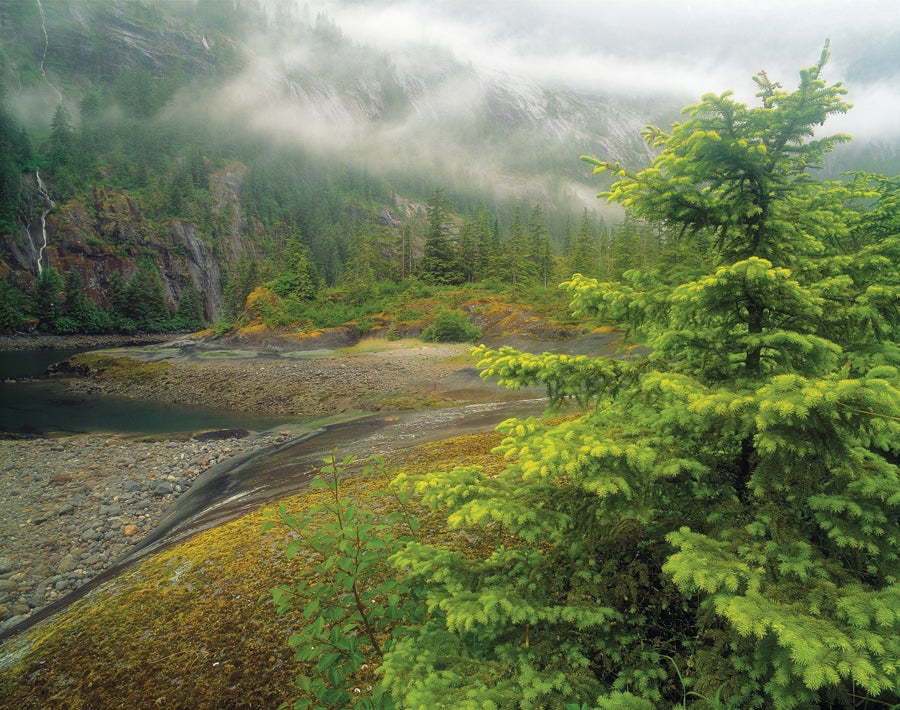 Khadashan Rainforest
Author Jon Cornforth shot Khadashan Rainforest with a tripodmounted Pentax 67II and 55mm f/4 Pentax lens; 6 sec at f/22 on Fujichrome Velvia 50 through Singh-Ray LB warming polarizer.