Personal Project: Robert Buelteman
American Photo: The California pro uses electricity to bring power to his art.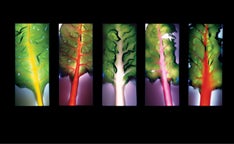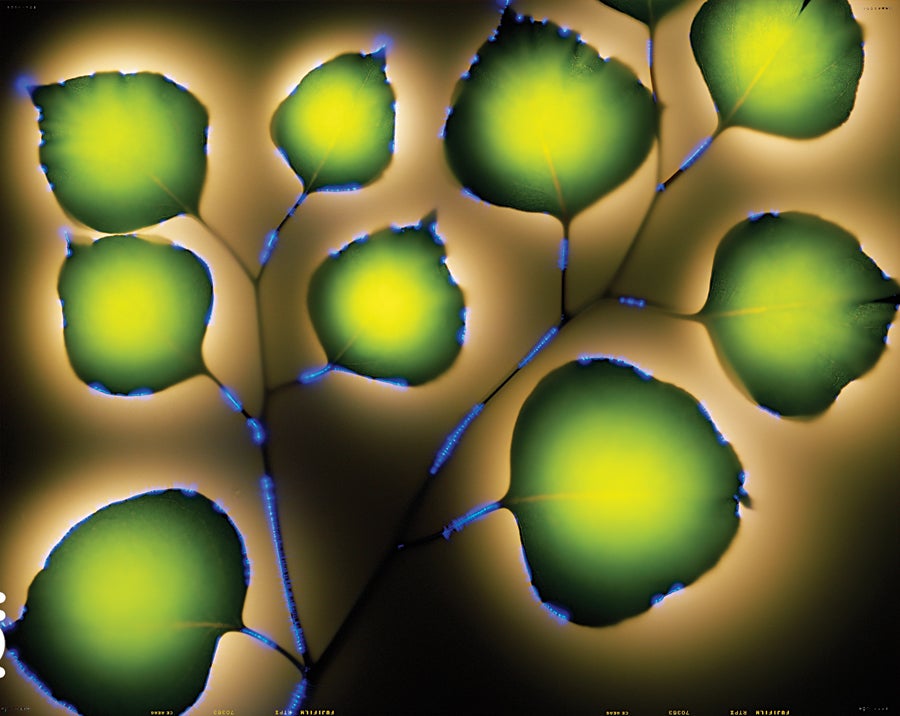 Alone in the Arizona desert in 1999, Robert Buelteman had a flash of clarity — the rest of his life looked utterly predictable, and he was no longer in love with his art. At that, he stopped working professionally on the black-and-white photography that had been his raison d'être for 25 years and "surrendered to serendipity."
Under the starry sky, appropriately enough, he could not shake images of the Metaflora series, Walter Chappell's luminous work in Kirlian photography — a process that involves sending electrical currents through objects that rest directly on a photographic plate. When he emerged from the desert, Buelteman was obsessed with getting back to basics: cameraless, lensless, computerless photos.
Most Kirlian equipment is about the size of a Polaroid camera, but Buelteman wanted to work big, with prints up to 40-by-96 inches (his photos have sometimes been referred to as Georgia O'Keeffe meets Frankenstein). He found an engineer to build a generator that could drive an image over 80 square inches, and Buelteman constructed his own supersize easel made of aluminum sheet metal floated in a solution of liquid silicone, sandwiched between pieces of 1/8-inch-thick Plexiglas. Then he tracked down 8-by-10-inch, tungsten-balanced color transparency film.
After one year he had completed only two pieces — "My wife thought I might be crazy." But at the opening of an exhibition organized by Sarah Adams, granddaughter of iconic landscape photographer Ansel Adams, one of those images mesmerized a crowd of 150 people. Since then, his work has been shown in more than 35 countries and he's been published in 18 languages.
Part of the draw is Buelteman's new twist on this old craft, named for Russian inventor Semyon Kirlian for his work with photograms in the 1930s, though it dates back much further. The "Buelteman technique" adds light sources such as xenon strobe, tungsten and fiber optics. Buelteman literally "paints" his subjects by illuminating them with a fiber-optic probe the size of a human hair.
But using no computer enhancement (Buelteman says some of the colors he achieves don't exist in Photoshop), the outcome is somewhat at the mercy of physics. As with Chinese brush-stroke painting, once a stroke is made, there's no going back, which has a simplicity that appeals to Buelteman. As he says, "It's a myth that having more options equals greater freedom."
Yet the prep work and setup are anything but simple: "In black-and-white film work there are 15 or 16 variables; in this process there are more than 50, some of them intangible, like the opacity of a leaf." In contrast to the structure of his black-and-white work, Buelteman compares his Kirlian image-making to improvisational jazz.
The faint of heart should know that this pursuit is not dangerfree. Buelteman has electrocuted himself many times; on one occasion he was lifted off the ground by a 40,000-volt jolt. "I'm working completely in the dark with electricity — fear is part of the process."
Recently Buelteman has been battling his way back to reality, having been sidelined for some three years with Lyme disease, an experience he calls "humbling," though he adds that "it has made my work all the more precious to me." Now he's once again in the dark with his metal plates and high voltage. One of his most recent works is of rainbow chard, something he spent a year finalizing.
One reason for the lengthy timeline: Buelteman, an avid gardener, is actually growing many of the plants he shoots in the courtyard of his northern California house: "It's lettuce heaven." Though cameraless photography can be used with inanimate objects, plants make ideal subjects. And the tight relationship between film, light, plants and Buelteman's own hand has brought him a "connectedness that has eluded me in other parts of my life."
In The Bag
- Buelteman's "bag" these days is more likely to contain pruners than a camera, to collect plants to take into the studio
- Buelteman's work is strictly studio, so he no longer totes a camera bag to locations. in his workshop, which is converted from a five-car garage, he relies on surgical scalpels to get the form and opacity he wants in petals and foliage prior to manipulating them on the imaging easel. • Another necessary piece of equipment is a wooden safety fence around the easel — with its big electricity-conducting metal plate — to forestall future electrocution accidents. Hanging on the wall: a neck brace as a reminder of buelteman's previous face-off with 40,000 volts.