Interview: Cat Photographer
Helmi Flick is a portrait shooter to the feline stars.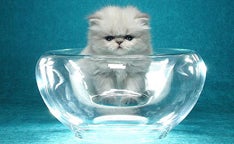 Cat portraitist seems like an unusual Career.
I only know of six or seven people who do it professionally.
How did you turn pro?
I've always loved cats—we have four. I'd often photographed them, but when my husband Ken gave me a digital camera in 1999, it changed everything: I instantly saw what I was doing wrong. I got a studio light, and he built a table to photograph my cats on. A friend introduced me to the show manager of a cat club—I sent her some images, she invited me to be the show photographer, and I've been a professional since then.
Who Are Your Clients?
Most are cat breeders and owners. The breeders put our images into association yearbooks to help get kittens to potential owners. Owners want pictures of their cats just like people want pictures of their kids. Our other markets include magazines such as Cat Fancy and advertising. After 18 months of working, I was approached by the Cat Fanciers' Association (CFA) and The International Cat Association (TICA), to be the official photographer for international cat shows—I do 10 to 12 shows a year.
What Is A Show Day Like?
We get to the show hall the day before and spend 3 or 4 hours setting up and testing our gear. On show days, we are extremely busy from 9 to 5. We always have the owners stay. I usually shoot for about 15 minutes, take 5 to 10 minutes to look over my shots, and download a CD of 20 to 30 of the best ones for the owners to take home. An entire shoot usually takes about half an hour. We try to book the cats according to background color—we bring about 20 backdrops with us.
How Do You Pick The Colors?
I photograph the natural breeds— for instance, Maine coons— against colors found in nature, such as greens, browns, gold, warm burgundy. and blacks. Luxurious breeds, such as Persians, I photograph against jewel-toned background colors.
What Gear Do You Use?
I'm shooting with a Canon EOS 5D Mark II and a 24–105mm f/4 lens. Our main flashes are AlienBees: a B800 and two B400s. We light our backgrounds with a small Quantaray MS-1 slave flash. I make my own backgrounds with materials from fabric stores—solid colors and stretchable fabrics, for a clean, wrinkle-free look.
Are Cats Easy Subjects?
Working at a cat show is like being on a bomb-defusing squad for two days. Cats don't take commands. Ken works the lights and uses a "teaser," such as a pheasant feather on a long rod, to get their attention. The large longhaired breeds such as Maine coons are more easygoing and cooperative to pose. Active breeds, such as Bengals, love to play and give us great action shots. A few breeds, like the Siamese, are more camera-shy and aloof. Kittens are always easy. The challenge is to make it fun for them. About one out of every 20 is too difficult to get all the shots we want, but then we'll just try again at the next show.