The Best Places To Photograph Around The World
Top travel photographers reveal their favorite destinations.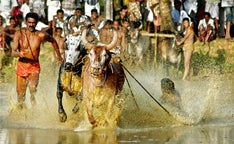 Where to take your camera next? We asked more than two dozen professional travel photographers to tell us their favorite places in the world to shoot and why. Their top 20 picks, listed on page 3, include some you'll find on any traveler's list, plus a lot of surprises.
Our globetrotting pros cited a handful of factors that make a destination perfect for photographers: colorful and dramatic scenery, unique cultural details (dress, market goods, architecture), friendly people who aren't camera-shy, predictable weather with good natural light, and relatively easy access to transportation.
Here are their specific shooting strategies accompanied by photos submitted by our readers.
"Adoor Bull Races held in August 2007 in Kerala. Held every year around the time of Onam it is a celebration of agrarian existence and is carried on without any grants or aid from the Government. This is a spectacular fiesta of rural Kerala. There are 2-3 other such events that are held in Kerala." Reader Photo by Anoop Negi (__Flickr Stream).__
India: Kerala and Rajasthan
Four pros described their amazement during travels in India, especially in two states on opposite ends of the subcontinent: Kerala in the south and Rajasthan (the largest in area of India's 28 states) in the north.
Says Jonathan Kingston, "South India has color and light, welcoming people, wonderful architecture and landscapes, and many interesting festivals," he says. "You could spend a lifetime trying to capture South India and barely scratch the surface."
He suggests booking a houseboat cruise on the Malabar coast along Kerala (www.keralahouseboat.co.in) to "tour the rivers, lakes and canals of the region. You'll find places few Westerners ever see."
Up north, Charles Harris says, "Rajasthan gets you well away from the masses of Mumbai and Delhi. Jodhpur's buildings are bathed in blue; Jaipur, the state capital, is known as the Pink City."
He adds, "India can be life-changing. It's visually overwhelming, so you have to narrow your focus if you want to maintain sanity. It's practically an alternate reality."
• Must-get shots: Jodhpur's Umaid Bhawan Palace, one of the largest royal palaces in the world. Kerala's 10-day Onam harvest festival, held in August or September each year.
• For info: www.incredibleindia.org.
"Hvitserkur is the last remains of a central volcano, about 15 m high. Legend has it that this is a troll turned into stone when he was surprised by the sun while attacking a nearby abbey with rocks." Reader Photo by Sigfus Sigmundsson (_Flickr Stream)._
Iceland's Coastline
"Of all the places in the world I regularly travel to, Iceland has the most unusual land- and seascapes," says Ron Rosenstock. "Working there is like photographing when Earth was just being formed. It's known for its rainbows and waterfalls, as well as lava fields and black sand beaches."
The light along the coast makes for fantastic images, and its changeability means you must always be ready to grab a camera.
Susan Delgado agrees that Iceland is a distinctive photo destination. "We circled the entire island by car in one week and experienced a wide range of natural beauty: glaciers, waterfalls, volcanoes," she says.
• Must-get shots: Coastal sunrise and sunsets.
• For info: www.icelandtouristboard.com.
Reader Photo by Ron Strathdee (__Flickr Stream).__
Isle of Man
"A small island in the Irish Sea, it is also an island in time, intensely reminiscent of an Ireland from years ago," says Gail Mooney. "While not overly exotic to the eye, the place pulled me in with its subtle magic from the moment I arrived. Its heyday was the Victorian era, which left behind quaint seaside villages that seem untouched by the modern era. The villages are connected by a steam-powered train that traverses the island, leaving wonderfully picturesque puffs of smoke across stunning landscapes."
She suggests walking around the circumference to get a feeling for its diversity. "Ride the steam train for different views, and try to arrange your stay to include the Tourist Trophy, or TT —Europe's major motorcycle race, which transforms the island into an action-packed spectacle."
• Must-get shot: Rocky seascapes silhouetted against a rising or setting sun.
• For info: www.isleofman.com.
Reader photo by Giovanni Micheletto (__Flickr Stream).__
Italy: Tuscany
Travel photographers love Italy for the same reason tourists do: "It has it all," Charles Harris says. And the hands-down favorite region is Tuscany for its mix of landscapes, architecture (cities and villages), and, not least, food.
Says Ron Rosenstock, who leads photo tours there, "Not only can you walk down the same streets as DaVinci and Michelangelo, but you can see almost the same scenes."
In Florence, he recommends getting up before dawn and hitting the streets at around 5 a.m.: "Early morning provides unusual and dramatic lighting effects. The streetlights are still on and sidewalks are pedestrian-free. Photographing in Florence's predawn silence is like a meditation."
He advises a similar strategy in the Tuscan countryside. "In the vineyards, I'm generally out with my camera just as dawn begins to break. It's a very soft light that reveals texture and color that will disappear as soon as the sun burns through the softening mists."
• Must-get shots: The rolling hills, historic villas, and Italian cypress trees of the Orcia Valley.
• For info: discovertuscany.com.
Reader Photo by Silvio Pereira Costa (__Flickr Stream).__
Machu Picchu, Peru
This ancient Incan city, nestled in the creases of the Andes, is a familiar favorite—for good reason. "It's magnificent," says Gail Mooney. "I spent most of my first morning watching as clouds and mist enveloped the mountain peaks, and shafts of light streaming through holes in the fog, struck the walls, making it suddenly appear spotlit. I felt like I was discovering it for the first time. I visited for three days, and the mood of the landscape changed daily."
• Must-get shots: The citadel in the early-morning mists.
• For info: www.machupicchu.org.
Reader Photo by Irene Suchocki (__Flickr Stream).__
Molokai, Hawaii
"The island belongs to another era—it's what I imagine the old Hawaii was like before becoming a major travel destination," says Jonathan Kingston. "The pace of life is slow, the people are friendly, development is minimal, and it has a variety of climates and landscapes, with some of the most pristine tropical scenery in Hawaii." Molokai's sea cliffs are the world's tallest. Rent a four-wheel drive vehicle—much of the island is accessible only by dirt roads. Also try a mule train tour (muleride.com) along those towering cliffs.
• Must-get shots: Seascapes at Kalaupapa National Historic Park.
• For info: molokai-hawaii.com.
Montana: Flathead Reservation
A few miles northeast of Missoula, this Native American reservation is a favorite destination of Montanan Pam Voth. Its diverse photo opportunities include annual pow-wows and rodeos, wildlife in the National Bison Range and Ninepipe Wildlife Refuge, the historic St. Ignatius Mission, and breathtaking mountain views.
"At Ninepipe, look for the wildlife area off Highway 93 for shots of waterfowl," she advises. At the National Bison Range, on any one of the driving loops, "look for elk, deer, coyotes, black bears, big horn sheep, pronghorn and, of course, bison. Be prepared to photograph from the car as visitors are not allowed to leave their vehicles in most areas," though you can generally step out to set up a tripod.
• Must-get shots: Landscapes along Red Sleep Mountain Drive.
• For info: www.visitmt.com.
Reader photo by Daniel Bosma (__Flickr Stream).__
****Morocco** **
This North African country is such a favorite that we couldn't get a consensus about exactly where to go—our experts insisted that you leave plenty of time to see the whole country. A colorful explosion of influences, architecture, and peoples, "it's a land of intense contrasts and can provide nonstop sensory experience," says Ron Rosenstock.
"You can photograph in the sand dunes of the Sahara in the morning, and in the snow-capped Atlas Mountains in the afternoon. And it feels like Biblical times. It's exotic and picturesque, yet comfortable for Western travelers."
He suggests concentrating on the details of architecture, daily life, and nature. "The way goods are displayed in the market, the way light falls on archways, and the texture and color of plants in a garden or oasis form powerful inspirations for great photography."
• Must-get shot: The Hassan II Mosque in Casablanca.
• For info: www.visitmorocco.com.
Stockholm, Sweden
While it can serve as a base for exploring Sweden's natural wonders, the capital is a very compelling subject itself. "My favorite part is Gamla Stan, the old town," Jason Lindsey says. "I love the ancient buildings, the brick paths and stairs, the narrow and intimate streets, the great food, and the people. Around every corner, the old city provides inspiration."
• Must-get shot: The parliament reflected in the harbor at night.
• For info: www.visitsweden.com.
Washington's Olympic Peninsula
For Seattle-based Rob Casey, getting there is part of the fun: "Take any of Seattle's peninsula-bound ferries, which feel like an immediate escape from the ordinary."
You'll find the mountain peaks of Olympic National Park, wilderness rivers and coastline, and small logging towns. "Expect more cloudy or rainy days than sunny," says Casey. "Bring rain gear for yourself and your camera, plus a warm coat and hat." Look for subjects at your feet: wet, colorfully saturated beach rocks and driftwood, or water droplets resting on glacier lilies.
• Must-get shots: Tide pools, deserted beaches, rock formations.
• For info: olympicpeninsula.org.
Wyoming: Grand Teton Park
This national park is a gold mine for photographers: Snowcapped mountains, winding rivers, mirror lakes, and meadows of wildflowers that sometimes backdrop outdoor sports. Says Pam Voth, "There's beauty everywhere."
Moose, bear, and elk come close enough to roads that you can get satisfying shots with a 200mm or 400mm lens. "You'll often find photographers lined up at the Oxbow Bend of the Snake River, with a great reflection of the mountains in the water," she says.
• Must-get shots: Action such as skiing, snowboarding, fly-fishing, rafting, and rodeos.
• For info: www.nps.gov/grte.
SEE THE FULL TRAVEL READER AND PRO PHOTO GALLERY HERE
20 Favorite Destinations
• British Isles
- Isle of Man Quaint, Go for the scenery, quiet atmosphere
• Chile/Argentina
- Patagonia, Go for the breathtaking mountains, glaciers
• China
- Guilin Prefecture, Go for the otherworldly landscapes
- Hong Kong, Go for the contrasting modern and traditional city life
• Greece
- Santorini, Go for the blue-domed churches and even bluer seas
• Guatemala
- Antigua and Tikal National Park, Go for the religious festivals, ancient Mayan architecture
• Iceland
- Coastline, Go for the waterfalls, glaciers, volcanoes, extraordinary light
• India
- Kerala, Go for the water-filled landscapes, captivating festivals
- Rajasthan: Jodhpur and Jaipur, Go for the colorful cities filled with street life
• Italy
- Tuscany, Go for the classic towns and countryside–and food
• Morocco
- Casablanca, Marrakesh, Tangier, Go for the dramatic landscapes, architecture, markets
• Nepal
- Kathmandu, Go for the the colorful street life set against the Himalayas
• Peru
- Machu Picchu, Go for the magnificent ancient architecture, mountains
• Sweden
- Stockholm, Go for the picturesque city with access to wilderness
• United Arab Emirates
- Abu Dhabi and Dubai, Go for the amazingly modern architecture
• United States
- California: Ojai Valley, Go for the sunrises, sunsets, and the cypresses
- Hawaii: Molokai, Go for the pristine tropical scenery, seaside cliffs
- Montana: Flathead Indian Reservation, Go for the pow-wows, rodeos, wildlife, cloudscapes
- Washington: Olympic Peninsula, Go for the city, mountains, seaside, forest—rain or shine
- Wyoming: Grand Teton National Park, Go for the gorgeous nature shooting, outdoor sports
****Our Experts****
VEGAR ABELSNES www.vegarabelsnes.com
GREGORY ALLEN www.plasticimage.com
GARY BOGDON www.garybogdon.com
TOM BOL www.tombolphoto.com
MEGHAN CAPOZZI www.mecimages.com
ROB CASEY www.robcasey.net
SUSAN DELGADO www.doubleimagestudio.com
KEVIN DYER www.aworldinfocus.com
PETER FRANK EDWARDS www.pfephoto.com
GABRIELLA GIANNINI www.gabriellacgiannini.com
BARRY STEVAN GREFF www.barrystevengreff.com
MICHAEL HANSON www.michaelhansonphotography.com
CHARLES HARRIS www.charlesharris.com
SARAH HENDERSON www.sirenapictures.com
JASON LINDSEY www.perceptivevisions.com
GAIL MOONEY www.kellymooney.com
JONATHAN KINGSTON www.kingstonimages.com
CHRIS MCLENNAN www.cmphoto.co.nz
AUDRA MELTON www.audramelton.com
STEVE MURRAY www.stevemurray.com
MATT NAGER www.mattnager.com
LEAH NASH leahnash.com
GLENN OAKLEY www.oakleyphoto.com
CHRIS PARK www.cparkphotography.com
DAVID SAMUEL ROBBINS www.HimalayanOdyssey.net
RON ROSENSTOCK www.ronrosenstock.com
MARK SEGAL www.segalphoto.com
KEVIN STEELE www.kevsteele.com
BOB STEFKO www.bobstefko.com
PAM VOTH www.pamvoth.net