The Best Desert Photography Spots
Nature photographer Ian Plant shares his favorite barren locations.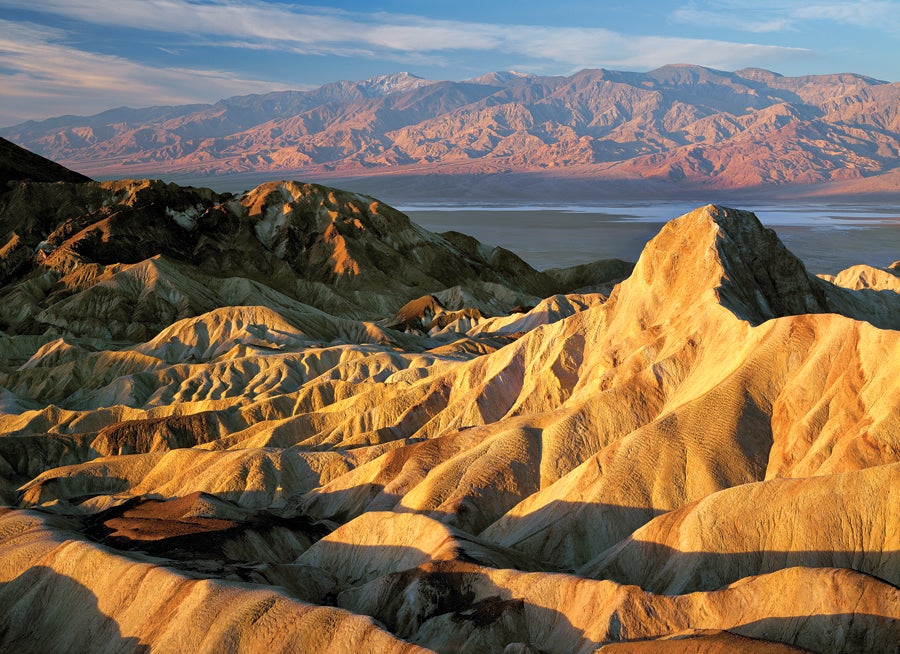 Now is a Great time to visit the desert. When much of the country is still gripped in snow and ice, temperatures in the desert start to reach that justright point in late winter and early spring, and clear skies mean brilliant light at sunrise and sunset. As a bonus, desert flowers bloom in March, adding a rare splash of color to an otherwise barren landscape.
So pack your gear, some sunscreen, and lots of water, and head on out. Here are a few of the extraordinary things that the desert offers to nature photographers, and the best places to find them.
Killer Dunes
Many desert areas have significant dune fields. For the best shots, wait for heavy winds to blow them clean of footprints and create ripples and other formations in the sand. Try using this heavily rippled sand as a foreground element when shooting grand landscapes.
The colorful, low-angled light of sunrise and sunset works best to show the landscape in clearest relief. The crests of dunes often make the best subjects, as you can juxtapose sunlit and shadow areas of the dune for dramatic effect. Be careful when exploring dunes; you don't want to ruin that perfect shot by tracking up the sand before you realize its full potential. When working in blowing sand, avoid changing lenses to keep sand from getting inside your camera. Typically, a wide-to-short telephoto zoom lens (like a 24–105mm on a full-framer, 16–70mm for APS-C sensors) will give you more than adequate coverage.
Where to find the country's best desert dunes: Death Valley National Park (CA) has one of the most accessible dune fields—Mesquite Flat Dunes—and one of the tallest, Eureka Dunes, although you might need four-wheel drive to get to those. Great Sand Dunes National Park (CO) has a huge field, its 800-foot high dunes dwarfed only by a backdrop of the massive Sangre de Cristo Mountains.
The dunes of White Sands National Monument (NM), although much smaller in size, are unique for their white color, which reflects the hues of sunrise and sunset.
Sculpted Sandstone
Where there is sand, there's likely to be sandstone. This soft rock is typically colorful and easily eroded by water and wind into fantastic shapes. Natural arches, rock sculptures, and flowing rock striations make excellent photographic subjects. Be careful when photographing delicate sandstone features: You don't want to break anything and ruin the fun for others.
The warm light of sunrise and sunset can really bring out the brilliant colors in sandstone. Also, sandstone in the shade appears to glow when it is illuminated by light bouncing off of other sandstone in direct light. Usually, overcast light is not ideal when photographing sandstone.
Try Valley of Fire State Park (NV) for some of the most colorful sandstone you'll ever see, with a rainbow of pastel colors including reds, pinks, yellows, oranges, and blues— all just one hour outside of Las Vegas. Bonus features include abundant natural arches and Native American petroglyphs.
Arches National Park (UT) lives up to its name—with more than 2,000 sandstone arches, this must-see park should be near the top of every shooter's life list.
Last but certainly not least, the Bisti Wilderness (NM) contains bizarre, sculpted rock features that carry intriguing names such as The Egg Factory and Angel Wings.
Mysterious Slot Canyons
When water and sandstone collide, slot canyons form. These narrow canyons, some barely big enough to squeeze though, make great photographic subjects—if you don't mind a little claustrophobia and perhaps scraped elbows.
Before heading in, however, check the weather forecast. If it rains in the area while you are exploring a slot, you might get trapped in a sudden, dangerous flash flood. Even rainstorms hundreds of miles away can send a flash flood your way, so only go if sunny skies generally prevail in the region.
The sunny days that minimize your risk of a flash flood also offer the best light for photographing slots. Strong light striking the rocks at the top of the slot will reflect down into the interior, creating a beautiful, soft glow. Direct beams of light striking the canyon floor can add drama to your images—try throwing a handful of sand into the light to accentuate the beam.
If possible, plan to spend several hours in a slot canyon during the middle of the day, to watch the light change and to ensure you catch the peak glow.
While some slots require technical canyoneering skills to reach, there are many easily accessible—and extremely photogenic—slot canyons in the southwestern desert.
Try Grand Staircaseescalante National Monument (UT), with several beautiful slots including Zebra, Spooky, and Peek-A-Boo Canyons.
Perhaps the most famous slot canyon in the world is Antelope Canyon (AZ), on Navajo Nation tribal land. For a fee, you can explore its many twists and turns, and shoot its famous glowing sandstone features and arches.
Water Features
Ironically enough, water defines many desert areas, sculpting the landscape and bringing life to what would otherwise be barren. Some desert areas have an abundance of water, making for unique photography opportunities.
For the ultimate desert water experience, Great Salt lake (UT), the largest salt lake in the western hemisphere, doesn't disappoint—head to Antelope Island State Park for a chance to photograph landscapes and wildlife, including bison, pronghorn, and bighorn sheep.
Big Bend National Park (TX), which preserves a magnificent portion of the Chihuahuan Desert, is defined by the looping Rio Grande River. Many photogenic wonders await you there, including eroded rocks, volcanoes, fossils, hot springs, and old mines.
Finally, the world-renowned Virgin River Narrows of Zion National Park (UT) offers a fantastic desert pairing: a flowing river at the bottom of a deep sandstone canyon. Just bring a pair of chest waders and a sturdy stick for keeping your balance, as you will spend much of your time in waist-deep water.
Flora and Fauna Desert photography isn't just about sand and stone. Many desert areas boast unique plant and animal life.
Joshua Tree National Park (CA) is famous for its stunning collection of twisted Joshua trees, growing as high as 30 or 40 feet.
Organ Pipe National Monument and Saguaro National Park (AZ) are known for their respective namesake cacti, as well as beautiful highdesert scenery.
Plants aren't the only things that thrive in the desert: Thousands of sandhill cranes come to the Alamosa and Monte Vista National Wildlife Refuges (CO) in March before migrating elsewhere; bring a long telephoto lens to capture the action.
For the ultimate living-desert experience, travel to an area with good spring blooms. This isn't always a safe bet: Some areas flower every year, whereas other areas bloom only every few years—or decades—dependent on sufficient moisture from rains or mountain snowmelt.
Areas that consistently bloom in profusion in March include Anza-Borrego Desert State Park and the Antelope Valley California Poppy Reserve, both located in southern California.
A wide-angle lens is useful for capturing grand landscapes of fields filled with flowers, whereas a macro lens or a short telephoto will come in handy when shooting close-ups or isolating a portion of the landscape.
Ian Plant is the author/photographer of eight books, including Chesapeake: Bay of Light (Mountain Trail Press, 2007), and a lead author and executive editor of The Ultimate Guide to Digital Nature Photography (Mountain Trail Press, 2009). See more of his work at www.ianplant.com.