Film Location Scout
Photographer Nick Carr helps Hollywood on the mean streets.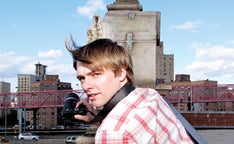 film location scout
Freelancer Nick Carr, 27, scours New York City for locations for movie producers, then works on-site throughout the shoot. Among the films he's worked on: Munich, Spider-Man 3, The Taking of Pelham 1 2 3, and The Sorcerer's Apprentice (due out in July 2010). Check out his photo blog, www.scoutingny.com.
An Urban Explorer's Dream:
I get to go to places most people don't get to go to, and I get to see things most people don't get to see. When I worked on Spider-Man 3, my job for 2 or 3 months was going to the highest rooftops to figure out where Spider-Man would jump off. For Pelham 1 2 3, I got to go all sorts of places underground on train tracks that are no longer used.
Finding Sites:
Day one, you get the script and read it. Then you make a list of locations you have to find—some are obvious, like Central Park or Grand Central Terminal, and it's just a matter of logistics and permission. Some, like "college student's apartment" or "dank alleyway," are more abstract. Screenwriters and directors often have a vision of New York City that doesn't exist, so you have to offer a lot of options. I have to draw on experience, knock on every door on the block, leave flyers, and hope people call me back. getting started: I went to Columbia University for film studies—I learned a lot about appreciating films, but not as much about making films. Then I worked as a production assistant for a year and a half, and a big part of the job was finding things the stars wanted—such as a basketball court at every location for Adam Sandler. Learning how to do this is how I later switched to location scouting.
The Photography:
I learned it on the job. I've upgraded to a Canon EOS Rebel XT with a 17–85mm f/4–5.6 Canon EF-S IS lens, but most location scouts use point-and-shoots. You don't have to be a great photographer, but it helps if you put a little more work into it. Directors need to get a good sense of a place.
Going Above And Beyond:
I shoot a lot of panoramas— rooftops, rooms from different angles and corners—and stitch them together in Canon's Photo-Stitch. Then I try to think like a director and take singles that could be actual movie shots.
Available Light:
I try for consistent lighting and a steady hand, since I don't use a tripod. Low light is a problem, but sometimes directors want dark pictures—I shot Bryant Park at night recently, and they wanted it as dark as possible so they would know how to light it.
You Need Stamina:
I work 11- to 12-hour days before the movie starts shooting, and 15- to 16-hour days when it does. There's no cutting corners. Even if I've scouted and photographed a location several times in the past, I have to do it again to get the most up-to-date shots. And sometimes I never find what they need, and they have to build the set on a sound stage.