Printer Test: Epson Stylus Pro 3880
This new 17-inch model prints more colors and is built to last.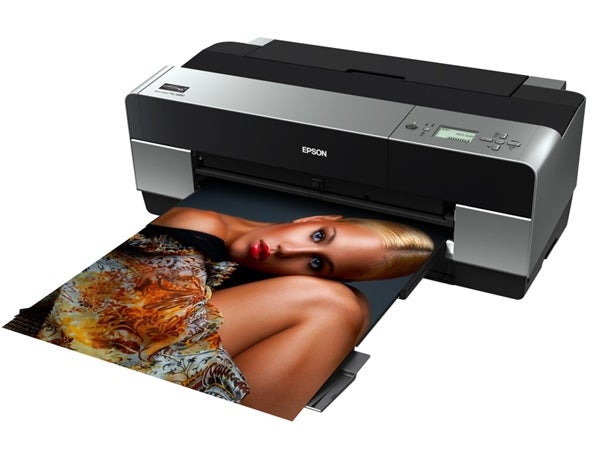 We may earn revenue from the products available on this page and participate in affiliate programs. Learn more ›
Serious home printing demands a serious printer.
With its new Stylus Pro 3880, a long-awaited follow-up to the well-received Stylus Pro 3800, Epson refines some of the innovations it introduced in that model, while adding some features that trickled down from its more expensive large-format printers over the past year.
The main boost: Epson's reformulated magenta inks. It still uses Epson's UltraChrome K3 pigment-based ink set, but it has replaced its old Magenta and Light Magenta cartridges with Vivid Magenta and Vivid Light Magenta. These join Cyan, Light Cyan, Yellow, Light Black, Light Light Black, Photo Black, and Matte Black. That's a total of nine inks, though the printer uses only eight at any given time.
Through the printer's menu you tell it to switch between Photo and Matte Black depending on the paper you're using. That's one benefit of the 3880 over Epson's Stylus Photo R2880 ($800, street), which makes you physically switch the Photo and Matte Black cartridges.
Epson says that the Vivid Magentas should provide more intense blues and violets, and we did see a wider range of those colors in the test prints we made. These colors have long been difficult for inkjet printers to reproduce and are usually one of the biggest color shifts you'll see when trying to print an image of flowers-if the African violets in your prints don't look purple, you might want to try the 3880.
Another trickle-down technology is the ink-repellent coating on the MicroPiezo AMC print head. This helps to keep ink away when the head's not in use, so there's less chance of it drying up and causing clogs.
It's generally a good idea to turn your printer off when it's not in use so it will park the print head and let it cool down, again, to avoid drying. Ink can be expensive. You don't want to waste any by running cleaning cycles that could've been avoided.
When it introduced the 3800, Epson debuted a new set of screening and color-lookup table algorithms created in conjunction with the Munsell Color Science Laboratory at the Rochester Institute of Technology. Now called AccuPhoto HD2 technology, it's responsible for how the printer maps the colors in a photo to the colors it is able to create and how it lays them down on the paper.
The main benefit? Smoother gradations in areas that transition subtly from one color to another, or from light to dark – often in the out-of-focus areas of photos, such as the backgrounds of portraits or macro shots. You may have encountered banding problems in such areas before, where some printers create too big a step in brightness. Not so with the 3880.
Photographers who work in black-and-white will appreciate the Advanced Black and White mode, which makes converting to a neutral or lightly toned monochrome really easy. Annoyingly, years after its introduction, this part of Epson's driver still doesn't show an actual preview of your image.
Instead, it always shows the same portrait of a woman to preview the relative effects of your settings.
Another benefit of a highend printer like this one: It can handle thicker paper. The 3880 accepts media up to 1.5mm thick and up to 17×22 inches in size. Compare that to the 1.3mms thick, 13×19 cut sheets the Stylus Photo R2880 limits you to.
There are three paper paths: a standard feeder, a straighter rear feed, and an absolutely straight front feed. Strangely, though, the 3880 doesn't have a roll-feed option-you'll need the R2880 or Stylus Pro 4880 for this.
Certain papers, such as Epson's new Hot Press and Cold Press matte papers, require you to choose the proper path when you select the paper size in the page-setup portion of the driver. So, if the driver doesn't let you select your paper, check that you've selected one of the manual feed options.
You might balk at the fact that each ink cartridge costs $50 (not a typo!), but each cartridge holds 80 milliliters of ink compared with 10 to 14 ml in similar-sized cartridges from other makers. The price per milliliter is on par with what you'd pay using a printer with smaller tanks.
The 3880 is built to stand up to the needs of pros. It also has an Ethernet port on back, so you can set it up on a network. Plus, it's offered as a package with ColorBurst RIP software ($200 extra), for a level of control that most people don't need.
Overall, the Stylus Pro 3880 is a worthy follow-up to the 3800. If you have the earlier model, you probably don't need to upgrade, unless you feel the new Vivid Magenta ink will make a major difference to you.
But if you want to get serious about printing photos at home or need to replace another serious photo printer, the 3880 is almost a no-brainer.