Behind The Lens Of A CSI Photographer
A glimpse into the world of a crime scene technician, Daryl W. Clemens.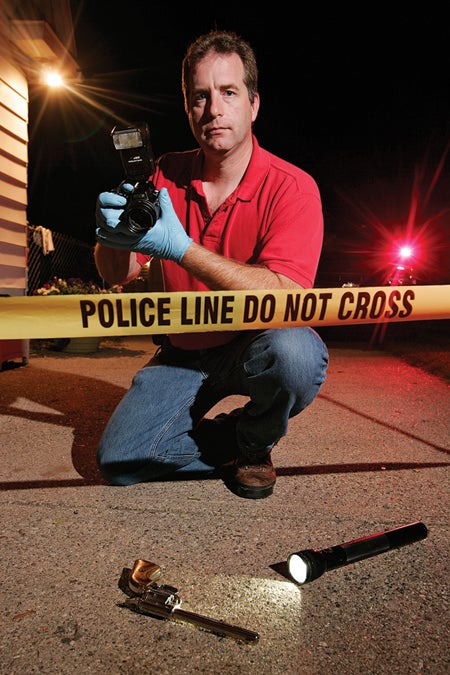 What The Job Entails: We have nine crime scene techs in the department. We're responsible for all physical evidence, including photography, fingerprints, blood and body fluids, hair and fibers, and scene reconstruction. After photographing, we upload the images to our database and file a report, using CorelDraw for diagrams or maps.
Getting Creative: Once, someone shot an SKS assault rifle at a van 30 or 40 times-my photos didn't do it justice, so I cut off part of the vehicle and took it into court as evidence. Another time, we had to call the fire department so I could use the ladder car for an aerial shot.
His Gear: A Nikon Coolpix 8800, Nikon Speedlight SB-800 flash, fingerprint kit, and lots of basic crime scene stuff-a raincoat, evidence markers, fire boots. I hope to get us each a Nikon D5000 and 35mm f/1.8 lens- normal length, to minimize distortion, and fast. Low light is our enemy, and we want less noise. But a good midrange zoom would give us more options.
Worst Scene Ever: A house fire in which several children died. Shooting it wasn't bad-I was focused on what needed to be done-but looking at the photos later was very hard. The grossest I've seen was a woman who had been dead for a while in a house full of cats. I've driven up on two shootings in progress-and, as I'm unarmed, that's unnerving. I've also found suspects hiding in my scenes.
Rewards: I really like working scenes where we can figure out the specifics of what happened. And I have some great partners. But I miss the creative side of photography. In CSI, you record things as they are-it's not about making beautiful pictures.