How To Save Old Prints From Wear And Tare
Don't give up the shots. You just might be able to save them.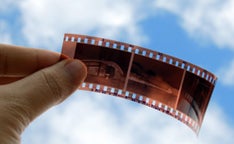 | | | | |
| --- | --- | --- | --- |
| Dust, dirt, and unidentifiable grime all over your old prints, slides, and negatives? Don't give up the shots! You just might be able to save them-and maybe even restore them to their former glory. Try these tips:PHOTOGRAPHIC PRINTSBrush or blow off any nonembedded dirt and dust, using a light touch to avoid scratching the print surface. Use a low-pressure bulb blower, not canned air (it can leave a residue). | | | |
For color or black-and-white prints, RC- or fiber-based, made on chemical-based paper (such as silver-halide), use PEC-12 photographic emulsion cleaner ($10 for 4 ounces, street), a nonwater-based cleaning solution made by Photographic Solutions (www.photosol.com; 800-637-3212). Apply it to a soft cloth or Q-tip, and wipe affected areas.
Rare or valuable prints should be evaluated by a photo conservator prior to cleaning. Do not use PEC-12 on prints from the 19th or early 20th century, as it may dissolve away some of the emulsion.
Do not use PEC-12 or any other liquid on inkjet prints, either, because the paper is very absorbent. Use cotton swabs, white cotton gloves or a microfiber cloth to clean them. You can protect important inkjet prints by applying ECO Print Shield ($15, street), which makes the surface easier to clean later and may improve resistance to fading or staining from exposure to direct sunlight or corrosive gases (Premier Imaging Products; www.premierimagingproducts.com; 800-508-5122).
Dye-sublimation (dye-sub) prints are more resistant to damage by liquids than are inkjet prints, but try PEC-12 on an unimportant print first to be sure.
NEGATIVES
For recent color or black-and-white negatives, apply PEC-12 with pads, a cotton diaper, or a soft well-washed cotton cloth. PEC-12 may also work on pre-1960 negatives, but refrain from using it with acetate-based safety films manufactured prior to 1960.
Whatever you use, try your technique on an unimportant negative first. Have a photo conservator look at anything irreplaceable, especially older film from the turn of the last century.
SLIDES
Use PEC-12 on Ektachrome, Koda-chrome, Fujichrome or other slides, as well as on 21⁄4- and 4×5-inch transparencies. Apply it with a soft cotton cloth, cotton balls, or Q-tips moistened in the liquid. Never spray the image directly. Do not use PEC-12 on varnished slides, such as Kodachromes of the '40s and '50s. A varnished slide shows an iridescent "oil-on-water" effect when held to the light at certain angles.
If your slides are moldy, remove them from the cardboard mounts and clean them with PEC-12, which removes mold and spores. You can also use pure isopropyl alcohol, which is safer and less chemically reactive than ethyl alcohol. Avoid methyl (wood) alcohol, which is toxic and much more chemically reactive.