Hands On: Nikon D3000, D300s
Meet the two new DSLRs from Nikon.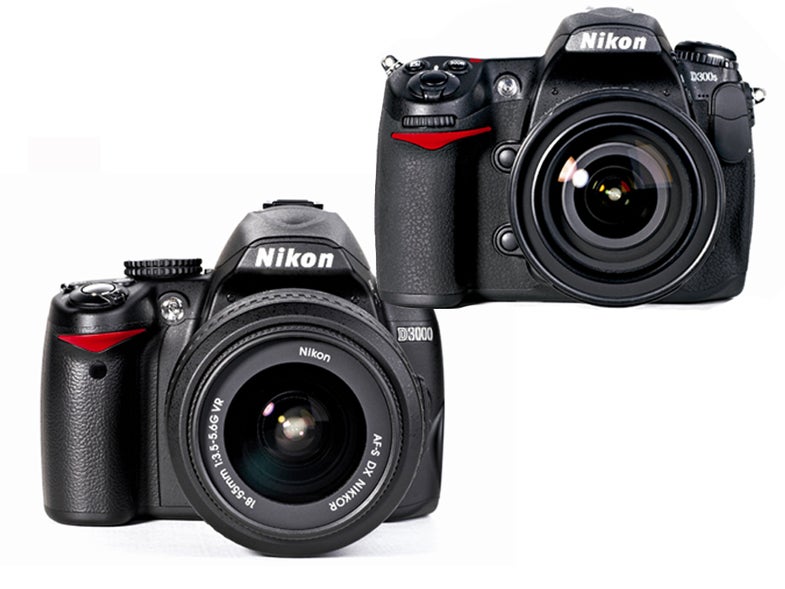 We may earn revenue from the products available on this page and participate in affiliate programs. Learn more ›
The Two Hottest Trends In DSLR:
Easy-to-use cameras designed for beginners and high-definition video on enthusiast models. So we weren't surprised when Nikon showed us two new DSLRs due out in late August, both with DX-format (Nikon's way of saying APS-C) sensors.
The D3000 ($600, estimated street, with 18-55mm f/3.5-5.6G VR DX lens) replaces both the D40 and the D60-correcting their biggest weakness, 3-point autofocus-to become the company's main entry-level DSLR. The D300s ($1,800, estimated street, body only) upgrades the D300 with HD video capture, a faster native burst rate, and a handful of other tweaks.
For DSLR Newcomers:
With the D3000, Nikon takes its entry-level model to the front of the AF pack from the back by upping the number of points to 11 for more coverage throughout the frame. The only other DSLR in this class with an 11-point phase detection system is Pentax's K200D. Even the Canon EOS Rebel T1i has only nine.
Sure, more points doesn't necessarily mean faster focusing, but the new Nikon uses the same AF system as the D5000 and D90, which tested very well in the Pop Photo Lab earlier this year.
With a 10.2MP (effective) CCD sensor, the new D3000 retains the D60's megapixel count, on par with competitors from Olympus, Pentax, and Sony. (The Canon EOS Rebel XSi has a 12.2MP CMOS sensor- not a huge difference, but not insignificant, either.)
The only other hardware upgrade on the light and easy-in-the-hands Nikon D3000 is the 230,000-dot LCD screen-now 3 inches, up from 2.5, equal to the Canon's, and larger than the rest in this class.
The D3000 boasts some new imaging effects you can apply right in the camera-without changing your original file. One effect we liked: Miniature, reminiscent of the kind of selective focus you get with a tilt/ shift lens. It blurs out all but a slim horizontal band of the photo, making it look more like a picture of a tiny scale model than a real-world scene.
For people who are new to photography or stepping up from a compact camera, there's the Guide shooting mode. It asks questions on the LCD, then uses your responses to set the camera for what you plan to shoot. The first query: Whether you want Easy or Advanced operation. If you choose Easy, it asks just a few more questions to set the appropriate scene mode-perfect for people who want point-and-shoot simplicity with DSLR performance and image quality.
Also, as in the last few generations of Nikon's entry-level DSLRs, there's a question-mark button. Push it to get information about your shooting mode or selected menu item.
For Advanced Shooters:
For much more firepower, check out the D300s. It has the same 12.3MP (effective) CMOS sensor as the D300 and keeps most of its features, including the rugged, weathersealed, magnesium-alloy body; 51-point autofocus system that works in tandem with the 1,005-pixel RGB metering sensor for 3D focus tracking; and built-in commander mode that allows the pop-up flash to trigger an off-camera unit.
What's New?
A beefed-up EXPEED image processor-and with it, 1280×720-pixel 24-frame-per-second HD movie capture. Video files are stored in AVI format using Motion JPEG encoding. While the built-in microphone is monaural, a mini-jack stereo input lets you attach a mic. There's even a levels control to adjust the volume of audio recording. And you can trim the beginning or end of the video clips in the camera, then show your edited clip on your HDTV by connecting to the camera's HDMI port.
Still shooters benefit from the faster image processing, too. For Large/Fine JPEG images, the burst rate has gotten a boost to 7 frames per second from 6 when you're using the single EN-EL3e Li-ion battery that comes with the camera. If you want to go faster, the optional MB-D10 Multi-power battery grip ($260, street) nets you up to 8 fps, the same that the D300 could do with its accessory battery grip. By way of comparison, Canon's EOS 50D ($1,200, body only) tops out at 6.3 fps.
One great addition is a second memory-card slot for an SD/SDHC card, alongside the familiar CF slot. As with the dual CF slots in Nikon's high-end D3 and D3X models, you can designate one card to store RAW files and the other JPEGs, mirror everything you shoot to both cards, or set the camera to move to the second card once the first fills up. The SD slot also means you can use the D300s with Eye-Fi cards to upload your photos to the web wirelessly through Wi-Fi-a much less expensive, though also less robust, option than the Nikon's WT-4a ($800, street) wireless transmitter.
And the camera's sophisticated imaging modes have also been tweaked to make them easier to use. Take, for example, Nikon's D-Lighting, which brings out detail in shadows and tames overblown highlights. On the D300s, you can shoot D-Lighting brackets of up to five frames to see which works best. Since it sometimes can be difficult to tell how much D-Lighting to apply, bracketing will probably come in handy-and encourage more people to expand the dynamic range of their images this way.
For All Nikonians:
To go along with these new DSLRs, Nikon has updated two of its lenses. The 70-200mm f/2.8G Nikkor ED VRI ($2,500, estimated street) has a newer version of optical image stabilization and seven ED lens elements, plus Nikon's Nano Crystal coating to minimize internal reflections. The 18-200mm f/3.5-5.6 DX Nikkor VRI ($850, estimated street) also has the new IS system. And it sports a zoom-lock switch, so you won't get barrel creep while toting your camera around town.
With all of this new gear, Nikon offers a solid set of updates. The D3000 looks to be a big cut above the D60, at least in AF, and the D300s ushers Nikon's advanced midrange into the video revolution.
Now we just need to see how they perform in the Pop Photo Lab and in real-world conditions. As soon as we get testable models, we'll report the results on PopPhoto.com and in the magazine. Check back this fall.