American Photo Editor's Choice 2009: Fine-Art Printer
Epson's artful new model might just be perfect.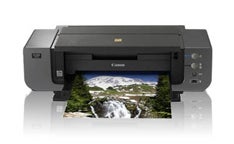 Epson Stylus Pro 7900
The most annoying thing about Epson pro printers has been the need to manually swap out black cartridges whenever you wanted to switch from glossy to matte paper, and back again. That task wasted time and expensive ink. The company's latest pro printers solve the problem with an extra ink channel. Epson calls it "auto sharing black ink channel technology," a complicated way of saying that the 24-inch Stylus Pro 7900 (and companion 44-inch SP9900) can simultaneously accommodate photo (glossy) and matte black ink cartridges-and that the printer switches between them on the fly, from sheet to sheet.
The ability to switch blacks automatically actually first appeared in the Stylus Pro 3800, a scaled-down 17-inch model, and in the massive 64-inch SP11880. Those models use an inkset called Ultrachrome K3 with Vivid Magenta, which required eight and nine channels respectively. But the two newest pro models use an inkset dubbed Ultrachrome HDR, for high dynamic range, which features new orange and green inks, for a total of ten channels. (There's an eleventh cartridge slot for the black not in use.) The green and orange inks are designed to further expand the color gamut of prints, and on paper (so to speak) they do. Whether the overall improvement is visible or not, the green and orange inks can make a real difference in the rendition of skin tones because both contain a measure of yellow, an inkjet nemesis.
There are other improvements: New heads and better dithering algorithms deliver even greater dot consistency, though only the most practiced eye will notice. Print speed has essentially doubled. Paper loading is greatly simplified-made painless compared to the competition's with a new, spindle-free system.
The printers' front panel now has a color LCD that makes ink information easier to read, and controls are less confusing. You can even get an add-on X-Rite spectrophotometer, an option aimed at the built-in one on HP's Z-series printers. Last but certainly not least, you can mix and match cartridge sizes, including new high-capacity 350ml and 700ml ones, for better ink economy- and serious sticker shock! About $4,000.
HP Designjet Z3200
The next generation HP Designjet Z3200 offers better paper handling, faster print speed, and a larger internal hard drive than its groundbreaking predecessor, HP's Designjet Z3100. Most notably, though, it introduces a new HP Chromatic Red ink that substantially extends the color gamut of its pigment-based prints. In our tests we found that bright colors printed with excellent saturation and detail, and that skin tones were very natural. Black-and-white output from the Z3200 is outstanding, whether made with a standard profile or the driver's grayscale option. Either way, or in color, our images were superbly sharp and detailed on all the HP-branded and third-party media we tried.
What could be improved? We'd like an extension for the single-sheet paper feed tray, for better support of large sheets. We'd also like a roll-feeding procedure that's as simple as the one for sheet media. The Z-series roll feed on either the 24- or 48-inch model is not as user-friendly as in Epson's competing 24- and 44-inch printers, because it requires a back-bending reach-over if you try to load the paper from the front. (We were also asked to re-feed the roll paper a few times.) And you will need to get behind the printer if loading paper from the rear. All in all, though, this is an impressive machine. About $3,500 (24-inch).
Canon Pixma Pro9500 Mark II
This second- generation version of Canon's first pigment-based 13×19-inch printer is a fairly modest upgrade of the original, but that means it's a terrific printer. It uses the same archival Lucia pigment inkset, which features three grays-light gray but no light light gray, with automatic switching between photo (glossy) and matte black-plus the colors, including red and green, that made its predecessor stand out. While the Pro9500 Mark II does an excellent job with color images, even the color inks contribute to the exceptionally rich, smooth tonality of its black-and-white output. Thousands of nozzles in its replaceable printhead, plus a three-picoliter droplet size and 4800x2800dpi resolution, make prints breathtakingly sharp as well.
With front and rear slots, the Mark II is able to handle very heavy papers- over a millimeter thick (front) and/or up to 300gsm (rear). Paper feeding is not the easiest or quickest in its class. And for some reason the new model is slightly slower than the original, though we don't think that's a big deal when you're printing at this level of quality. Besides, if you're using Windows Vista, the Canon software even has an ambient-light adjustment feature that fine-tunes color to suit your anticipated illumination. About $800. Epson Stylus Photo R2880 We loved the 13-inch Epson Stylus Photo R2400, but it drank ink like water and never seemed as well-built as Epson's pro models (though lots of pros were and still are using it). The SP R2880 addresses those issues, and then some. It uses Epson's UltraChrome K3 inkset-yes, the one with Vivid Magentas-and as a result improves the rendition of purplish colors and smooths transitions in hue.
The R2880 still requires wasteful manual swapping of matte and photo black inks, a problem fixed in at least four of Epson's newer printers. It seems a shame to burden a 13×19 printer-one likely to be used as much by serious amateurs as pros-with this shortcoming. A printer this size is in fact the perfect tool with which to experiment with different media, from so-called baryta paper to heavy, raggy stocks, some of which will require matte black and others glossy black. The Stylus Photo R2880 invites that kind of experimentation with its ability to handle both thick sheets and roll paper. Bitching aside, though, the R2880 makes gorgeous prints. About $700.