Printer Test: HP Designjet Z3200
Large-format printing gets bolder and better.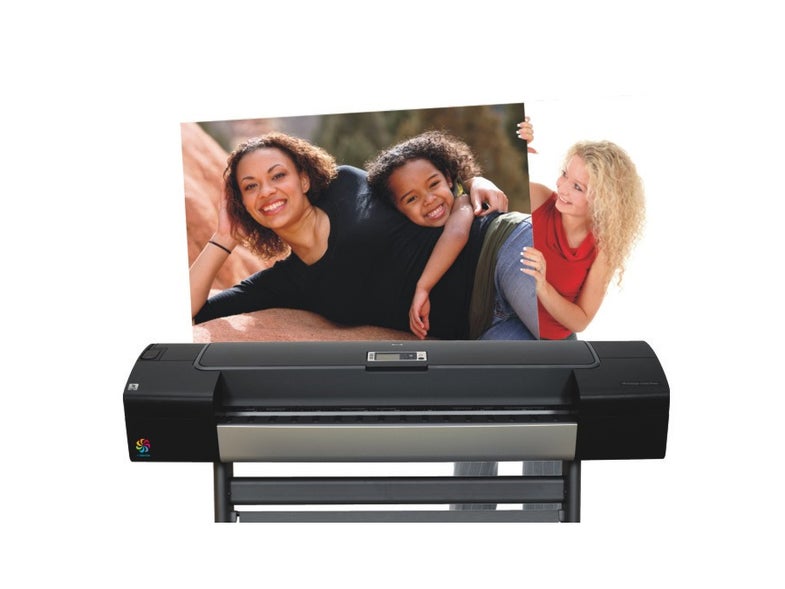 We may earn revenue from the products available on this page and participate in affiliate programs. Learn more ›
Like the megapixel race among digital cameras, the color gamut race among inkjet printers is surging. Case in point: the next-generation HP Designjet Z3200 ($3,300, street, for the 24-inch model; $5,325 for the 44-inch).
This big pro printer offers better paper handling, faster print speed, and a larger internal hard drive (80GB) than its predecessor, the Designjet Z3100. More importantly, it introduces a new HP Chromatic Red ink that substantially extends the gamut of its pigment-based prints, covering 95 percent of the Pantone color library. Like the Z3100, the new printer uses 11 individual color HP Vivera inks, plus a gloss enhancer that helps reduce bronzing and gloss differential on certain papers.
A Postscript edition (Z3200ps), which we tried in the 24-inch version ($4,700, street; $6,800, 44-inch), has some extras, including an online Pantone-licensed swatch set with spot colors that you can print and use for proofing or final projects.
Though more daunting than a desktop printer-the 24-inch model weighs 133 pounds, the 44-inch model 189 pounds-the Z3200 was a breeze to set up. We went from lifting the lid of the box to printing our first calibration target in less than 90 minutes. Using the built-in system, we then calibrated and profiled a few HP-branded papers in about 20 minutes per paper. Not that you have to: The 50 supplied profiles are excellent. (And since they're stored on the machine, you can print from any computer without installing them locally.)
The maximum thickness of media accepted by the Z3200's sheet- and backfeed is 0.8mm-about that of of two-ply matboard and more than adequate for the vast majority of inkjet papers on the market.
That's all great, but the Z3200's print quality is even better. Our images were superbly sharp and detailed on all the HP-branded and third-party media we tried, including gloss, semi-gloss, matte, and watercolor coated papers, as well as canvas. Bright colors printed with excellent saturation and detail, and skin tones were natural. Black-and-white prints look outstanding, whether made with a standard profile or the driver's internal grayscale option. (Choosing the latter instructs the printer to use only three neutral-gray inks when printing on gloss or semi-gloss papers, and all four of its gray inks on matte papers or canvas.)
Gamut maps confirm what we saw with our eyes: The new Chromatic Red definitely improved the reproduction of reds. Testing by Wilhelm Research (www.wilhelm-research.com) estimates that the inks will resist fading and color shift for 250 years or more on many different media.
What could be improved? We'd like an extension for the single-sheet paper feed tray for better support of large sheets. We'd also like a roll-feeding procedure that's as simple as the one for sheet media. The Z-series roll feed is not as user-friendly as in Epson's 24- and 44-inch printers, because it requires a back-bending reach-over if you try to load the paper from the front. (We were also asked to feed the roll paper again a few times.) And you will need to get behind the printer if loading paper from the rear.
Our tests clocked the print speed at about 15 to 20 percent faster than the Z3100's. One big surprise: the amazing print quality even when we chose Standard Quality (resulting in double the print speeds, and 16×20-inch prints in just under 4 minutes). It's not quite as detailed as the Best Quality setting, but it was difficult to tell the two apart on most of the prints we looked at side by side.
All in all, HP's Designjet Z3200 is an impressive machine, and ideal for those who want a big printer that makes high quality, long-lasting black-and-white and color prints.
Andrew Darlow's 301 Inkjet Tips and Techniques: An Essential Printing Resource for Photographers (Course Technology, PTR; $50) packs 500-plus pages of advice. Visit inkjettips.com.