Traveling Photographer: The Everglades
Capture Florida's wild beauty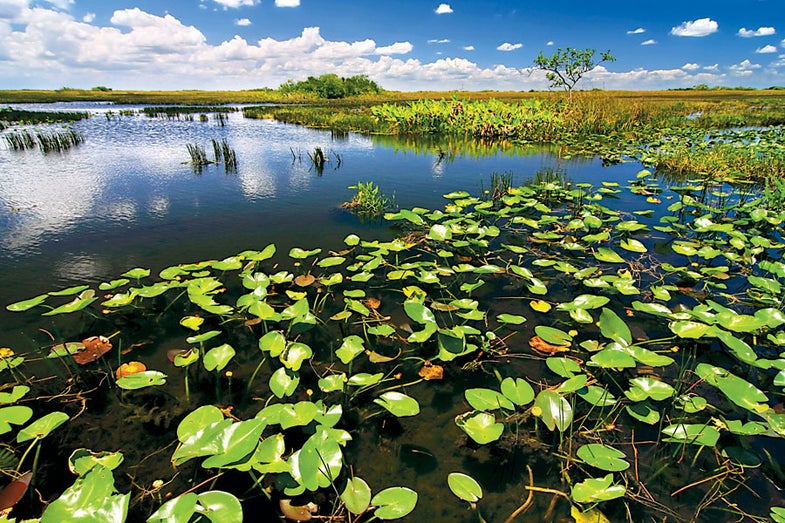 Miami is famous for wild nightlife, but daytime is for wildlife photography. Glades of cypress and marshland filled with orchids, alligators and egrets wait off the Tamiami Trail, a stretch of U.S. 41 that in an hour takes you straight from Miami to the wild beauty of the Everglades. January's dry season promises clear blue skies and temperate climate. Follow this route down the Tamiami for a day of amazing photos:
1. Shark Valley
Your first stop in the Everglades yields fields of sawgrass, plenty of egrets and ibis, and, of course, alligators. These "living fossils," with their craggy skin, make great subjects for black-and-white shots. Park rangers say that they aren't aggressive or likely to bother you as they lounge on the roadside, as long as you keep a 15-foot distance. Too close for comfort? Take a 2-hour tram tour (www.sharkvalleytramtours.com), which guides you safely past the beasts to a 65-foot observation tower for a bird's-eye view of waterfowl and gators below.
2. Airboat tour
Numerous and easy to spot from the road, these floating buggy rides through the swamps and marshes are perfect for close-ups of wildlife, as well as landscapes such as the one above, which Allen Maestas captured on the Miccosukee Tribe airboat tour at Miccosukee Indian Village (www.miccosukeetribe.com), just past Shark Valley. Bring a polarizer to cut down on the glassy reflections from the water.
3. Swamp walk
En route to Big Cypress National Park, pull off at Clyde Butcher's gallery (52388 Tamiami Trail; www.clydebutcher.com). Known as the "Ansel Adams of the Everglades," this photographer displays large-format images that will inspire you. Then follow the Tamiami to Oasis Visitor's Center (239-695-1201), where you can take a free scenic swamp walk, if you book in advance during the (surprisingly cool) dry season. This takes you deep into twisted mangroves, hanging moss, wild orchids, and carnivorous bladderwort. It can also sometimes take you through water a few feet deep — so wear something grubby, bring a change of clothes and pack your gear in waterproof plastic. Use long exposures to blur the water and for contrast with the plant life.
4. Kirby Storter Boardwalk
Big Cypress National Park is filled with "cypress domes," depressions filled with stands of bald and palm cypress. On Kirby Storter Boardwalk, 7 miles west of Oasis, you can shoot one without getting your feet wet. Trees tower above as you stroll past ferns and orchids. Aim your tele upward to capture bromeliad in the highest branches.
As the day ends, finish off your wet-and-wild road trip by turning left on State Road 29, which takes you right into Everglades City. Feast like a king for less-than-Miami prices on the seasonal stone crab, and cap off your photo adventure with sunset shots over the Chokoloskee Bay.
For more on visiting the Florida Everglades, go to www.nps.gov/ever.