Your Best Shot – September 2006
Winning photos from our readers.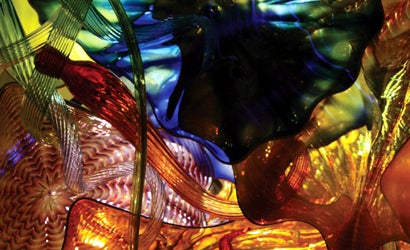 1st Place: Art Glass
When he walked into the Children's Museum of Indianapolis, DAVID PENCE of New Bremen, OH, knew he'd found a spectacular source for the kind of colorful, abstract photos he loves to make: Dale Chihuly's new sculpture, Fireworks of Glass, which soars five stories through the museum's atrium. Pence, a 41-year-old designer for an aerospace company, shot from below the massive, hanging sculpture, aiming his camera through a glass panel and exploiting the natural light that poured through Chihuly's interlocking forms. "I took three or four shots, but this was my favorite," he says. We'd have to agree. Tech info: Canon EOS 30D, 50-500mm f/4-6.3 Sigma APO lens. Exposure, 1/100 sec at f/5.6, ISO 400.
CINDY EDMONDSON, 20, enjoys a vantage point few photographers share-backstage. A junior majoring in dance at Point Park University in Pittsburgh, PA, she frequently shoots during performances, whenever she's not on stage herself. In this shot of ballerinas in Swan Lake, she used the stage lighting and slow shutter speed, along with slight overexposure, for artistic effect. "My mother's an amateur photographer, and it's funny that I've wound up loving photography, because I was always so annoyed with her for always having the camera out," she says. "But now I've developed a little obsession with it." Tech info: Kodak EasyShare DX6490 zoom. Exposure, 1/11 sec at f/3.2. Slight retouching in Kodak EasyShare software.
During a semester studying in Spain last year, TAYLOR MILLER, 20, of rural Colby, KS, found himself repeatedly drawn to the Cathedral of Santiago de Compostela, near where he was staying. "It was so inspiring," he recalls. "And because it's so big and a pilgrimage cathedral, you can visit while mass is going on." Miller, a junior at the University of Kansas in Lawrence, majoring in Spanish and journalism, managed to shoot this high-contrast photo of worshipers without disturbing anyone's prayer. Tech info: Canon EOS Digital Rebel XT with 18-55mm f/3.5-5.6 EF-S Canon lens. Exposure, 1/60 sec at f/4, ISO 400. Converted to black-and-white in Adobe Photoshop 5.5.
"I got lucky," says OWEN DIVICO, 20, of Cold Spring, NY. "I was chasing that praying mantis up and down on a bluff, and he finally stopped just on the edge. It was really steep." Praying mantises are rare in upstate New York, where Divico is starting his senior year at SUNY Oswego. An education major with a concentration in biology, he loves nature photography, particularly landscapes and macro shooting. Tech info: Pentax OptioWP waterproof digital point-and-shoot. Exposure not reported.
For journalist MALCOLM AINSWORTH, 40, getting this overhead view of a market stall in Hong Kong, where he's lived for seven years, was a matter of chance. He was traveling by escalator through the center of the city, when he saw this fruit vendor. Since he was on a moving walkway, he had to shoot quickly. "Usually the stalls have tarp roofs to protect them from the sun," the U.K. native says. "But it was really overcast that day, luckily." Moral: Always keep your camera close at hand. Tech info: Nikon D70, 70-300mm f/4.5-5.6G Zoom-Nikkor lens. Exposure, 1/200 sec at f/7.1; ISO 800. Converted from RAW, slight cropping and rotation in Adobe Photoshop CS.
To enter, send prints or CD-ROM to Your Best Shot, Popular Photography & Imaging, 1633 Broadway, NY, NY 10019, or e-mail files to YourBestShot@hfmus.com. Prizes: First Place, $300; Second Place, $200; Third Place, $100; Honorable Mention, $50. Up to 5 entries per month. Submission size for digital images: 50K-75K recommended, 100K maximum, JPEG format only; if accepted for publication, an image file size of at least 9MB (uncompressed) will be required . Click here for all the details-and the easy way to send a file. Photos not chosen may be selected for "The Fix." Include your address, phone number, and e- mail, plus any pertinent technical information (camera, lens, exposure, film, filters, software). Submission grants Popular Photography & Imaging the right to publish selected photographs and descriptions in print, electronic, and other media, and for promotional and advertising use. You represent that your photographs are original and of your own creation, publication of the material will not violate the rights of any kind of third party, and you have provided all necessary permissions and releases. Due to the large number of entries, we cannot return your photos, and we cannot acknowledge receipt of them.