Wireless Broadband Card Speed Test
Wireless broadband access cards from the nation's leading cellular service providers bring Internet service beyond hotspots.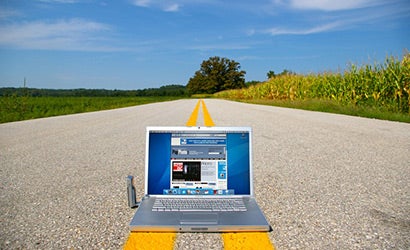 We may earn revenue from the products available on this page and participate in affiliate programs. Learn more ›
Until recently, hardcore photojournalists and high-powered executives on an expense account were about the only suckers willing to pay exorbitantly high fees for a sluggish wireless Internet connection. Now you can connect to the Web wherever you are, often at broadband speeds, for about the cost of a 1,000-minute cell-phone plan.
Wireless wide area network cards from AT&T, Sprint and Verizon bring broadband speeds to many of the nation's urban and suburban areas. WiFi networks are convenient and aplenty in many American cities, but access to these networks requires the user to maintain close proximity to the wireless access point. Access points at coffee shops and airports often charge single-usage fees, which can add up faster than you'd expect.
Connecting via cellular networks, however, you can often surf the Web and transmit files at speeds comparable to those you would expect from a cable or DSL modem, provided you stay in range of a broadband cell tower. Wireless providers are constantly adding high speed, 3rd-generation (3G) towers to their networks, expanding broadband coverage. But in areas not served by 3G networks, connection speeds are comparable to dial-up. You can access these slower, previous generation data networks virtually anywhere you can get a cell signal.
Hardware pricing, contract length and service charges are fairly consistent between the three major service providers. Though it's possible to purchase and use a wireless card without signing a 2-year contract, you'll often pay more for the wireless card and monthly service to do so.
Wireless cards are available with PC Card, ExpressCard or USB 2.0 connectivity. Because USB devices are compatible with most PC and Mac notebooks, we tested USB wireless modems from AT&T, Sprint and Verizon. We compared download/upload speeds and pricing for cards and service when signing 2-year contracts with the three major providers.
AT&T's 2-year contract price for their Sierra Wireless 875U Aircard is $149.99, though the company offers a $100 mail-in rebate card when the device is purchased online. Monthly service ranges from $29.99 for 10MB of data usage to $79.99 for unlimited nationwide service. If you plan on using your wireless card for more than occasional email checking, you'll likely need unlimited service, as you'll reach your monthly quota after sending only a few images with the 10MB plan. Because AT&T uses GSM technology, the world's most popular mobile phone standard, the wireless card will work in many other countries; a global DataConnect plan is available for $139.99 per month including unlimited domestic usage and 100MB of international usage.
Sprint's two-year contract price for the Sierra Wireless U595 Aircard is $129.99 and online purchases are eligible for a $50 mail-in rebate. Only two monthly service plans are available: 40MB for $39.99 or $59.99 for unlimited nationwide access. Sprint's Aircard will also work in Calgary, Montreal, Toronto and Vancouver in Canada as well as Cabo, Cancun, Mexico City and Tijuana in Mexico. A North American unlimited connection plan is available for $99 a month.
Verizon's 2-year contract price for their USB720 wireless modem is $149.99. You can purchase the USB720 online with a $50 instant discount for $99.99. Verizon Wireless offers only one BroadbandAccess plan: unlimited monthly service will run you $59.99. Limited roaming service is also available in Canada and Mexico, though broadband coverage is only available in the Canadian province of Alberta, so you'll likely be surfing at dial-up speeds if connecting from anywhere else north or south of the Continental United States.
Have a card to test? Share your results on the forums.After purchasing your wireless broadband card, follow the steps below to test your connection speed and share your results with other readers.1. Be sure to close any open applications before opening a single web browser window.2. Visit Ookla Speed Test'sWeb site at http://www.speedtest.net.3/. If not already selected, click on the United States on the regional map and select the Cincinnati test server (test server locations organized geographically). If the Cincinnati test server is no longer available, use the suggested test server.4. Be patient while your download and upload speeds are tested (this can take as little as a few seconds or as long as a few minutes depending on your connection speed).5. Click "Forum Link" under the "Share Your Result" heading and paste that link in the "Connection speed" section of the PopPhoto Forums. Be sure to include any relevant information with your post including your operating system, web browser, and current location (be sure to provide as much detail as possible).
Download and upload speeds were tested using USB wireless cards from each provider five times in each of five cities using the Ookla Speed Test Cincinnati server. We averaged results from each carrier as tested in Pittsburgh, Columbus, Indianapolis, St Louis and Kansas City, resulting in an overall average score.
Speeds varied from city to city, though some wireless carriers had more consistent results. Verizon offered the best overall connection speeds with an average download speed of 110.2 KB/s. Verizon's average upload speed was nearly twice that of the other carriers tested with an average upload speed of 67.8 KB/s; if you're emailing photos from the road, expect a 1MB image to transfer in just over 15 seconds from these areas.
Sprint came in a close second with an average download speed of 96.6 KB/s, though the carrier performed significantly better in Pittsburgh and Columbus with average speeds of 155 KB/s and 140 KB/s respectively. Sprint scored second in average upload speeds as well, averaging 37.4 KB/s between the five cities tested.
AT&T had the slowest download speeds in all but Kansas City, but with an average download speed of 214 KB/s in the country's BBQ capital, the carrier scored significantly better than the next best download speed, achieved by Verizon in St. Louis at 156 KB/s. In Pittsburgh, AT&T crawled just past dial-up; with an average download speed of only 13 KB/s.
All three networks provided constant service without any dropped connections, even while driving on the highway. As we drove in and out of high-speed coverage areas, all three network cards adjusted automatically without requiring us to reconnect.
Speeds varied so greatly from city to city that it may be necessary to do some research on your own in your own city. Providers often offer a 30-day grace period, allowing customers to return purchased equipment within the first 30-days without an early termination penalty — you're only responsible for service charges incurred. Be careful; once you submit a rebate claim you won't be able to return your equipment, so be sure you're in for the long haul before cutting off your wireless card's UPC for rebate submissions.