The War on Photographers
For too many cops and security guards, the enemy wields a camera.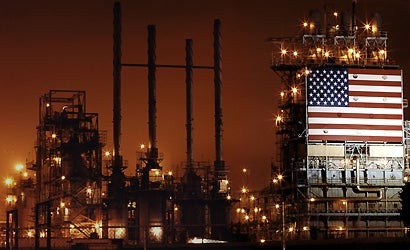 Just before first light on a deserted street in Torrance, CA, Jim McKinniss faced a menace straight from a dystopian sci-fi story.
April 17, 2005
• 4:25 a.m. McKinniss, a 60-year-old retired software designer on assignment for a photography class, arrives and sets up his Canon EOS Elan with 100mm lens on a tripod on the public sidewalk, facing an ExxonMobil oil refinery.
• 4:40 a.m. A security car pulls up and parks behind him.
• 4:46 a.m. A Torrance prowl car zooms up the street.
• 4:47 a.m. The car returns, lights flashing, and parks behind the photographer. Another squad car jerks to a stop beside it. "Four cops walk up in a SWAT-type formation," McKinniss later recalls. "They weren't casual about it. Talk about intimidation!"
• 4:49 a.m. He is ordered to clasp his hands, thumbs down, behind his back. A cop grabs his thumbs with one hand and searches him with the other…
McKinniss has filed a federal civil rights lawsuit against the city of Torrance, its police chief, and every officer present that night. The suit claims that when he was nabbed he was not a suspect in any crime, nor was there probable cause to trigger a search; it alleges violations of the First, Fourth, and 14th Amendments to the Constitution.
An assistant to the Torrance police chief says he cannot comment on pending litigation. But, he adds, "Obviously we have heightened concerns with certain locations within the city, due to the possibility of terrorism."
The lawsuit is still open at press time, a settlement conference pending.
Like McKinniss, both amateur and professional photographers all over the country are being stopped and harassed with no legal basis. As digital cameras proliferate wildly, so do attempts to restrict what you can shoot and how you can use the picture. And not all attempts to quash photography have to do with national security concerns. Some invoke copyright and trademark protection, others the privacy both of celebrities and ordinary people.
But you can fight back. Knowing your rights and restrictions as a photographer is a good first step. When cases reach the point of legal proceedings, they're usually settled in the photographer's favor, according to lawyers who have represented photographers in court.
However, sometimes your own understanding of the law isn't enough. According to his suit, when Jim McKinniss told the police officers that he was on public property and thought it was legal to photograph, "One of the officers asked if [I] had heard about September 11 and asserted that, since the terrorist attacks…it was illegal to photograph bridges, airports, and refineries."
This is a crock. There's no law in California or anywhere else in the U.S. that prohibits shooting such places from a public locale. You can even photograph inside airports, if you don't point your camera at security checkpoints.
"These laws just don't exist," explains McKinniss's attorney, Robert Myers, who took his case pro bono. "A law that attempts to prohibit photography from places open to the general public would be unconstitutional."
Yet sworn police officers and rent-a-cops alike are routinely hounding people who are completely within their rights to take pictures in supposedly sensitive areas, as well as in a growing number of places unrelated to national security.
"This is just one of a number of examples across the country of law enforcement violating the constitutionally protected civil rights of photographers," Myers declares.
McKinniss says the police made him sit cross-legged on the cold concrete and told him he had to wait until an intelligence officer arrived, according to the suit. They interrogated him, demanded his class syllabus, asked him if he was a terrorist, rummaged through his fanny pack without permission, shot several photographs of him, and inked his right thumbprint. They never touched his camera. After the 20-minute shakedown, they left. As he drove away, one cop said over the loudspeaker, chillingly, "Thanks, Jim."
Now McKinniss wonders if his virtual mug shot, thumbprint, and personal information are in some counterterrorism database somewhere. (That's not paranoia: New York's Metropolitan Transportation Authority reportedly keeps such a secret database of the photographers who have been stopped and questioned by officers on the subways and around bridges.) His suit asks for damages and demands that all of the information the police collected that night, including photos and fingerprints, be deleted from law enforcement dossiers.
In a preliminary hearing on January 24, 2006, U.S. District Judge George King told McKinniss's lawyer he would likely succeed on the legalities, called the cops' behavior that night "disturbing," and told Torrance's attorney, "Maybe you folks need to better educate your officers."
Robert Acciani, the Torrance deputy city attorney representing the city and police, says the officers deny most of the allegations. "Ten years ago [McKinniss] might not have gotten a second look, but after 9/11 that's changed," he says. "The officers were professional. They didn't tell him what he was doing was illegal, and they didn't tell him to get out of town."
He claims that McKinniss may have gone to the refinery that night as part of a "set-up," a suspicion based on "the [civil rights] attorneys representing him."
Acciani explains that there is stepped-up scrutiny around the country. "This comes from the top, right from President Bush," he says. "The Department of Homeland Security, as part of the war on terror, is begging for local law enforcement to be the backbone of this effort. Cops on the street are the ones to gather the intelligence. They have to keep their eyes and ears to the ground."
And to the water. Photographer Jonathan Smith received a grant in 2004 from the Design Trust for Public Space to shoot all 14 major bridges to New York City. He's been stopped and told many times by the police, incorrectly, that it's illegal to photograph bridges. (Photographing on a bridge, a safety or traffic flow issue, is another story.)
Smith, a native of England, was ordered off Roosevelt Island, a heavily developed spit of land next to Manhattan, for shooting the Queensborough Bridge. He was even hauled to an MTA station next to the Throgs Neck Bridge in the Bronx. "When the officer stopped me, I said I was a tourist, and he asked, 'Did you take a picture of the bridge? Come with me,'" Smith recalls.
On escalating tension between police and photographers, a New York City Police Department spokesperson explains, "We live in a world where everyone is suspicious of photography. Generally, anything in a public place can be photographed. But there's a difference between taking a picture and taking surveillance, and our officers have to determine where that line is."
The NYPD spokesperson adds that many such encounters are instigated by tips from the public.
Meanwhile, a lot of spin fills the void of photographers' ignorance of their rights. It's easy to understand why certain parts of Department of Defense facilities are off-limits, but that reasonable rule swelled into an unwritten photo ban on all federal buildings.
"This is one of the biggest myths with the law of taking photographs," explains Bert Krages, a Portland, OR-based copyright attorney who has written books on photographers' rights and techniques. "There is no general prohibition against photographing federal buildings. There are statutes that prohibit photographing areas of military and nuclear facilities. But there are no laws against photographing other federal facilities, other than the right of all property owners to restrict activities that take place on their property. A federal office building manager cannot restrict photography when the photographer is situated outside the federal property boundary."
A wider boundary than you'd think. In fall 2005, Pop Photo Senior Editor Peter Kolonia was shooting small architectural details near the Mall in Washington, D.C. Stopping by the stairs of the Department of Agriculture to shoot the base of a column, with a fairly mainstream camera-a Fujifilm FinePix S3 Pro with a normal lens and no flash-he put one foot on the bottom step, and…
"Two people, a security guard in a generic uniform and a SWAT-type guy, dressed all in black with a big gun, came out the front and asked what I was doing."
They looked at his pictures, then took the memory card and his driver's license inside to run a check on him. "They were clearly trying to scare me," he says. "They knew I was just a tourist. When they came out the second time they got very lecture-y with me: 'Haven't you heard there's a war on? Do you know about the threat of terrorism?'"
They threatened to confiscate his camera (which requires a court order), and he had to talk them out of keeping his memory card.
How far does the zealotry extend? All the way to the flags at the county courthouse. That's what recently got Ben Hider, a 27-year-old British citizen working (legally, with a green card) as a photographer, into trouble. On March 17, he stopped on a public thoroughfare at the Westchester County courthouse in White Plains, NY, to snap a few pictures of the wind-whipped flags out front.
Three court police officers quickly surrounded him and started firing questions, then told him he was being detained for shooting pictures of an official government building. He was taken inside, where he was frisked, interrogated, photographed, lectured on terrorism, told he was going to be picked up by the "terrorism task force," and threatened with deportation. After being held for two hours, he was released.
"People should know that police are using fear and intimidation," says Hider. "For what? I don't know what they gain."
He demanded an apology and got a tepid one from the court administration office. But the court security department wouldn't apologize, saying that officers would do it again if necessary.
Private security guards seem to be taking cues from the stepped-up vigilance of the real police. They've been stopping people from photographing buildings, stadiums, and art works, claiming they're copyrighted or trademarked, which often isn't true.
Copyright laws contain a specific exemption for photographing buildings (only those built after 1990 can even be copyrighted). Nothing in copyright or trademark law prevents anyone from snapping a shot from a public place, even publishing it on a personal website, as long as they're not cashing in on somebody else's creation. The real issue is how that photo is used commercially.
Copyright automatically covers original works "fixed in a tangible medium of expression" from the moment of creation. But the copyright must be registered for maximum protection, with major damage awards possible if someone doesn't pay to use the work commercially. A trademark, harder and more expensive to obtain, is "a word, name, symbol, or device, or any combination thereof," used to distinguish particular goods from any other on the market.
You can find out if something's been copyrighted or trademarked at www.copyright.gov or www.USPTO.gov.
Cleveland's Rock and Roll Hall of Fame and Museum sued commercial photographer Charles Gentile for trademark violation after he sold posters of his photo of its trademarked building. In a landmark 1998 appellate ruling, one of the three judges on the Sixth Circuit panel wrote, "Not only may Gentile take a photograph of the building, he can sell a photograph of it. The Lanham Act only prevents him from 'using in commerce' his photograph of the trademark in such a way as to cause a 'likelihood of confusion' in the marketplace."
Gentile won the case. Since then, says attorney Bert Krages, "these kinds of lawsuits have disappeared, although some entities still make threats."
For instance, the so-called Lone Cypress Tree near California's Pebble Beach Golf Course has supposedly been trademarked, and the previous owners of the property would threaten photographers and artists who might try to sell images of the 250-year-old tree. "To the best of my knowledge [the company] has never followed up on the threats because they have no legal basis," Krages says.
However, photographers can be prevented from shooting the Lone Cypress, because every vantage point is on private property, and owners can set their own rules within the confines of their property. This is why managers of fast food joints freak when you pull out a camera to shoot the milkshake machines, and why the interiors of places such as shopping malls, casinos, and the New York Stock Exchange are no-photo zones.
Some pros shake off the extra scrutiny. "I tend to shoot first and ask questions later," says Don Bartletti, a Los Angeles Times staffer who won the 2003 Pulitzer Prize for feature photography. He's been stopped from shooting in unexpected locations such as farm fields (proprietary growing techniques), grocery stores (proprietary shelving), and inside the Santa Ana Amtrak station (no particular reason). "The guy with the least amount of authority is going to be the most aggressive toward you," he says, speaking from experience. "I always challenge when I know I'm in the right."
It helps that Bartletti has a major news organization to back him up. For most, to call a guard's bluff or walk away is a tough choice. Especially if an organization's official policies-usually reasonable and lawful-differ from its practices on the ground. Is it worth the trouble to fight, even when you know you're right?
When challenged, private security guards have threatened citizen's arrest and police intervention.
That's what happened to photographer Pablo Mason in early 2005 when stadium security guards stopped him from shooting a picture of the outside of Petco Park, the Padres' baseball stadium in San Diego. Mason was walking around downtown, testing a Canon EOS-1Ds Mark II. He stopped in front of the new $474-million ballpark, which is 70 percent owned by the city.
He set up his tripod on the sidewalk and took a few pictures, when two stadium guards rushed out and told him he needed written permission to keep shooting. "They said Petco Park itself was copyrighted and the name was trademarked," he reports. "One said, 'You're obviously a professional photographer, and you could use the picture commercially.' We got into an argument and they threatened to call the police."
Mason thought he was right, but the guards' attitude made him doubt his knowledge. "The irony is that it's the pros who are familiar with the copyright and trademark issues. I'm not going to infringe on somebody's trademark, but an amateur might inadvertently."
Another irony: Petco Park doesn't show up in the online government database as copyrighted. "We don't have a policy restricting photography at Petco [Park]," says Jeff Overton, executive vice president of communications for the Padres. "You can't stop someone from taking a picture." Whoever accosted Mason, he adds, must have been "an uninformed employee."
Nor are there legal restrictions on photographing the name "Petco" on the building. "There is no trademark issue," says Stan Little, general counsel of Petco Animal Supplies, Inc.
Another photographer intimidated into giving up his civil right to take a picture. Even though, says attorney Krages, "a security guard probably has no right to enforce somebody else's copyright."
Especially when the copyright in question doesn't exist.
Even when you know you don't need permission to shoot, it doesn't hurt to make sure. Photographer Joel Meyerowitz, who has been documenting Ground Zero since 9/11, went so far as to get a permission letter from the police commissioner's office authorizing him to shoot throughout New York City. He's working on a city-sponsored photo project and wanted to avoid the inevitable hassle with police. "There's a surveillance of infrastructure," he says. "That I would need to get an authorization letter up front says a lot about how photography is viewed now."
Interviews with professionals and amateurs who have been accosted while taking pictures reveal two approaches that may help you out. But first, make sure you're right. There are many quick-reference guides to photographers' rights on the web. Study the FAQs at www.copyright.gov and Bert Krages' "The Photographer's Right" at www.krages.com. Keep printouts in your camera bag.
Ounce-of-Prevention approach: You're less noticeable without a tripod, but sometimes they're necessary. Jonathan Smith, who has been stopped many times by police officers, says, "At night, I've wised up. I keep one eye out for the cop car at all times, and wait until he's gone. Be as polite as possible, don't challenge them, and shoot after they go away."
Don't-Tread-On-Me approach: If you're the defiant type, keep your head, get the officers' names, and, right afterward, write a strictly factual account of the events. You may need it if you go to court, and police claim you're lying. Freelancer Steve Malik of San Francisco tried this approach in February 2005, when two fare inspectors confronted him for shooting at a San Francisco Municipal Railway station. In a letter demanding an apology, Malik wrote that they told him it was illegal to take pictures at underground stations since 9/11, and if he didn't stop he'd be cited. After challenging what he viewed as an abuse of authority, he was asked for ID and taken into an office. When the police arrived, no one could find a law to cite him under, but he was detained for an hour. Officials sent him a written apology, which Malik posted online.
Possible Trouble Spots
From terrorism to trademarks, there are plenty of reasons why security may try to stop you.
Sears Tower. In late February, security saw three men get out of a car and start taking pictures of Chicago's 110-story cloud-topper. The guards questioned the men and took down their license plate number. The car turned out to be rented under a false name, leading to an investigation by the Joint Terrorism Task Force, according to the Chicago Tribune . Now's a bad time for photos.
New York subways. The Metropolitan Transportation Authority's official policy does allow photography, despite a recent attempt to change the rules. But you're still likely to draw unwanted attention from the public and the police if you break out a camera and start clicking away. Tripods are expressly forbidden.
The Flatiron Building. Photographers have been led to believe this beloved New York building is copy- righted. It isn't. But the current owners are touchy about how pictures are used.
The Hollywood Sign. This is trademarked by the Hollywood Chamber of Commerce. It donates a portion of licensing fees to the Hollywood Sign Trust, which maintains the huge landmark.
The "Lightning Field" artwork. Sculptor Walter De Maria's gigantic grid of 400 polished steel poles on a high plateau three hours southwest of Albuquerque is strictly off-limits to photography. The work is copyrighted, but the photo restriction is only enforceable because the Dia Art Foundation owns the surrounding land, making it virtually impossible to see from a public place. Private property owners can set their own rules about on-site photography.
The san diego zoo. No, the animals aren't copyrighted. But as at many venues, an entry ticket is considered a license. Printed in red on the back: "…visitor agrees not to commercially use any photography or reproduction in any form taken during any visits to the park." Similar restrictions apply at Colonial Williamsburg, Sea World, Busch Gardens, and Hearst Castle.