Visions of Rock
American PHOTO celebrates the world of music and photography through the eyes of some of the best-known musicians of our time.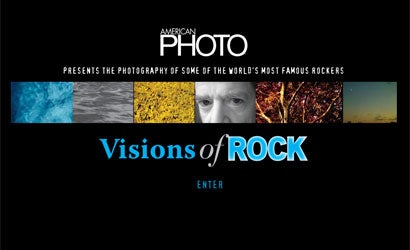 The hottest event of fashion week in New York wasn't under the tents at Bryant Park. It was at the 401 Projects Gallery in Greenwich Village, where American Photo's "Visions of Rock" exhibition opened to an overflow crowd that included some authentic rock-and-roll royalty.
A collaboration between American Photo and celebrity photographer Mark Seliger, who owns the 401 Projects Gallery, the "Visions of Rock" show featured images made by 12 rock musicians, including Lou Reed, who also art directed the exhibition.
Musicians Bryan Adams, Michael Stipe, and Melissa Auf der Maur joined Reed at the opening to view their photography on the walls of the art gallery.
"It's always a thrill to see your pictures sort of being taken seriously," said Adams, the Canadian-born musician whose big hits include "Summer of '69" and "Cuts Like a Knife." Like many of the other musicians featured in the show, Adams started taking pictures as a hobby and as a way to record his life while touring. Eventually, Adams's hobby became a second career. Among his images are portraits of Queen Elizabeth II and former British Prime Minister Tony Blair.
Get the Flash Player to see this player.Watch the Visions of Rock video with interviews with Lou Reed, Michael Stipe, Mark Seliger and more.
Other rockers whose photography was featured in the show were Patti Smith, Lenny Kravitz, Graham Nash, Perry Ferrell, Jakob Dylan, and Mick Fleetwood.
Fleetwood, of Fleetwood Mac fame, was represented in the show by a 30×40-inch print of a field of poppies. "What I've always loved about music, and photography too, is it's all in the eye of the beholder," he told American Photo.
The Presenting Sponsor for Visions of Rock was Nikon Live, with additional support from Epson America. The exhibition's prints were made by Nash Editions, the digital-printing lab created by Graham Nash, using Epson Stylus Pro 11880 printers. Visions of Rock Event support was also provided by Crumpler bags and Christiana Vodka.