Vancouver
Traveling Photographer: Shoot city to coast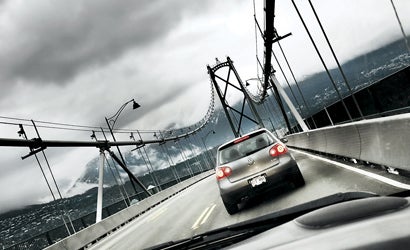 Mountains? Rainforest? Rugged coastline? City skyline? It's all backdrops in Vancouver, British Columbia, along with Victorian architecture and this-must-be-China gardens. Here's a scouting guide to four top locations:
1 Downtown. In the Gastown neighborhood, you get winding, cobbled streets lined with Victorian-style streetlamps. A gas-powered clock at the corner of Cambie and Water Streets blows steam every quarter-hour. Get creative with angles — crouch beneath it or zoom in from a window.
Four blocks away is the Millennium Gate of lively Chinatown. Come early or late for sidelight to bring out the visual texture. Capture vendors loading tanks with live fish, shoot macros of vividly hued wares, and put a wide-angle on the ultra-thin Sam Kee building. Don't miss the classical Dr. Sun Yat-Sen Chinese Garden, where turtles rest on jade-colored ponds (bring a polarizing filter to kill surface reflections).
2 Stanley Park. Towering red cedars, heron-filled lagoons, and misty rainforests are less than a mile from downtown, across the famed Lion's Gate Bridge (in Nattapol Pornsalnuwat's photo, above) in the 1,000-acre Stanley Park (www.city.vancouver.bc.ca/Parks/parks/stanley). Follow the Sea Wall, a walkway bordering this peninsula, for great views of the city skyline and the North Shore Mountains. Going counterclockwise, you can shoot totem poles from the beach at Coal Harbor, Lion's Gate Bridge from Prospect Point, and sunset from Second Beach or Third Beach on English Bay. Trails such as South Creek Path to Beaver Lake (with its pink water lilies) cross dense rainforest.
3 Lynn Canyon. For a bridge dangling high above a craggy gorge, skip the popular Capilano Bridge. Instead, head to the Lynn Canyon Suspension Bridge, 164 feet above a creek in a spruce-studded canyon. Missing? Hordes of tourists and a steep entrance fee. Park by the Ecology Center (www.dnv.org/ecology) on the west side and follow the trail. Use a fast shutter speed for sharpness — this bridge doesn't stay still.
4 Pacific Rim. A scenic 5-hour drive takes you to the 126,000-acre Pacific Rim National Park (www.pc.gc.ca/pn-np/bc/pacificrim). Old-growth forest studded with lichen, ocean-slammed coast dotted with pools of anemones and blood stars — set your camera's highest saturation for all the color. Park at Wickaninnish Center to hike the Nuu-chah-nulth trail for moss-draped sitka spruce. It descends into a moody bog, then emerges onto the dramatic, isolated Florencia Bay. Returning, walk to Radar Hill and capture the Clayoquot Sound UNESCO Biosphere Reserve. Then go back to the Observation Deck in time for sunset over the rocky headlands.
For more information, go to www.tourismvancouver.com; 604-682-2222.