Traveling Photographer
A trip to Maui puts paradise in your viewfinder.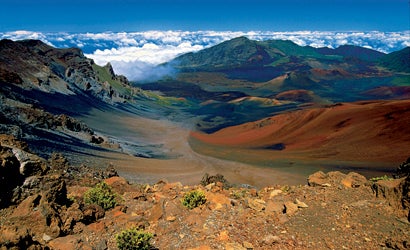 Stepping off the plane onto Maui, you might be tempted to claim a piece of white sand and spend your entire vacation relaxing on this Hawaiian island. But what awaits photographers is so dazzling and diverse that the beach towels had better remain tucked in the trunk of your rental car. Where do you start? Here are four don't-miss photo ops:
1 The Road to Hana. Cascading waterfalls. Black-sand beaches. Roadsides lined with mossy trees and iridescent flora. Crystal water stretching as far as you can see. The Road to Hana is arguably the most photogenic drive in the United States, with every inch of the 68 miles connecting Kahului to the town of Hana a nature shooter's dream.
Pack food, water, and rain gear for the occasional showers, and plan at least three (daylight) hours for the trip — the 59 bridges and countless hairpin turns make for slow going even without photo stops. Rush, and your portfolio will regret it; so will those with weak stomachs, since the drive can be bumpy. Our advice: Make it a day-long drive and spend the night in Hana so that you can get the classic sunrise photo of…
2 Haleakala Mountain. The island's tallest peak and the world's highest volcanic mountain, this summit in Haleakala National Park is Sunrise Central. Dress warmly, because predawn here is cold. And bring a split neutral-density filter to fight the extreme contrast. The road at the entrance takes you straight to the top, but stop at one of the midlevel overlooks for a better angle.
Can't pull yourself out of bed early? Sunsets are spectacular, too, and midmorning and afternoon views of clouds hanging above the massive crater make stunning panoramic images. Remember to shoot (but don't touch — it's illegal) some of the thousands of silverswords, maroon-flowering plants that are found everywhere on the mountain but nowhere else on the planet. Your $10 entrance fee to the park is good for three days (save your receipt), so consider returning to photograph the lush Kipahulu valley, as well as…
3 Pools of Ohe'o. Haleakala National Park also contains the amazing Pools of Ohe'o. Located about 9 miles past the park exit to Hana, on the Pi'ilani Highway, this spot is commonly (though incorrectly) called the Seven Sacred Pools. A series of stunning waterfalls flow into crystal-clear streams and tide pools against a backdrop of rocky cliffs dotted with bright green naupaka shrubs. Rain or shine, you'll get gorgeous landscape images — and on nice days, you'll also be able to photograph people cliff-jumping.
Feeling adventurous? Don sturdy hiking boots (as well as insect repellant with DEET to ward off mosquitoes) and climb the Pipiwai trail (4 miles round-trip), which ends in the granddaddy of all waterfalls — Waimoku Falls, a 400-foot cascade down a wall of lava rock.
4 Whales, Ho! Late November through April is prime whale-watching season on Maui. Though you can book any number of half-day whale-watching boat trips, the Expedition Ferry is a great alternative. For just $25 each way, the ferry (www.go-lanai.com; 800-695-2624) takes you from Ma'alaea Harbor to Lahaina Town (or reverse) in just 90 minutes.
Humpback whales abound in season (though the ferry minds the 100-feet-clear rule to protect them), so pack a long tele. You also can catch the spinner dolphins that follow in the ferry's wake and perform above-water acrobatics for the enthralled passengers. Pick your weather — calm waters will yield better handheld shots.
Check out PopPhoto.com/maui for our Magical Maui! How Bad Do You Want It? Photo Contest with Maui Visitors Bureau (www.mvb.com) and Wailea Beach Marriott.