Top Buys 2008
Great Photo Gear That Won't Take Your Bottom Dollar.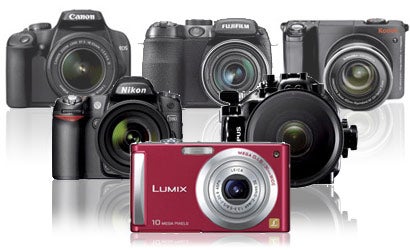 We may earn revenue from the products available on this page and participate in affiliate programs. Learn more ›
Autumn is here — which means that new photo equipment is arriving fast and furious. It's also the season for bargain hunters: Whether last year's models, or excess inventory, or just plain good deals from the start, you can find gear you need or want at excellent prices. And so we've made a selection of what we think are the best deals in cameras, lenses, and accessories.
REBEL WITHOUT A PAUSE
WHO? You want to get into the Canon EOS system, but don't want to spend more than 700 bucks for a new camera. WHAT? Canon EOS Rebel XS with 18-55mm f/3.5-5.6 Canon EF-S IS lens. WHY? It's rare that a brand-new item makes it into our Top Buys, but given what you get with the Rebel XS — 10.2MP capture, DIGIC III processor, big burst capacity, high-capacity battery, Image Stabilizer lens standard — we'll make an exception. You can read all about it in our Hands On in this issue. NOW! $700, STREET, WITH KIT LENS.
EXTRA ZOOMPH
WHO? Those who want a 10MP camera with heavy optical firepower — but not a DSLR. WHAT? The Fujifilm FinePix S1000fd. WHY? Fuji's take on the electronic-viewfinder camera has a 12X zoom (33-396mm equivalent f/2.8-5), 2.7-inch LCD, face detection with automatic redeye removal, and a panorama mode that will stitch three shots together in-camera — no computer or extra software required. We wish it used a rechargeable Li-ion battery rather than four AAs but, given the price, you can afford to buy several sets of NiMH AAs and a charger. NOW $215, STREET.
EASY SNARE
WHO? Point-and-shooters who want a lot of reach in a small package. WHAT? Kodak EasyShare Z8612 IS. WHY? EasyShare cameras represent some of the best values in compacts. Case in point: The 8.1MP Z8612 has a 12X zoom, a 36-432mm equivalent f/2.8-4.8 Schneider optic, in a body that's not much bigger than some 5X zoom compacts. It has only the LCD for viewing, as it has no EVF, but the lens-based image stabilization will help steady your shots. You can use a full assortment of auto modes, or go fully manual. It plays stills back in HD wide format, and it works with an EasyShare Printer Dock. NOW $220, STREET.
GRAND PACKAGE
WHO? Serious shooters looking for a one-lens workhorse. WHAT? Nikon D80 with 18-135mm f/3.5-5.6G AF-S DX Zoom-Nikkor IF-ED lens. WHY? While 10MP DSLRs have proliferated in the past two years, one of the originals, the 10.2MP D80, remains one of the best. It combines league-leading resolution with excellent noise control (Moderately Low noise at ISO 3200, by our tests). Autofocusing is speedy and works down to EV -2, a light level best described as available darkness. One of our favorite features: the ability to color-correct RAW files and convert to JPEGs in-camera. This kit pairs it with the 18-135mm lens, about 27-200mm in 35mm terms. In our SQF tests, it tested in the Excellent level throughout the focal-length range. The leading-edge crowd might nitpick the 2.5-inch LCD and the lack of Vibration Reduction with this lens, but given that this combo costs $300 less than when it was first introduced, we're not complaining. NOW! $1,000, STREET.
PRICE DIVE
WHO? Deep-sea enthusiasts with shallow finances. WHAT? Olympus E-520 with 14-42mm f/3.5-5.6 Zuiko lens, PT-EO5 underwater housing, and lens port for the kit lens. WHY? A high-quality underwater housing for a DSLR alone can cost you $2,000. Olympus has figured out how to give you a whole outfit for nearly that price. The E-520 and kit lens ($700, street) put up Excellent image quality results in our tests, and the lens is a sharp one. The PT-E05 housing ($1,100, est. street) is made of polycarbonate, with a new double-waterproofing structure and rotary buckle for easy opening. It is rated for maximum depth of 40 meters (about 130 feet). A double strobe connector allows the use of a dual-strobe system. You'll need a port for any lens you use; the one for the 14-42mm runs about $380, street. NOW! $2,180, STREET.
A WIDER ZOOMER
WHO? You want wider than 35mm, but also longer than 100mm. WHAT? Panasonic Lumix DMC-FS5. WHY? Panasonic continues its tradition of giving you more zoom with your compact with the FS5, which sports a 4X, 30-120mm equivalent f/3.3-5.8 zoom. This 10.1MP camera has Intelligent Auto (iA) mode that essentially automates everything, lens-based image stabilization, a 2.5-inch LCD that adjusts brightness automatically, and three different aspect ratios, including wide-screen — both still and video. A 2MP burst mode lets you blast off 6 frames a second. A very capable little camera. NOW! $205, STREET.
TERRIFIC TENNER
WHO? The family record-keeper on a squeaky tight budget. WHAT? Samsung Digimax L210. WHY? It's the sort of camera that makes you ask, How did they do it? An aluminum-bodied 10.2MP camera with 3X zoom (34-102mm equivalent f/2.8-5.2), 2.5-inch LCD with auto brightness adjustment, lens-based image stabilization, face detection — it's all there. And it has extras like self-portrait mode (keeps you from cutting your own head off), color filter effects, auto contrast balance to keep the dynamic range under control, and basic in-camera image editing. NOW! $170, STREET.
CHEAPER BY THE DUO
WHO? DSLR buyers who want humongous focal-length range, right out of the box. WHAT? The Sony Alpha 200 kit with 18-70mm f/3.5-5.6 and 75-300mm f/4.5-5.6 Sony DT lenses. WHY? Given the 1.5X lens factor of the Alpha 200, these lenses work out to a combined range of 27-450mm in 35mm terms. And remember that you get image stabilization with both, as the A200 has sensor-based stabilization that works with any optic you can put on the camera. The camera itself can produce resolution of over 2000 lines, and the noise control — wait a minute, you can read the whole test in this issue. If this isn't a deal, nothing is. NOW! $700, STREET.
HD IN THE HAND
WHO? HDTV owners who want a small camcorder to make high-def home movies. WHAT? The Sony Handycam HDR-CX12. WHY? Since this high-definition Handycam stores its video to little Memory Stick PRO Duo flash memory cards, Sony was able to make it much smaller than the MiniDV models you remember from the last time you bought a camcorder. Sony also has a reputation for better-than-average still images from its HD camcorders, so this model's 10MP stills should be better than the ones you get from most camcorders. The CX12 also sports a 12X optical zoom lens with Super SteadyShot optical image stabilization, a 2.7-inch Clear Photo Plus touch screeen LCD, and a 5MP ClearVid CMOS sensor with Sony's Exmor technology. NOW! $900, STREET.
FAST FROM THE PAST
WHO? Pentax and Samsung DSLR shooters who want a super-speed portrait and available-light lens. WHAT? 50mm f/1.4 Pentax SMCP-FA lens. WHY? You know how we keep telling you that the classic fast 50mm lens is a great accessory for digital SLRs? Given the 1.5X lens factor of cameras like the Pentax K20D and Samsung GX-20, the 50mm becomes effectively a 75mm short tele. In our Lab tests, this optic scored Excellent sharpness and produced almost no distortion. Just how bright is f/1.4? Going from an f/2.8 lens to an f/1.4 is like going from ISO 400 to ISO 1600 — but without the noise. NOW! $200, STREET.
SHAKE YER SIGMA
WHO? You want a wide-to-tele zoom with image stabilization, at a price that won't give you the shakes. WHAT? Sigma 18-200mm f/3.5-6.3 DC OS AF lens. WHY? Nikon shooters save nearly $200 over the Nikon VR lens of the same focal length. Canon shooters save nearly $2,000 (!) over Canon's own 28-300mm f/3.5-5.6L EF IS. About 29-300mm in 35mm terms, the Sigma alternative has image stabilization that's good for an extra 2 to 3 stops handholding (tested), and has a sensor that detects panning motion and autoswitches to single-axis stabilization. Our tests in the Pop Photo Lab found Excellent sharpness and contrast throughout the focal-length range — better than most of the competition. That f/6.3 aperture at full tele is a little dim for our tastes, but that's what the OS is for. NOW! $500, STREET.
FOR CLOSER ENCOUNTERS
WHO? Close-up enthusiasts who have been keeping their distance from pricey macro teles. WHAT? Tokina 100mm f/2.8 AT-X Pro D Macro AF. WHY? The most useful macro lenses are those in the short telephoto range, as they give you extra working distance, important if you're photographing a small and skittish creature. But these optics can carry a heavy price tag. The Tokina, while hardly a giveaway, comes in around $90 to $360 less than comparable lenses from camera makers. What do you give up? Exactly nothing — in our Lab tests, the Tokina put up Excellent performance at all magnifications, plus distortion control among the best we've ever seen in this class. And it's a full-framer, not digital-only. NOW! $400, STREET.
1,000 GIGS IN ONE JOINT
WHO? Prolific photographers — like you! WHAT? Buffalo 1 Terabyte DriveStation Combo TurboUSB External Hard Drive. WHY? With a terabyte of storage (that's slightly more than 1,000 GB), you can rest assured that you'll have enough space to store or back up everything you shoot. This DriveStation uses Buffalo's TurboUSB technology, so your data transfers extra fast (or choose FireWire if you prefer). And the included Memeo AutoBackup software takes charge of making sure that every picture you store on your PC will be there, just in case your PC isn't. NOW! $250, STREET.
CARD SCORE
WHO? You want to keep shooting without flipping those memory cards in and out. WHAT? Sandisk 8GB Extreme III SDHC card. WHY? With the megabytes going up and up, and RAW capture on the increase, serious shooters may develop serious memory problems. But you can keep on shooting with a high-capacity card like the Sandisk Extreme III. It has Class 6 transfer speed (that means really fast) and is rated for use in very hot or very cold conditions. The price includes a MicroMate mini USB 2.0 card reader and RescuePRO software. NOW! $80, STREET.
RELIEF WITH TWO TABLETS
WHO? Frustrated Photoshoppers. WHAT? Wacom's line of Bamboo Fun tablets. WHY? Anyone who attempts to do any selecting or delicate retouching with a mouse knows the frustration inherent in drawing an elegant line with what's basically a small brick. Enter Wacom's Bamboo Fun series of tablets. Reasonably priced at $100 for a small size and $200 for a medium, these allow you to use a pressure-sensitive pen to do delicate work. And when you're working in other applications, the pen offers quick relief for those mouse-induced wrist aches. Now! $100-200, STREET.
LOCATION SENSATION
WHO? Budget-conscious shooters who want a serious strobe light that will perform equally well in the studio or on location — miles away from the nearest electrical outlet. WHAT? JTL Mobilight 301 AC/DC monolight strobe with NiMH battery. WHY? It's well built, bright (300 Watt-seconds), and runs off wall current or an included NiMH battery that delivers up to 120 full-power pops per charge. Not enough capacity? One of JTL's numerous Mobilight accessories is a light (3 pounds!) Li-ion battery that promises 1,000 pops and can run multiple heads ($750, street). Other accessories include softboxes, wireless radio and IR remote firing systems. Other features: built-in optical slave, thermostat to prevent overheating, and a clever sliding bracket that repositions the head atop a lightstand to serve as a counterbalance for heavy light modifiers such as the 36×24-inch softbox. NOW! $330, STREET.
GREAT POD, FOR LESS WAD
WHO? Big-lens shooters looking for means of support. WHAT? Adorama Flashpoint F-2560 carbon-fiber monopod. WHY? You'd think carbon fiber were gold, given the price of most tripods and monopods made from the stuff. But demand is high because carbon fiber is light, and, unlike metal, does not conduct heat and helps damp vibrations. Adorama's monopod gives you a sturdy leg without a leg-breaker price. The four-section pod extends to 55 inches, and folds down to just under 19 inches. It uses twist locks, comes with both ½ -and 3/8-inch camera mounting screws, and can support up to 11 pounds. And it weighs just 10 ounces. NOW! $90, DIRECT.
SPACE-SAVING PRINTER
WHO? People who want to print and scan photos at home, but don't have a lot of desk space. WHAT? Epson Stylus Photo RX595. WHY? Here at Pop Photo, we've got plenty of desk space for big printers and scanners, but when we adjourn to our small apartments or cluttered houses at the end of the day, we appreciate the compact nature of an all-in-one, such as Epson's Stylus Photo RX595. Six individual ink cartridges serve up Epson's dye-based Claria Hi-Definition ink. Memory card slots accommodate any kind of card your camera might use and let you print without turning on your computer. A 2.5-inch color LCD and a handy set of controls on the front let you tweak your photos before printing. NOW! $130, STREET.
A MONITOR MONITOR
WHO? The one gnashing your teeth because the prints coming out of that fancy-shmancy printer look nothing like what's on the computer screen. WHAT? The Pantone Huey colorimeter. WHY? If you do any printing — or if you just want to share photos that look their best — this may be the best $80 you can spend. The Huey reads and analyzes the colors on your monitor (flat-screen or tube), enabling the included software to calibrate the screen for more accurate color. The device can also measure ambient light to adapt your monitor for changing room light. NOW! $80, STREET.
SHOESTRING QUARTET
WHO? The second-lens buyer going long. WHAT? Bargain 55-200mm zooms. WHY? Two camera makers and two independents have seriously shaved the cost of these basic lenses, which work out to an 82.5-300mm 35mm equivalent on APS-C digital SLRs and 110-400mm on Four Thirds system cameras. We tested the Sigma and it showed Very Good to Excellent SQF numbers, as well as a good showing in distortion and falloff tests.
The front filter rings of these lenses turn during focusing, which can drive you batty if you're using a polarizer. And not one is image-stabilized. But, hey, you get a sharp, well-made, light lens for little.
• NIKON 55-200mm f/4-5.6G AF-S DX: $170, STREET.
• SIGMA 55-200mm f/4-5.6 DC AF: $150, STREET, in mounts for Canon, Nikon, Olympus, Panasonic, Pentax, Samsung, Sigma, Sony DSLRs. $180, STREET, for HSM version for use on Nikon cameras requiring AF-S lenses.
• SONY 55-200mm f/4-5.6 DT: $230, STREET.
• TAMRON 55-200mm f/4-5.6 Di-II LD: $180, STREET, in mounts for Canon, Nikon, Sony DSLRs.