Top 4 Book Releases of the Month
The Other Side of War "A century ago, 90 percent of war casualties were male soldiers," Zainab Salbi writes in...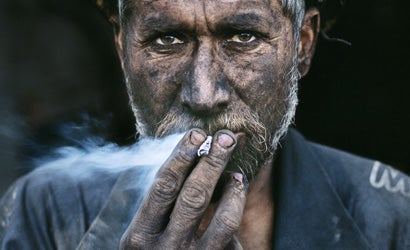 The Other Side of War
"A century ago, 90 percent of war casualties were male soldiers," Zainab Salbi writes in the introduction to The Other Side of War. "Today, an estimated 90 percent of casualties are civilians, and 75 percent of those are estimated to be women and children." These chilling statistics are a sharp reminder of changing dynamic of war in the modern world, with the widespread occurrence of isolated civil conflicts in third-world countries where state militaries and militias fight unchecked by international humanitarian law. As Salbi, the founder and CEO of Women for Women International — an NGO devoted to the rehabilitation of female victims of these kinds of civil conflicts — points out, "In wars where rape and mutilation of women have been epidemic, as in the case of Bosnia and Herzegovina, Rwanda, Sudan, and the Democratic Republic of the Congo, countless women live with physically and emotionally debilitation war wounds." As a society makes its way through the enormous task of rebuilding, these are the victims that go unseen.
Top 4 Book Releases of the Month > The Other Side of War | Gallery > Roman Signer | Gallery > Looking East | Gallery > Mouthpiece | Gallery
The Other Side of War is where we hear their stories and see their faces. With a preface by celebrated novelist Alice Walker, the book is divided in six parts — Bosnia and Herzegovina, the Democratic Republic of Congo, Columbia, Afghanistan, Sudan, and Rwanda. Salbi introduces us to women she has met, such as Nadia, disfigured by rocket explosions at the age of 11, who worked as a man in construction labor in Afghanistan for three years until, at the age of 14, she entered into a sponsorship program by Women for Women International and now is training to be a lawyer. Or Marie, a victim of the conflict in DRC who today works with an association of rape survivors as a volunteer.
The images that accompany their stories, photographed by Susan Meiselas, Sylvia Plachy, and Lekha Singh, don't show victims, but survivors, and their work combined is both a window into the often unseen worlds of the nations finding their footing and moving forward after conflicts, and a testament to the strength of those rebuilding.
(The Other Side of War: Women's Stories of Survival & Hope, by Zainab Salbi, with photos by Susan Meiselas, Sylvia Plachy, and Lekha Singh. National Geographic, $28)
Though we wouldn't recommend doing things like setting your bicycle on fire and racing it around the room or lighting off dynamite under sofa cushions as general practice, it does make for some pretty neat photos, as is demonstrated in Phaidon's Roman Signer. The artist, who thinks of himself simply as someone "who makes various things" but, as the book shows, has demonstrated himself equally good at demolition, first started exploding objects in 1975. And then starting asking friends to help him film and photograph the explosion.
Over the years, he has experimented with combustion on varying levels — mostly homemade, anywhere between a simulated pressure cooker or volcanic explosion with 20 kilos of gunpowder. The creative idea behind his body of work, as Signer explains in the introductory interview with Paula van den Bosch, is about time and boundaries: "The explosive itself is a sculpture in its own right. I mean, say you've got some explosive. And here you've got the fuse. I light the fuse. It burns. It gets closer and closer, quite slowly. Then the moment in the explosion occurs. That's the prototype of a time sculpture for me… A boundary between slow and fast and matter and non-matter." From a Pop Photo perspective, it is neat to explore the psychology of why people like to blow things up, but mostly it is just neat watching people blow things up and taking pictures of it, which makes this in addition to a great artistic overview of the artist's work, a kind of nifty handbook.
(Roman Signer, by Gerhard Mack, Paula Van Den Bosch, Jeremy Millar. Phaidon, $40)
Top 4 Book Releases of the Month > The Other Side of War | Gallery > Roman Signer | Gallery > Looking East | Gallery > Mouthpiece | Gallery
It's been about 21 years since America was captivated by the pale and arresting eyes of a 12-year-old Afghan girl in a Pakistani refugee camp, displayed on the cover of National Geographic about six years after the initial Soviet occupation of Aghanistan, just after the then-unknown Steve McCurry snuck over the border with 50 containers of film sewn into his native disguise. It's undeniable now that this image will server forever in the American consciousness as a placeholder of events in the Middle East in the final years of the Cold War — and decisively marks McCurry as one of the most recognizable photojournalists of our time.
Looking East, a 132-page, large-format portfolio portraits taken throughout McCurry's travels through Afghanistan, India, Indonesia, Malaysia, Myanmar, Pakistan, and Tibet, is ample evidence that the June 1985 cover shot of Sharbat Gula wasn't a stroke of luck, but proof of McCurry's skills of portraiture. In this collection, he takes us through a kind of sidewalk-view of history, led at a dizzying pace through a crowd that runs the full gamut of age, background, and experience. "I always look for a fleeting, unguarded moment and attempt to capture the personal experiences that are indelibly etched on a face, and in South and Southeastern Asia the multitude of experiences and lives is astounding," he explains in the introduction. These experiences and lives testify as they are brightly colored for weddings or celebrations, smeared with ashes from coal mines, scarred with age and experience at the age of 9, or infinitely curious behind a road-map of wrinkles at the age of 70 — stilled moments that witness a changing history across a panoply of cultures, backgrounds, and landscapes. "Some of these faces are grasped from places or situations that I do not want to remember," McCurry writes, "but all are faces that I shall never forget."
(Looking East, by Steve McCurry. Phaidon, $40)
Top 4 Book Releases of the Month > The Other Side of War | Gallery > Roman Signer | Gallery > Looking East | Gallery > Mouthpiece | Gallery
Mouthpiece
Those who read "Photography the Hard Way" in Pop Photo's April 2006 issue will likely remember the images of Justin Quinnell, the pinhole photographer who captured the images in his "Day in the Life of My Mouth" series from — you guessed it — inside his mouth. Those who missed it, along with those who found it as fascinating as the staff of Pop Photo, will want to check out Mouthpiece, which contains 60 images of daily events as framed between a set of upper and lower incisors. Using his tiny and ingeniously improvised pinhole camera, made from a container of 110 film, over the duration of about 7 or 8 years, Quinnell created images that range from unsettling (a set of eyes gleaming through the opposite end of a cheese grater, or the photographer's own feet in the bathtub) to the hilarious (a plastic Gumby character screaming, with hands raised, from inside a bowl of Cheerios). Quinnell managed to capture a wide assortment of characters ranging from his dentist to Pop Photo's own Dan Richards. If, flipping through the book, you find yourself inspired, you'll be glad to know that Quinnell is not one to keep the fun to himself. His miniature "SmileyCams," handmade by the photographer, are available for a mere $23 on his website.
Note: Though the US release of the book isn't scheduled for a year from now, it's available through Amazon UK. Get a jumpstart and impress your friends with how internationally culturally savvy you are.
(Mouthpiece, by Justin Quinnell. Dewi Lewis Publishing, $13 from Amazon.co.uk)
Top 4 Book Releases of the Month > The Other Side of War | Gallery > Roman Signer | Gallery > Looking East | Gallery > Mouthpiece | Gallery