Testing Olympus Glass at the US Open
Our staff shooter test drives several Olympus 4/3 system digital Zuiko lenses at the US Open but finds them limited for sports by the E-330 DSLR.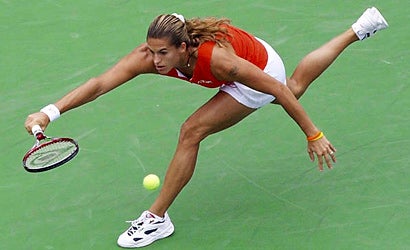 We may earn revenue from the products available on this page and participate in affiliate programs. Learn more ›
I was recently given an offer I couldn't refuse: an invitation to test out several Zuiko Digital lenses for the Olympus 4/3 series cameras. At the US Open, of all places. From the photo pits at Center Court. From the top of Arthur Ashe Stadium. In the press section of Field Court Seven. And from the comfort of the Olympus Box.
Olympus had pretty much every lens in the lineup available for the invited photographers, writers and editors to play with. As it was a major sporting event, the three lenses I was most interested in were the Zuiko 150 f/2.0 (Street: $ 2,199), the Zuiko 90-250 f/2.8 (Street: $5,499), and the Zuiko 300 f/2.8 (Street: $ 5,995).
Remember that there is a 2x lens factor with the 4/3 system, so double the focal length to get the 35mm equivalent.
|| |—| | Photo Galleries > US Open Image Quality Shots > The Zuiko Lenses | That's right, that's the equivalent of a 300mm f/2.0, a 180-500 f/2.8, and a 600mm f/2.8!
(In an economy of space, the 300 f/2.8 at 7.25 pounds is of comparable size and weight to its competition's 300mm f/2.8 — but has twice the reach.) The 7.2 pound 90-250 f/2.8 is closer in size and weight to a 300mm f/2.8 than a 70-200 f/2.8, and the 150mm f/2.0 is smaller and lighter than either of its sisters, but still quite heavy at about 3.6 pounds, due to the large maximum aperture and necessarily large front optics required for such light-gathering.
Add the Olympus EC-14 1.4x teleconverter into the equation, and the 300mm f/2.8 effectively becomes an 840mm f/4 lens in the similar weight and space that you'd get 420mm reach using Canon's and Nikon's 300 f/2.8s plus 1.4TX. That's a whole lot of reach in a (relatively) small package.
All three lenses feel very solidly constructed, with well-damped manual focusing rings and buttons placed at 90-degree increments near the front of the lens barrel that can be programmed for various shooting conditions. I set my Olympus E-Volt 330 to employ the lens buttons as Autofocus Stop.
After setting up the camera to my chosen settings — spot metering, continuous autofocus, manual mode (maximum aperture), and ISO 400 (initially, due to overcast conditions), it was time to run the lenses through their paces.
Due to a rainout the day before, there was a lot of tennis being played, with marquee players pretty much everywhere you turned. Rafael Nadal, Roger Federer, and Amelie Mauresmo are but a few of the players I got to see in action.
Down in the photo pits of Arthur Ashe stadium, it took me a few minutes to get comfortable with the E-330, especially considering that there was no vertical shutter release. I had to adjust my shooting style, since there is no back-button focusing option on the E-330, hence the AF-Stop setting I chose for the on-lens buttons. There are times in sports, particularly tennis, when pre-focusing is crucial to making the shot. Stopping the AF from searching for focus is crucial in capturing a tight image of a player serving a point. As the day progressed, I got more comfortable with the feel of the camera.
The E-330 shoots at a maximum of 3 frames per second (fps), and I found the camera buffering a lot if I shot in burst mode. Time for another adjustment in shooting style. So I went back to single-shot mode, and challenged myself to make every shot count, rather than relying on catching a moment in a burst, or even worse, missing a moment after a burst while the camera buffered.
|| |—| | Photo Galleries > US Open Image Quality Shots > The Zuiko Lenses | Autofocus was fast — not exceptionally fast — but generally quick enough to get most action in focus with the 90-250mm f/2.8 and the 300mm f/2.8. The 150mm f/2.0 felt a tiny bit more sluggish than its bigger stablemates, and a number of photos that appeared sharp on the E-330's LCD were just shy of being sharp when pulled up on-screen.
The 7.1 Megapixel E-330 was the weakest part of the equation. Professional-level photography at world-class sporting events requires a burst rate of at least 5 fps and fast in-camera processing to improve your odds of getting a winning shot, and making sure you don't miss anything while the camera is chugging away at images in the buffer. The E-330 has a lot going for it in some respects: Live MOS technology, very good image quality, and a distinctive, ergonomic design — but a pro sports camera it's not.
In fact, no camera in the current Olympus lineup shoots faster than 3 fps, and none has a sustained burst rate of more than 12 images. In 2006, these numbers don't begin to measure up to the industry leaders.
Olympus needs to get into the game with a camera that can compete with the Canon 30D and Nikon D200, and fast. Olympus needs to make a camera that is at least 7 megapixels, at least 5 frames per second with a 25 shot burst mode, an optional or integrated vertical grip — and since none of this long, fast glass has lens-based shake reduction technology, a sensor-based mechanical vibration minimizing solution.
Olympus has a great thing going with these world-class, professional-quality lenses. Now they need to finish the equation and make a professional-grade camera that can keep up with the action of world-class sports. Then they might have a winning formula to make a serious dent in the sports photography marketplace.
1) Set your camera to Aperture Value and choose maximum aperture. Make sure you have selected a fast enough ISO to get a shutter speed of at least 1/800 to freeze action.
2) Pre-focus and focus-lock on the player that is serving. Make sure your camera doesn't attempt to re-focus as you re-frame your shot during the serve, otherwise you're likely to get blurry players and sharp backgrounds.
3) Anticipate the action — watch the rackets! Shoot as soon as the player begins to swing. If you can see the ball in the frame before you shoot, odds are it won't be in your picture!
4) Only shoot one player at a time. It is amazingly difficult to try to shoot both ends of tennis at the same time. You'll get more winners if you concentrate on one end at a time. I generally focus on the player who is serving each game.
|| |—| | Photo Galleries > US Open Image Quality Shots > The Zuiko Lenses | 5) Respect the game and the players. Do not change position during a live point. Be quiet between plays, and especially during a serve.
6) Mix it up! Stop your aperture way down to f/22 or so, and drop your ISO to 100, and try to get a shutter speed around 1/15 second for some creative drag-shutter motion blur shots.