Scanning made cheap and easy
Got Prints?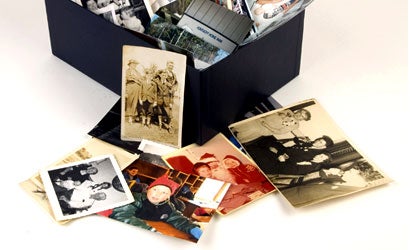 I walked into the Wegmans supermarket with a box full of prints. Old, new, color, b&w, even sepia-toned antiques. In sizes ranging from a few inches square to 8x10s. Eighty minutes later, I walked out with a CD containing 402 JPEGs, along with printouts of thumbnail-size copies of every shot.
Who doesn't have lots of old prints that deserve to be copied, shared, and preserved? But who has the negatives? Mine went the way of my 29-inch waist. And who has the time or patience to scan them all at home? Especially when you can get it done so cheaply. My tab at Wegmans? $49.99.
This miracle of digitization is part of an experiment Kodak is conducting to see if there's a business in converting shoeboxes full of prints into JPEG files that can be printed, e-mailed, or just safely stored for years.
At the heart of this venture is the Kodak i660, a document scanner used by banks, insurance companies, and other operations to digitize huge quantities of paper files. While the machine is only the size of a two-drawer filing cabinet, its specifications are huge . According to José Rivera, who's in new business development at Kodak, the i660 costs more than $44,000 and is rated for 60,000 documents a day on paper of various types and sizes.
If the i660 can turn the paperwork from a fender-bender into a crisp digital file, why not your baby pictures?
Kodak tweaked the software and equipped two Wegmans supermarkets around Rochester, NY, with i660s that scan up to 120 4x6s per minute.
In Irvine, CA, entrepreneur Mitch Goldstone similarly uses an i660 at his 30 Minute Photos Etc. store (www.shoeboxreprints.com). He even services by mail. (Wegmans is strictly walk-in.)
I dropped my box of prints on the counter, and the clerk and I went through them, making sure they all faced up; that there were no Polaroids ("the machine doesn't like them"); and we weren't scanning professionally shot photos (Kodak respects photographers' copyrights). We also pulled out badly wrinkled prints, and any that had tape or glue on them. But there were no more than a dozen rejects. The other 402 prints-ranging from souvenir photos of Coney Island circa 1910, to my parents' wedding pictures, to my first-grade class photo, to shots I printed on an inkjet just days before-flew through the scanner like confetti before a fan. And not one of them was harmed in the process.
Here's what you get: 300-dpi JPEGs burned to a Kodak Picture CD that includes not only your photos, but also software by Kodak that makes it easy to edit, print, e-mail, and upload shots to photo-processing sites. While the scanner packs picture-enhancing software similar to what's in a Kodak minilab, it wasn't used on my shots; they were scanned only.
I used the EasyShare software to make adjustments on a dozen different pictures and printed both the original and enhanced versions on a Canon i960 inkjet. When done at 1:1-that is, at the same size as the original print-both versions looked quite good. Some of the old ones were improved over the original. But going much larger than the original size often would lead to softness and the picture breaking up.
If you're looking to reproduce a couple of heirloom photos as gorgeous works of art, use your own flatbed scanner and powerful image-editing software. But if, like me, you have piles of prints that seem destined to spend eternity boxed away, unshared and unprotected, visit Wegmans-you may leave as happy as I did.
Further details on Kodak's experiment in cheap and easy scans of your prints.
If you are in the Rochester, New York, area, there are two Wegmans supermarkets with Kodak i660 scanners:
Wegmans Penfield
2157 Penfield Road
Penfield , NY 14526
585-248-3200
Wegmans Latta Road
3177 Latta Road
Rochester , NY 14612
585-723-8260
The scanners handle photos from 2.5″ x 2.5″ to 11″x17″. The 300-dpi images are burned to a Kodak Picture CD that includes Kodak EasyShare software. This software lets you crop shots and perform basic image editing. It also makes e-mailing, home printing, or store/online printing easy.
The scanner is incredibly fast, and even with burning the images to a Kodak Picture CD, it can be a while-you-wait service; but don't count on it. When we called the Penfield Wegmans, we were told that it would take "A couple days. Maybe three days."
When we told the people at the Latta Road store that we were in Rochester for just the day, we got 80-minute turnaround.
At press time, prices were:
Up to 40 prints with a CD and index prints: $19.99
A duplicate set is $4.99
Up to 500 prints with a CD and index prints as well as an album $49.99
Duplicate set with album: $24.99
Up to 1,500 prints with CDs and index prints as well as an album $99.99
Duplicate set with album: $49.99
Up to 4,000 prints with CDs and index prints as well as an album $199.99
Duplicate set with album: $99.99
As we go to press, Kodak's plans for this expanding this program are still up in the air. If it is expanded, we will post details in the Breaking News section of www.PopPhoto.com.
In Irvine, CA, 30 Minute Photos Etc. offers this service to both walk-in and mail-order customers. Company President Mitch Goldstone said that it is "incredibly successful," with orders coming in from around the world. Prices start under Wegmans, with Goldstone charging $49.95 for up to 1,000 scans. And he promises very quick turnaround. For details. go to www.shoeboxreprints.com.