Printer Test: Epson Stylus Photo R1900
How to print big photos at home with extraordinary color accuracy and gamut.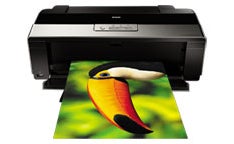 We may earn revenue from the products available on this page and participate in affiliate programs. Learn more ›
Isn't it great when a company puts out a product that's not only better than the one it replaces, but superior in some ways to higher-end models? Take Epson's new Stylus Photo R1900 ($530, street). Not only does it replace the popular, and aging, Stylus Photo R1800, but it may eat into sales of the Stylus Photo R2400 ($700, street).
We say that based on the print and performance results we got in the Pop Photo Lab, where the R1900 set a new record for color accuracy and wide color gamut. It also popped out 13×19-inch borderless prints on Premium Glossy photo paper in only 4 minutes, 20 seconds — much faster than the R1800 (6 min, 48 sec), though still not as fast as Canon's Pixma Pro9000 (2 min, 27 sec).
While the Canon may make prints faster, the R1900, like its predecessor, makes longer-lasting ones. According to Wilhelm Imaging Research (www.wilhelm-research.com), color and black-and-white prints on Epson's Watercolor Radiant White paper will resist fading for up to 200 years on display under glass, about twice as long as what Canon claims for the dye-based Pro9000.
Like its predecessor, the R1900 makes borderless prints up to 13×44 inches using roll media, handles cut-sheet and thick fine-art papers up to 13×19 inches using two paper paths, and prints on coated CDs and DVDs.
Then there are the improvements: The R1900's permanent MicroPiezo AMC print head now has the same ink-repelling coating the more-expensive Stylus Pro 3800 has. Epson says this prolongs the head's lifespan and shortens cleaning cycles, saving a bit on ink costs over time (though we didn't test this). A colorimetric calibration of the print head at the factory helps the accuracy of color profiles supplied with the R1900 or downloaded from the Epson website. In addition, it has a built-in sensor for automatic print-head alignment and nozzle checking.
One reason for the increased speed may be Epson's new, faster-drying UltraChrome Hi-Gloss 2 pigment inks. The R1900 is loaded with eight cartridges-cyan, magenta, yellow, matte-black, photo-black, plus an enhanced gloss optimizer and new red and orange inks that replace the R1800's red and blue inks.
Epson claims the new inks improve skin tones and expand the color gamut. We agree. In a variety of print samples, skin tones were incredibly accurate, making this an ideal portrait printer (and it's light enough to tote to a wedding reception). The new ink cartridges also contain small glass beads, designed to increase shelf life.
More important, the color gamut on the R1900 is larger than on any printer we've tested, earning an Excellent rating. Based on our analysis using ColorThink Pro 3.0 test software, the R1900 produced a gamut volume of 708,000 color units on Epson's Premium Glossy photo paper, compared with the R1800's 675,000 and the Canon Pro9000's 638,000 color units (using Photo Paper Pro Glossy). In practical terms, this means that the R1900 can reproduce more of the colors captured by today's flatbed scanners and DSLRs, especially from RAW images converted to 16-bit TIFF files and saved in Wide Gamut or ProPhoto RGB color space.
Not surprisingly, considering the new orange ink, the R1900 does a better job than the R1800 in printing medium-to-dark reds and oranges. The Canon Pro9000 can produce a more-saturated bright yellow and dark purple, but, in nearly all other color areas and especially in darker shades, the R1900 has the advantage.
Like the R1800, the R1900 uses only six colors at a time to make a print, since the loaded photo- and matte-black inks automatically alternate based on the paper surface. Also, we don't count the enhanced Gloss Optimizer as a color since it's really a clear overcoat. It helps to darken deep blacks and improve color saturation even on glossy photo papers, and it adds a layer of protection and a glossy appearance to all types of plain and matte papers.
The company also added Radiance Technology (co-developed by RIT) to the printer driver. It's based on mathematical models that control the placement of ink dots for maximum color accuracy and saturation. Epson says it reduces grain and improves color transitions; we noticed how prints made at much-lower-resolution settings than we usually recommend (e.g., 8×10 inches at 120 ppi instead of 200 ppi) looked far better than expected.
The Radiance algorithms might also be the reason behind the improvement in black-and-white prints made from color images. The R1800 showed lots of color casts with these, but the R1900 did a great job — nearly as good as the R2400, which has a more sophisticated black-and-white driver.
As for its design, the R1900 looks more like a smaller Stylus Pro 3800 than an upgraded R1800, with prominent panel controls on top instead of buttons on the side. A really nice touch? Two Hi-Speed USB connectors in the rear so that two computers can be attached at a time.
Now, if only we could figure out how to cut the cost of ink in half (at $13, street, per cartridge, it adds up), this printer would never fade from our sight — just like the beautiful enlargements it produces.