Photokina 2008
Europe's huge photo show in Cologne, Germany showcases amazing new photography products!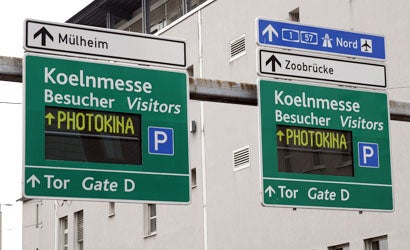 We may earn revenue from the products available on this page and participate in affiliate programs. Learn more ›
Photokina 2008 is underway and when it's Photokina, it means lots of new cameras, gadgets, lenses, software and accessories! Showstoppers include the Canon EOS 5D Mark II announced last week, to the exciting new Lensbaby line, which launched right as the gates opened for the show. Let's not forget about a whole new Creative Suite from Adobe! All in all, Photokina 2008 will have photographers scambling to add things to their holiday wish lists!
We've put together this list of briefs to showcase some of the recent announcements that people will be talking about at the show, and on the message boards. Stay tuned to PopPhoto.com for updates throughout the show.
Canon EOS 5D Mark II unveiled
Canon's long-awaited upgrade of the full-frame 5D packs 21.1 megapixels, full HD video, ISOs up to 25,600 and a high-resolution 920K dot 3-inch LCD
Panasonic Lumix G1: Less is More
The revolutionary little camera that takes the SLR out of DSLR
–
Pentax K2000: First Look
It's sweet, hot and comes with a flash.
–
Nikon introduces new prime lens to commemorate 75th anniversary of NIKKOR lenses
The AF-S NIKKOR 50mm offers a maximum aperture of f/1.4.
–
Lensbaby Composer: A Brand New kind of 'Baby.
A new ball-socket based Lensbaby launched as Lensbaby reinvents itself.
–
Adobe Photoshop CS4: Hands On
Photoshop just got simpler.
–
Photokina Podcast
Editor-in-Chief John Owens and Technical Editor Phil Ryan discuss Photokina 2008.
–
Olympus announces development of first Micro Four Thirds DSLR
Concept mock-up of new Micro Four Thirds DSLR is shown at Photokina.
–
Olympus announces new Four Thirds DSLR
Prototype of new advanced amateur DSLR is shown at Photokina.
–
Lexar introduces faster CompactFlash cards
Lexar Professional CF cards now speed-rated at 233x.
–
Leica announces the S2 digital camera
The Leica S2 features a larger-than-full-frame 37.5 megapixel sensor in a 35mm-sized SLR body.
JOBO AG introduces photoGPS at Photokina
Geotag your photos with this small, lightweight GPS receiver
–
Seagate Updates its FreeAgent External Hard Drive Line
Latest generation drives from Seagate feature desktop and mobile solutions for Mac and Windows.
Western Digital Introduces High Capacity Portable Hard Drives
My Passport Elite and My Passport Essential portable hard drives are now available in 500GB capacities.
Kodak intros new film!
Kodak's new Ektar 100 print film boasts high color, minimal grain.
–
Eye-Fi offers enhancements to its wireless memory cards
Faster wireless speeds and optional services will be available in October.
–
Smartparts launches two new Wi-Fi digital picture frames at Photokina
Send images directly from Windows Live Photo Gallery to these Wi-Fi-enabled 8-inch and 32-inch digital picture frames.
HP launches new wide format printer at Photokina
The 12-ink Z3200 features a new red ink and is available in 24-inch and 44-inch models.
–
Nik Software offers Complete Collection of photo filters and an update to Dfine
This money-saving bundle includes all of Nik's filters for both Adobe Photoshop and Apple Aperture.
Camera Armor launches the Seattle Sling
The first bag in the company's new Seattle Series Bags affords waterproof protection for camera gear; and it floats, too.
Delkin introduces external Blu-ray drive at Photokina
The drive writes and reads Blu-Ray and is backwards compatible with recordable CD and DVD media.
Sigma launches new lenses and teleconverters at Photokina
New optics include two fisheyes, one standard zoom, a Four Thirds System prime lens and two teleconverters for Sony lenses.
Sigma announces macro flash
The new Electronic Flash Macro EM-140 DG is compatible with Sony and Pentax cameras.
–
Fuji Announces FinePix Real 3D System
Camera, digital photo frame and 3D prints to produce images "exactly as your eye sees it."