Panasonic Lumix G1: Less is More
The revolutionary little camera that takes the SLR out of DSLR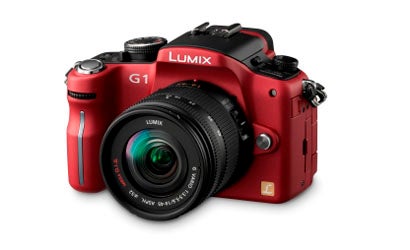 We may earn revenue from the products available on this page and participate in affiliate programs. Learn more ›
Ever wish your DSLR was smaller and lighter, and that packing a bag of lenses didn't require second thoughts or a note from your chiropractor? You're not alone. In fact, Panasonic believes millions of photographers feel the same way.
For them, Panasonic has a radical solution: the new Lumix G1. It's not just a new model, but a new class: "The Digital Interchangeable Lens Camera System."
Basically, it shrinks the size and heft we're used to by combining the best of a DSLR with the best of an electronic-viewfinder camera. Panasonic presaged this move in August by announcing the development of the Micro Four Thirds standard. That is, bodies packing a Four Thirds-sized sensor (think Olympus and Lumix DSLRs) but without the usual DSLR hardware-mirror box, focusing screen, and pentaprism. Micro Four Thirds also calls for a smaller lensmount with more electronic contacts.
So it's an EVF camera with interchangeable lenses, right? Yes, but…
A typical EVF camera has a tiny imaging sensor packed with tiny pixels that can give you high resolution, but also lots of noise and so-so color gradations. By using a 12MP Live MOS DSLR-style sensor that's about four times the size of a typical EVF chip, Panasonic promises DSLR-caliber image quality.
The G1 also addresses two major drawbacks of current EVF cameras: gritty, jumpy images in the viewfinder, and sluggish autofocus. Senior Editor Dan Richards went to Japan earlier this year for a top-secret look at how Panasonic's engineers attacked such issues on the G1. "For one, they looked beyond typical camera components," says Richards. "The viewfinder comes from a pro video camera, with 1.44-million-dot resolution. That's about seven times the number in a typical EVF." And instead of the usual tiny LCD in the viewfinder, this EVF has an LCOS (liquid crystal on silicon) that works much like a sophisticated digital projector, pulsing colors so rapidly that the image is fluid and flicker-free.
"The finder image is nearly as life-like as that in an SLR viewfinder," Richards says. "In fact, in very low light, you can see more detail."
Autofocus issues received similar engineering horsepower.
On a DSLR, AF is an independent system in the viewfinder. Called phase detection, it's generally fast and sensitive. On an EVF camera, however, autofocus works off the imaging sensor, using contrast detection to find focus by comparing pixels-very accurate, though generally slow, and balky in low light.
"The processing engine was seriously beefed up, and communicates more with the lenses," Richards says. "The result is AF on a par with phase-detection systems, nearly anywhere on the screen. And it can track focus."
Impressive technology. But how small is the camera?
Tiny-half the volume of Panasonic's own Lumix L10. The body weighs under a pound and is slightly larger than a kid's juice box. But more importantly, the lenses are minuscule compared with DSLR optics. The G1 will be sold for an estimated $800 (street) with an image-stabilized 14-45mm f/3.5-5.6 lens that's downright petite. Even the image-stabilized 45-200mm f/4-5.6 (90-400mm equivalent) isn't much longer than a typical DSLR's 18-55mm kit lens.
While Panasonic says many existing Four Thirds lenses will work well on this camera using an adapter, expect more Micro Four Thirds lenses in 2009.
Expect, too, future models to capture HD video. After all, most of what's required is already in the G1. For instance, the 3-inch, 460,000-dot LCD on the back of the camera serves up live view at 60 frames per second. It's just a half-step from there to the big screen. In all, expect big things from this little camera.