Orphan Works
A group of Toronto-area photographers is working to preserve in photographs the physical structures society forgot.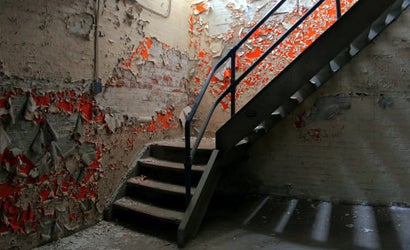 In our October issue, Toronto real estate agent and photographer Laurin Jeffrey alerted us to a group of photographers who came together over a mutual love for photography and the desire to explore and preserve buildings now abandoned by society.
Formed over the past year in and around Toronto and neighboring New York State, the group aims to "capture the hidden history of this region that most people never see" by photographing abandoned industrial sites, old churches, orphanages, schools, hospitals, and Laurin's personal favorite, insane asylums.
On his personal Web site, Laurin elaborates on his photographic approach: "The world is filled with structures, some forgotten and others well-loved. What stories do these buildings have to tell, what scenes have these stones witnessed? Why is the human race so obsessed with erecting these monuments of metal and brick — and why do they so carelessly abandon them when they are no longer needed?"
These are some of the questions Laurin and the others in the DK Photo Group — Mathew Merrett, Sean Galbraith, Russell Brohier, Jay Morrison, and Steve Jacobs — ask with their photography.
If you're in the Toronto area, be sure to stop by the DK Photo Group's second exhibition, "Orphaned," which runs from Oct. 17 to Nov. 6, 2006 at the Hangman Gallery on Queen Street East in Toronto. The opening night gala will be held Thursday, Oct. 19 from 7-10p.m.