Olympics 2008: Beijing Bound
Our tips for the Olympics spectator will help you prepare for the trip of a lifetime.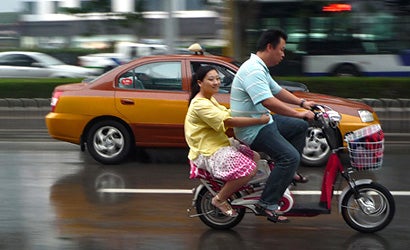 From raising hundreds of new buildings to fine-tuning their infamous Internet firewall, Beijing has spent the last few years preparing to host the Olympics. With only a few days to go, our list of travel tips, discussed in detail on our Beijing Olympics Blog, will help you prepare to embrace Beijing as China opens its doors for three weeks in the spotlight.
• Leave the SLR at home: Along with musical instruments and large bags, China is cracking down on professional camera equipment at the Olympic venues, so if you're not a credentialed photographer, consider bringing a point & shoot instead. Because of its small size, great image quality, and wide-angle lens, I've been using the Panasonic FX-35 almost exclusively for my blog. I've also been shooting a lot with the Olympus E-420 with a 25mm "pancake" lens, but depending on who's making the decisions at your venue, that kit may fall under the "professional camera equipment" category.
• Prepare to get sick: Even if you've never been sick to your stomach before, there's no guarantee that you'll have the same good luck in China. Western conveniences such as toilet paper in public bathrooms and Pepto-Bismol are hard to come by in Beijing, so be sure to always carry some with you.
• Be a smart shopper: You can buy almost anything in Beijing, but that doesn't mean you should. Knockoffs are everywhere — bags, clothing, cell phones, even digital cameras. Fake cameras are usually easy to spot, but if you do find the real thing, it's still a better idea to buy one in the U.S. to guarantee your camera is authentic and carries a valid warranty.
• Keep in touch: Calling or emailing home is easy in Beijing, and you can take care of most of the logistics once you arrive. WiFi access can be spotty, but if you have Internet at your hotel, use Skype to call home. Computer-to-computer calls are free and calling phone numbers in the U.S. costs about 2-cents per minute. You can also purchase IP calling cards in Beijing, which can be used to call home from your Chinese cell phone or hotel.
• Run away to the circus: With the language barrier and lack of some Western conveniences, life in Beijing can be frustrating. After a month in China's capital city, I escaped for a few days in ultra-modern Shanghai, but if you're in China for only a few weeks, consider escaping to a Chinese Acrobat show once or twice. As long as you can stomach contortionists, it's a guaranteed good time.
• Love the food: Chinese food is embraced worldwide for its strong flavors and simplicity, and while the food may be different in Beijing, it's often delicious and inexpensive. Ordering in hole in the wall eateries can be a challenge if you don't speak Mandarin, so consider having your hotel write out your favorite dishes before you dine, or print pictures of your favorites before you leave home. If you need more variety, fine Western food is occasionally available, and McDonalds and KFC restaurants are always within walking distance.
• Time to pay: I've been using cash almost exclusively in China — it's always accepted, there's no need to worry about exposed identities, and ATMs are easy to use and offer the best exchange rates. Bank of America holders can make withdrawals from China Construction Bank ATMs without incurring any fees, while credit cards often charge 2% or more for foreign transactions. When credit cards are accepted, retailers usually accept the big three — Visa, MasterCard, and American Express.
• No English please: With the exception of knock-off market workers and some hotel staffs, Beijingers seldom speak even a word of English. Olympic volunteers positioned throughout the city usually speak enough to get by and help with directions, but taxi drivers, restaurant workers, and many other people you need to interact with don't speak any. If you're trying to get somewhere, be sure to have you destination and directions written clearly in Chinese as well as English.
• Embrace the sights and sites: With new Chinese megacities popping up every year, cities with extensive historical significance are become a rarity. Beijing's history dates back thousands of years, and sites such as the Temple of Heaven and Forbidden City were constructed nearly 600 years ago. The Summer Palace and Beihai Lake also offer great photo-ops while providing a chance to escape from the hustle and bustle of modern Beijing.
• Keep an open mind: This should probably be at the top of the list, but keeping an open mind in Beijing will make your experience much more enjoyable. Try new foods, learn some Mandarin, and consider escaping to a show or even Shanghai if you become overwhelmed. Life in China will likely be very different from what you're used to, but with some patience (sometimes a lot), you will learn to love it.
Visit our blog, Behind the Lens at the Beijing Olympics, for dozens of tips on enjoying the food, getting around, and where to go to snap some killer photos. If you're headed to China, consider sharing your photos and experiences on our forums, or add your comments to our Beijing Olympics Blog. Questions and comments can also be sent to beijing@popphoto.com.