New Whirled Order
How the little Nikon D40 overthrows what you know about Nikons and their lenses.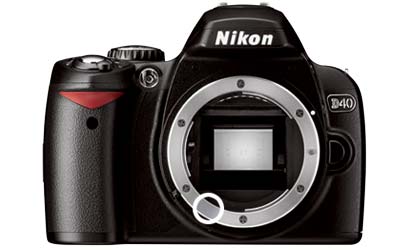 We may earn revenue from the products available on this page and participate in affiliate programs. Learn more ›
We were putting Tokina's brilliantly sharp new 50-135mm f/2.8 SD DX lens through its paces in the Pop Photo Lab when one of our technicians got quite a surprise: Mounted on a brand-new Nikon D40, the Tokina wouldn't autofocus. It worked great on a D200, D80, even the little D50. But not the D40.
What's wrong? Nothing. Both camera and lens were up to factory specs. But something was different: As we reported last month, the D40 is the first Nikon in the 35mm and digital SLR era to not have an autofocus motor in the camera body.
A big deal? That depends. To those in internet chat rooms who devote their lives to the finer points of Nikoniana, the AF motor issue is Serious Stuff with overtones of Nostradamus.
To most people buying this camera it means very little. They're DSLR newbies who just want better snapshots. For $560 (street), they get an easy-to-use 6MP camera with an 18-55mm f/3.5-5.6G ED AF-S DX Nikkor lens. Most will be happy with the kit lens, and maybe spend another $170 (street) for a Nikkor 55-200mm f/4- 5.6G ED AF-S DX tele. What they probably don't know is that unlike the Tokina, these two Nikkors have an autofocus motor in the lens. Not packing an AF motor under the lensmount helps the D40 get down around the size of the petite Canon EOS Rebel XTi and Pentax K100D. To beginners, smaller is better.
But is there a price to pay for this downsizing? Before you can know for sure, maybe a little background is in order.
In the mid-to late '80s, autofocus SLRs hit the mainstream with a force — and controversy — not unlike the film-vs.-digital debate of recent years. While many traditionalists exclaimed that "real photographers focus their own damn lenses," the convenience, accuracy, and speed of AF made these systems overwhelmingly popular.
Nikon developed a system that put a tiny motor inside the camera body, and as the lens needed to focus, the motor turned a shaft that moved the optics. And even if you had some old, pre-AF Nikkor F-series manualfocus lenses, they still could be used manually on AFequipped bodies. Nikon built its marketing strategy around "backward compatibility."
As the years went by, Nikon stuck with this approach, and it's been a boon to Nikon shooters. Until the D40, it meant that any Nikkor AF lens would focus on any Nikon AF camera. So your 1989-era optics work fine on your brand-new D80. And considering that the old lenses were made for full-frame 35mm cameras, when mounted on a DSLR with a smaller APS-sized sensor, the lens is using only its center "sweet spot." In effect, good optics made even better.
Despite having an autofocus motor in the camera body, in recent years, Nikon has built many lenses with the AF motor in the lens. (Today there are nearly two dozen.) Why? Lensbased AF tends to be faster, quieter, more stingy with battery power, and sometimes more accurate. Nikon lenses with this system are in the ED-IF and AF-S series.
Canon, however, discarded the notion of camera-based motors and went to lens-based AF motors 20 years ago with the introduction of the EOS system and EF mount. Needless to say, this created howls from the Canonites with old glass they wanted to use on their new EOS cameras. Unlike Nikon, Canon changed the mount when shifting to the EF autofocus system, so old lenses weren't compatible. Some oldtimers still haven't forgiven Canon. With the D40, Nikon chips away at its famous backward compatibility. But I think reasonably so, since few D40 buyers have old Nikon lenses, and future lenses are likely to be AF-S Nikkors.
But what about the glass made by companies such as Sigma, Tamron, and Tokina?
Sigma is all over the D40. At this writing, its website lists 17 lenses ranging from a 10-20mm to a mammoth 800mm that will work fine with the D40, since they have Sigma's HSM motor built in. The downside? These are all pro-level optics; not low-buck kit lenses geared to the beginner.
Tamron has yet to adapt any of its lenses to the D40. Its Nikon mounts count on the camera's motor for AF. But I'm told that the company is on the case. Tokina is much the same.
So is the D40 a harbinger of Nikon AF systems to come? Certainly for the size-obsessed, snapshooter-oriented DSLR market. But it's unlikely that Nikon will soon follow this route with its pro and serious enthusiast cameras. That extra height isn't much of an issue with serious, long-time shooters. But backward compatibility is.