My Project: Thad Roan
This photographer doesn't burn his bridges, he shoots them -- more than 1,000 and counting. Here's how.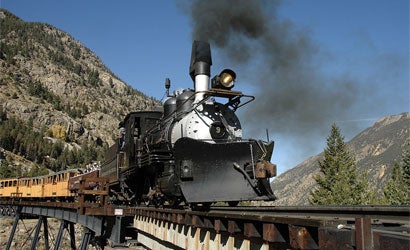 "Photographing bridges started out to be a hobby. Now, the hobby has become an obsession," says 55-year-old Thad Roan, who has captured more than 1,000 bridges over the past five years.
Roan, who owns a photocopy business in Littleton, CO, has had a lifelong interest in bridges. Growing up in New Jersey, he often visited New York City, which he calls "bridge heaven," not only because there are so many (2,027), but also because of their age and style — the four major bridges over the East River were all completed before 1910. Bridges from that period, Roan explains, "are ornate. They have a lot more detail — they were dressed up. Today's are strictly functional."
But he didn't pursue this interest seriously until five years ago, when he and his wife began traveling more frequently. "That's when the seeking-out started," Roan says. "If on a trip, I would happen to go by a bridge, I would take a picture of it. On the next trip I'd stop to photograph it. Then, I started researching bridges every time we planned a vacation… Now the bridge is the reason for the travel."
Although he has shot such landmarks as the Golden Gate and Sydney Harbour bridges, Roan is especially fond of historic, rusty, steel spans. He often plans trips around those in the National Register of Historic Places (www.cr.nps.gov/nr) "to record them before they're gone."
Or he'll find them on the fly. "If there's an airfare deal one weekend to, say, Little Rock, I might jump on the airplane," and hurriedly research. Example: a recent trip to North Dakota. "How many people go to Valley City?" he says. "Outside Fargo, it's a really interesting town, and it has a lot of bridges."
Roan shares photos and tips with other bridge enthusiasts on websites such as Flickr.com and on own site, www.bridgepix.com. "Bridgepixing" is a term that he and his wife coined: "Specifically going to a bridge, spending some time at it and photographing it. Not just driving across it."
Besides acquainting him with little-traveled crannies of the U.S., bridges have helped Roan develop as a photographer. He's graduated from point-and-shoot to a Nikon D200 with a 18-200mm zoom, on a tripod for long exposures, sometimes with a polarizer or star filter. His tips:
1. Get facts.
To find smaller gems, like footbridges, research an area beforehand. Then ask the locals. "It's fun to find a bridge at the last minute — one that's not well-known but that's rusty and old and has character," he says.
2. Bring a compass.
Some bridges run east-west, others north south. This affects your shooting position, especially at sunset or sunrise. Your best angles are with the sun at your back.
3. Think vantage points.
You can't always find a good position — on dry land. "The Circle Line Tours are great in New York, and Memphis and Pittsburgh both have riverboat excursions," Roan says. "In other cities, rent a boat."
4. Look closely.
"Old steel bridges have a lot of detail built into them," Roan says. Decorative elements such as finials can be very photogenic against the backdrop of the sky.
5. Look around.
Whether it be the crisp rocky falls of a gully or the green foliage on a riverbank, "it's often the setting that makes a bridge look special," Roan says. Urban spans typically hit their peak at night against the city lights.
6. Get some action.
If it's a railroad bridge, capture it with a train going over it. For those spanning water, "catch a great-looking ship, especially a colorful ocean liner."