'My America,' by Christopher Morris
Time magazine photojournalist explores the politics of patriotism.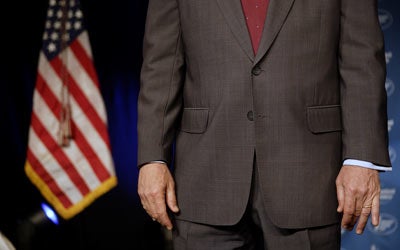 For 15 years photojournalist Christopher Morris was known for being where the action was — the 42-year-old has covered more than 18 foreign conflicts including the U.S. invasion of Panama, bloody battles in Chechnya, and both Iraq wars.
But since 2000, Morris has been Time magazine's man on the ground in President Bush's inner circle. His upcoming book and exhibition at New York's Hasted-Hunt Gallery, both named My America, comprise images he took while on assignment for the magazine, although all but one went unpublished.
With My America (Steidl Publishing), Morris' first book, the photographer has swung his camera around, capturing the fervor around the president, rather than the man himself. His photos are static and often of solitary figures — a secret service agent staking out an empty field, a soldier's head against an expanse of black, a young girl's mouth hanging open in awe above the American flag on her t-shirt.
"It's this skewed perspective of this journey that [Morris] and the president are going on," explains Sarah Hasted, co-founder of the Hasted-Hunt Gallery. "It's Chris's reaction to people's response, to what's happening in the audience."
Morris says his years as a war reporter had kept him out of the country for so long that when he began shooting the president he was startled by the America he discovered: a nationalistic one obsessed with "this cult of personality around the president."
"In 2003 I really started to notice the nation really wrapping itself around the flag and the president," Morris recalls. "Then my photography started to shift; everything had to be very clean and Republican, straight and perfect."
He even had the photos for the Hasted-Hunt show, up from Sept. 7 to Oct. 7, printed on polyester-based Fujiflex printing material to emphasize the artificiality he's trying to express in the images.
"Everything is staged and controlled," Morris says of the White House pageantry. In one of Hasted's favorites, pieces of tape on the carpet mark positions for "The President" and "Mrs. Bush." "It's the complete opposite of war photography."
But while his subjects have gotten quieter and more controlled, Morris has become even more dedicated to realistic representation. He has practically given up wide-angle and shot almost every photo in the book from 50mm to 70mm because it is closest to "what the eye sees."
In a similar vein, Morris shrank My America's introduction for fear of alienating his audience and because he "wanted people to form their own opinion of the photography."
That seems to be what the Republicans Morris has shown the book to have done; he insists they're not offended by it. He says they are happy for him and recognize themselves in his book.
"That's their world," he says. "That's why I call it 'My America'; it's not all of America, it's what I see."