Mets Pitcher Brian Bannister Talks Photography
New York Mets rookie hurler is an accomplished studio photographer and owner of Loft 19, a pro studio and rental space in Phoenix.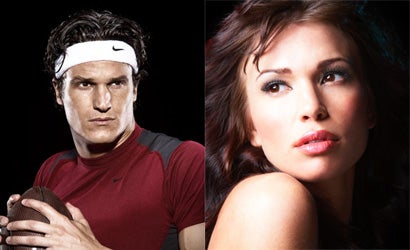 For Nolan Ryan it's raising cattle. For Mike Mussina it's crossword puzzles. But for 25-year-old New York Mets pitcher Brian Bannister, his passion away from the baseball diamond is photography.
Since taking his first photography course at the University of Southern California, Bannister has developed into a talented fashion and portrait shooter. He even owns his own professional photography studio and rental service in Phoenix, Loft 19, run during the season by his dad, former major league pitcher Floyd Bannister.
This year his photography has had to take a back seat, however. After breaking into the Mets starting rotation this spring, Bannister quickly posted a 2-0 record with a sparkling 2.89 ERA. He's been battling back from an injured hamstring since April, but he recently took the time to share some of his photos and explain his love for photography.
When did you first get interested in photography? How did your passion for pictures first develop?
I was always interested in art growing up. I had a strong penchant for drawing and cartooning, and as special effects developed on the big screen I felt drawn to computer animation and cinematography. However, I realized it was not the animation that I loved, but the lighting that created the colors and moods. While in art school at USC I took my first photography course, and I realized that my talent was as a photographer.
My classical fine art training helps on the post-production side with the retouching and composition.
Do you have a favorite photographer?
I prefer photographers that have a strong presence of light in their images with a minimalistic style. I like a powerful feeling of movement and energy with fashion as the undertone. My favorites include Michael Thompson, Greg Kadel, and Carlos Serrao.
Is there any particular camera or set-up you prefer to shoot with?
My favorite camera is the Mamiya RZ, in both traditional and digital formats. I love the contrast and color saturation with the shallow depth of field that it provides.
My favorite setups use large, hard lighting with either an umbrella, parabolic reflector, or fresnel with a rim light on the cheekbones and a separation/hairlight bringing the subject out of the background. I either use just enough fill to bring detail into the shadows (usually with men) or I blow it out so that the imperfections in the skin disappear (usually with women). I try to make the lighting the most interesting part of the image by using it to hide and reveal different areas of the composition.
Do you take pictures during the days you're not pitching?
Yes I do. But I do not take pictures in a photojournalistic style walking around with my camera. I prefer to come up with ideas, stories, and styling the way a movie director does, and when I have prepared everything I plan a shoot and execute it.
What made you decide to open Loft 19? Who are some of your clients?
I opened Loft 19 in Phoenix to give photographers the creative freedom they have in cities like New York and Los Angeles. Shipping equipment is expensive, and trying to rent it on a Sunday for a Monday morning shoot or after normal business hours was impossible before. Now they have the peace of mind that we will take care of everything for them, and they can enjoy the city more.
Our clients include companies such as Nike, ESPN, People Magazine, and Sports Illustrated. Photographers that we have had the pleasure of working with include George Holz, Dan Winters, Carlos Serrao, Matthias Clamer, Jeff Riedel, Sarah A. Friedman, and Karina Taira.
Who's the best sports photographer of all time?
The most prolific sports photographer is Walter Iooss, and he set the standard for the rest of us to follow. I think the photographers that are creating the modern "look" of athletes are Carlos Serrao, Tom Van Heel, Uwe Duettmann, Sarah A. Friedman, and F. Scott Schafer.
As a pitcher who bats, do you think the National League should institute the Designated Hitter rule?
I think the lack of a designated hitter is what makes the National League special. There is something fun about cheering for the underdog pitcher as he tries to make contact with a major league fastball. I think the fans can relate to him more than anybody else on the field. It also shows how difficult hitting really is.
Be sure to check out Brian's Photo Gallery of Images above as well as his own site, www.beautyandsport.com, and visit Loft 19 if you're in Phoenix. To keep up with Brian's fantasy baseball stats, bookmark his Yahoo! Sports page or visit Mets.com. Jay DeFoore can be reached at editor@popphoto.com.