In Memoriam: Herbert Keppler, 1925-2008
It is with profound sadness that we note the passing of Herbert Keppler, whose extraordinary brilliance and uncommon devotion in...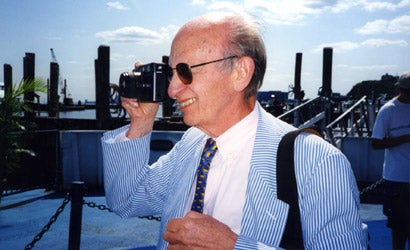 It is with profound sadness that we note the passing of Herbert Keppler, whose extraordinary brilliance and uncommon devotion in his lifelong work as an editor, publisher, mentor, and true and generous friend made him one of the most revered, respected, and beloved members of the photographic community.
To state that Keppler was a positive force who helped advance the industry he loved so deeply, that he was a tireless advocate and thought-provoking guide for millions of amateur photographers all over the world, and that he was a practical camera design and marketing genius whose advice was eagerly sought and implemented by countless photographic manufacturers, distributors, and retailers, is merely to scratch the surface of his remarkable achievements. Knowing him was a privilege, and working with him an honor. He was a magnificent human being, not only in what he did, but also in who he was. We will sorely miss his puckish sense of humor, his joie de vivre, his unfailing loyalty, his kindness, and his staunch integrity. But most of all we will miss him-because we know we will not see his like again.
Please visit popphoto.com/keppler for contined tributes and expanded coverage honoring Herbert Keppler -The Editors
Herbert Keppler did so much for the photographic industry over the course of his illustrious 57-year career-37 years at Modern Photography and 20 years at Popular Photography-and gave such an immense amount of heartfelt support and advice to photo enthusiasts worldwide that assessing his unique accomplishment is a daunting task.
The son of Victor Keppler, the renowned and brilliantly successful photographer and commercial illustrator, he developed an early passion for photography. By the time he was a teenager, he was shooting and printing portraits of his classmates at the Admiral Farragut Academy and selling them to their parents.
After earning a Bachelor of the Arts degree at Harvard, Keppler was commissioned as an ensign in the U.S. Navy at the tail end of World War II, served as an officer aboard an LCS (landing craft support ship), and eventually became a lieutenant, the commanding officer of a crew of 65. Aware that his crew of seasoned veterans of the Pacific campaign knew much more about operating a ship than he did, Keppler addressed them with his signature combination of leadership and humility: " I know I have a lot to learn about the way this ship runs, and I really need your help. If you help me, I will do my level best to help you."
Later, when his men were reluctant to take on a particularly onerous and dangerous maintenance task, Keppler took up the proper tools and began doing it himself. "Sir, what are you doing?" a crewmember asked incredulously. "I wouldn't ask you to do anything I wouldn't do myself," he replied. The crew promptly rose to the challenge and did what was required.
These incidents have nothing to do with photography per se, but they say volumes about the character of the man who was to become one of the most influential people in shaping the photographic industry for over half a century.
After the war, Herbert Keppler went into newspaper and magazine journalism. He was a reporter for the old New York Sun, which helped hone his natural writing skills, and he worked for Footwear News, a trade magazine. Finally, in 1950 his journalistic talent and photographic passion came together and he became an associate editor at a new photographic magazine called Modern Photography. "It was a shoestring operation in those days," recalled Keppler, "with one typewriter, a folding table for a desk, and no private offices. The chain of command was a little fuzzy, but I knew one thing for sure-I wasn't the boss."
That was to change over the years as Keppler rose through the ranks and put his indelible stamp on the magazine that was to be the archrival of Popular Photography for 39 years. By the time Keppler left Modern in 1987, he had utterly transformed the magazine into one of the most respected, admired, and financially successful publications of its kind in the world.
A book could and probably should be written about Keppler's distinguished career at Modern Photography over nearly four decades, but here are some of the highlights of what he accomplished from the time he joined the staff as associate editor in 1950 and left Modern Photography as Editorial Director and Publisher to become Vice President and Publishing Director of Popular Photography in 1987.
He established a system of objective camera and lens testing based on scientific measurements of shutter speeds, lines-per-millimeter resolution, exposure accuracy, etc.; enlisted the aid of trained experts in optics and camera testing to create a comprehensive testing protocol; and published the test methods and criteria, enabling readers to compare the performance of the leading cameras and lenses on the market. He made sure this program was carried out with the utmost integrity, a vast advance over the bad old days when only advertisers received favorable reviews in many photo magazines.
He was an early and tireless champion of the single-lens reflex camera (SLR), writing an extremely popular series of SLR columns explaining their numerous advantages over the then-dominant 35mm rangefinder cameras, including their upside potential for future development. By the early 1960s, it was clear that Keppler had been right, and the 35mm SLR became the camera type of choice among serious enthusiasts and professionals until the dawn of the digital era. His SLR columns continued, offering honest, straightforward advice on a wide variety of topics, always in his inimitably direct homespun style that endeared him to generations of readers.
He was one of the first photo magazine journalists to recognize the vast potential of the Japanese photographic industry and to write extensively about the excellence and technical ingenuity of Japanese cameras and lenses. He first went to Japan in 1956, and returned every two years thereafter, establishing close personal ties with leading members of the Japanese camera industry from corporate heads to senior engineers. All considered him a trusted friend and colleague, and for more than 40 years he gave consistently excellent advice to Japanese photographic companies based on his unparalleled knowledge of the American market and practical camera design.
He established a Mail Order Code of Ethics in response to widespread abuses, and saw to it that advertisers that engaged in shady practices were removed from the magazine. He also set up enforcement procedures to help insure that readers' issues with advertisers were addressed and resolved.
He assembled a staff of experienced hands-on experts qualified to write knowledgably about subjects including film and processing, darkroom work, lighting, composition, camera and lens design, as well as specific picture taking techniques. He oversaw every piece of editorial content that went into the magazine each month and balanced it with excellent picture portfolios, many by some of the most outstanding photographers of the day.
He developed a layered structure of editorial presentation so that busy readers could access much of the content of each article by just scanning the headlines and picture captions. Readers could then choose to peruse the entire text if the subject interested them, and when they had the time. This profound understanding of the reader and the reader's needs and wants was pioneering at the time, and looked forward to the concise, content-rich editorial presentation that characterizes much of today's magazine journalism.
The 20 years that elapsed since Herbert Keppler joined Popular Photography were equally productive, as he had the opportunity to update and enhance many of the concepts initiated and perfected at Modern Photography and bring them to an even higher state of fruition. One of his most significant accomplishments was to bring the benefits of a state-of-the-art, on-site test lab to Popular Photography, vastly enhancing the testing capability of the magazine and consolidating its unequalled reputation as a source of accurate high-level information. Under his masterful guidance, working closely with excellent editors in chief and staff members past and present, Keppler provided the underpinning of the magazine's format and structure, enabling it, under the leadership of John Owens, the current Editor in Chief, to make a smooth transition to the digital era. Indeed, the fact that Popular Photography is still widely acclaimed as the world's premier imaging magazine in the digital era is due in no small measure to Keppler's influence and input.
Herbert Keppler, affectionately known as Burt to his close friends and colleagues, was given countless honorary awards and titles throughout his long and distinguished career-and over the years he was widely hailed as "Mr. Photography" and "The Conscience of the Industry." He was among only a handful of Americans to receive one of the highest awards to be bestowed upon a foreigner by the Emperor of Japan for his notable contribution to the Japanese photographic industry and its phenomenal success in the U.S. He was also presented with "The Order of the Sacred Treasure, Gold Rays with Rosette" at a splendid conferment ceremony held at the Japanese Consulate in New York on December 9, 2002, by Ambassador Yoshihiro Nishida, Consul General of Japan.
While Herbert Keppler was certainly appreciative of all the recognition that came his way, there are no official honors given for his two most significant personal attributes-integrity and compassion. What probably mattered to him most is that millions of photography enthusiasts all over the world thought of him as "Kind Old Uncle Burt," the man whose sage, warm-hearted advice and counsel helped them get more out of their photography for more than half a century.
Please visit popphoto.com/keppler for contined tributes and expanded coverage honoring Herbert Keppler -The Editors