The Man Who Shoots Everyone
Rodolphe Simeon has shot more than 300 intimate portraits -- of strangers he meets on the street.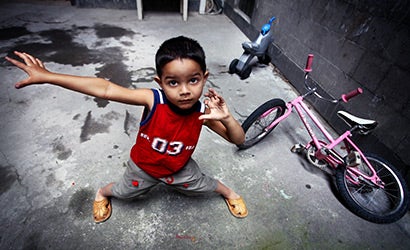 "You can photograph anybody. You only have to find the right way to do it." So says Rodolphe Simeon.
But not everyone can make portraits as expressive and unguarded, as open and affecting, as his. Witness his website: full of the young and old, beautiful and weary, wealthy and homeless, ebullient and steeped in misery. The breadth and scope of human emotion, captured by one Parisian art director in his 30s.
Simeon has made 300 street portraits since he first picked up a camera just two years ago, inspired by the film War Photographer. He doesn't even know many of his subjects' names. He's glimpsed them crossing streets, or standing in the middle of a crowd. Yet he almost always shoots close-up or at middle distance — and always gets his subjects' consent. He hopes to make his documentary portrait collection into an exhibit or a book.
The approach
"Taking up-close pictures of unknown people is always intimidating," Simeon says.
But because he's friendly and openly expresses his interest in people, he says, they're usually willing to stop for him — and reveal a bit of themselves to his camera.
It's sometimes as easy as making eye contact, smiling, and asking politely for permission to photograph. It may not take a word — Simeon will lift his camera inquiringly and, when he gets a nod, fire off a few shots. The encounter takes only 15 seconds.
It's not usually that easy, though, since his subjects are often more complex or emotional. "I'm attracted to drama or a story in people," says Simeon, who frequently shoots the homeless in and around Paris.
For these portraits, he must gain trust. He greets a subject and starts a conversation. "I never talk about photography immediately," Simeon says. "It's all improvised. Anything that starts a conversation is good — the weather or a recent football game." After that, "You listen very carefully to what people say, and talk about what they want to talk about."
Once he's built a rapport, he explains his passion for street portraits. (Since they are not for commercial use, he doesn't need a model release.) And then he asks to take a photo. He is politely persistent if they seem uncertain, but never pushes them if they say no. "I don't need to steal images," he says.
"When I'm talking to someone, I try to find the best angle immediately," Simeon says. Since he uses only available light, this usually depends on the sun. He prefers the diffused light of cloudy days to the harshness of sunny ones. If it's bright out, he positions his subjects in a shadow.
"In the street, you don't usually have much choice [for position] and you have to adapt yourself," he says. A textured brick or concrete wall makes a great backdrop in very high-contrast images.
Most of his photos are headshots; time and courtesy usually limit him to four or five. "A gesture can create a new idea and give me a starting point," leading to a longer shoot.
One of his favorite encounters was with a boy he found playing in a courtyard on a trip to Budapest. Simeon doesn't speak Hungarian, so he wordlessly showed the child his camera and let him take a few pictures. When Simeon took back the camera and started shooting, the boy began jumping around, imitating a superhero.
Taking the Picture
Simeon carries very little equipment — his Canon EOS 5D and a few lenses. A fast, fixed lens, such as his Canon 50mm f/1.4, is good for maximizing available light. For distracting backgrounds, a 70-200mm f/4 Canon helps keep depth of field in check. The perspective distortion of a wide-angle lens (a 17-44mm f/4 L Canon) creates a dynamic effect, especially for images shot from above or below.
He uses manual exposure for all of his images, at apertures anywhere from f/1.4 to f/5.6 (depending on how close up) and shutter speeds that never drop below 1/60 sec (since he shoots only handheld).
While shooting, Simeon carries on conversation. When his subjects are relaxed enough to speak freely with him, they're more likely to be themselves. And when he's gotten to know them, he's able to ask questions that will provoke a thoughtful or emotional response. "What I try to do is to capture a little part of the soul of the people I am photographing," he says.
To show respect, he makes sure that the conversation lasts longer than the picture session.
Three hundred successful street portraits into his photography, Simeon confesses that he'll always be afraid of approaching people in the street. But experience has also taught him to be confident. "I believe I'm capturing what is good in people," he says. "And so I act with great self-confidence."
The most important thing: "If you act with respect, you are never disappointed and you never hurt people. Show the best side of yourself to the person you are photographing and they will give you back the same."