Make Movies with Digital Still Cameras
Got a digicam? You've got everything you need to make movies.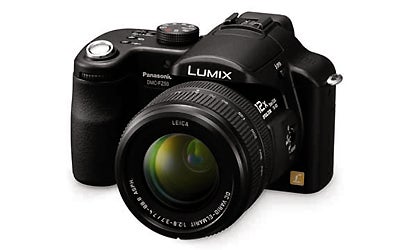 We may earn revenue from the products available on this page and participate in affiliate programs. Learn more ›
"A riddle wrapped in a mystery inside an enigma." Winston Churchill wasn't talking about digital video, but his phrase applies. Even more so now that you can use your digital camera to shoot movies. The jumble of video-related acronyms and numbers on still-camera feature lists can be hard to make sense of, and you might well wonder whether the video results you'll get from a still camera make it worth the trouble of decoding the lingo.
Fortunately, these days they often do. You can get higher video quality and a broader range of controls if you're willing to spend more than a few hundred dollars on a camcorder, but the video that some digital still cameras produce now rivals that of lower-end digital camcorders.
However, there are significant differences in the quality and capabilities various models offer. Understanding what all the specs mean and knowing which features matter can make the difference between watching tiny, jerky, 30-second clips and viewing natural-looking videos with stereo sound that fill your TV or computer screen and last as long as the event they capture.
Breaking the Code
There are four basic elements to consider when it comes to video: frame size (resolution), shape (aspect ratio), speed (frame rate), and sound.
RESOLUTION: As with photos, a video's resolution affects its quality and the size at which it can be displayed. But the resolution you need for a good-looking image on a TV or monitor is much lower than what you need to make a decent 4×6-inch print. Video resolutions in still cameras (and most camcorders) are well under 1 megapixel. They're described in terms of the number of horizontal by vertical pixels captured: A 640×480 video frame is 640 pixels wide and 480 pixels high.
Problem is, video resolution is also described by acronyms that correspond to specific resolutions. For example, that video with 640×480 pixels per frame is called VGA resolution. Knowing what the acronyms stand for can be confusing (we've listed the full names on the next page to satisfy your curiosity). But the important thing to know is which acronym corresponds to which resolution, and what image size you need for the type of display you'll use.
ASPECT RATIO: Video comes in different shapes — witness the evolution of TVs in the past few years. While nearly all cameras record video with the 4:3 aspect ratio of a standard television screen, some models now offer 16:9 widescreen capture. Most cameras achieve this by masking strips at the top and bottom of their 4:3 sensors, but Panasonic has models with true 16:9 sensors, so they don't lose resolution in widescreen mode. These 1280×720- and 848×480-pixel-per-frame videos will be more at home on a widescreen TV. Some cameras that capture 16:9 stills record only 4:3 video, so check the specs carefully.
FRAME RATE: Described in terms of the number of image frames per second (fps) that the camera captures, the frame rate is crucial to the look of your video. If it's too slow, the image will flicker and action will be jerky. Soap operas and news programs in the U.S. are typically shot at a standard 29.97 fps. Movies shot on film have a frame rate of 24 fps; professional videographers often shoot video at 24 fps to help achieve a "cinematic" look. If you reduce the frame rate to about 16 fps, you'll get an effect similar to old silent movies.
Digital camcorders sold in the U.S. typically capture 29.97 fps to meet American TV standards, and many still cameras now match that performance with 30-fps capture or even top it with a supersmooth 60 fps.
It's best to opt for a camera with a top speed of 24 to 30 fps when recording 640×480 video. (Beware those that compromise resolution to achieve a higher frame rate.) You can usually select lower frame rates for special effects or to save room on your memory card.
SOUND: Don't discount the importance of good sound. People generally tolerate flaws in image quality better than poor audio — while you might be able to pass off badly exposed, jerky video as a "style," you're unlikely to convince your audience that noisy, tinny, uneven sound is anything but bad.
Unfortunately, the sound captured by many digital cameras isn't very good. Built-in microphones often pick up camera noises, such as the sound of the autofocus system. And some inexpensive cameras don't even capture sound with video images.
To get the best audio, look for one of the few models (from Canon, Casio, or Sony) that capture sound in stereo. Also look for a camera with a built-in wind filter, such as Canon's PowerShot S3 IS. These are standard features on most camcorders, but a rarity on still cameras. If your camera doesn't provide a wind filter, try to shield its mic from strong winds while you're shooting.
Video always comes in a package. The moving picture file has one format, the sound file has another format, and the container holding them both has yet another format. For example, a camera might capture Motion JPEG video with PCM audio (Pulse Code Modulation, a digital audio format) contained in a WAV file, both of which are carried in an AVI container. The container keeps the sound and image files together and allows compatible software and devices to play them.
The video file inside the container is identified by its compression/decompression algorithm, called a codec. The codec specifies the software procedure that makes the video small enough to store and transfer easily, then decompresses it for viewing and editing. Codecs affect video quality, file size, and what you can do with the video once it's been saved.
Take a look at the tables on this page and the next for a quick rundown of the codec and container formats that you'll encounter in digital cameras.
Resolution
|||| |—|—|—| | Acronym Usual Pixel Best Displayed| Usual Pixel Resolution| Best Displayed on| | HD (High-Definition)| 1280×720| Widescreen HD or TV with 16:9 aspect ratio.| | WVGA (Wide VGA)| 848×480 or 854×480| Widescreen TV or monitor.| | VGA (Video Graphics Array)| 640×480| Standard TV or monitor.| | QVGA (Quarter VGA)| 320×240| Web or portable player.| | CIF (Common Intermediate Format) or SIF (Source Intermediate Format)| 352×288 or 352×240| Web or portable player.| | QCIF (Quarter CIF)| 176×144 or 176×120| Web or e-mail.| | QSIF (Quarter Source or Intermediate Format)| 180×120 or 160×120 or 160×112| Web or e-mail.| Containers
| | |
| --- | --- |
| Name | Description |
| AVI (Audio Video Interleave) | Created by Microsoft, can contain numerous video formats. |
| MOV (a.k.a. Quicktime) | Created by Apple, can contain numerous video formats. |
| MP4 | Container for MPEG-4 video. |
| MPG | Container for MPEG-1 and MPEG VX/EX/HQX video. |
| DivX | Container for DivX video. |
In the early days of digicam video, you usually could only shoot clips that lasted less than a minute. These days, many advanced functions will let you record without a break for at least an hour or until your memory card is full.
Video takes up a lot of space, so if you want to make long recordings, you should plan to buy a memory card with a capacity of at least 1GB. Motion JPEG video is especially space-consuming, so consider a more efficient format such as MPEG-4 if lengthy clips are important to you. If you're planning to use your video mainly for web display, consider shooting at resolutions that are lower than VGA. Just by dropping down to QVGA (320×240 pixels per frame), you cut your storage space requirement by 75 percent. You can also conserve space by reducing the frame rate, or, with Motion JPEG, the compression level. Of course, the more you reduce these factors, the more you compromise the quality of your video.
Many cameras with advanced video features must use high-speed memory cards to achieve the best performance. Check the manufacturer's documentation for the memory card requirements.
5 Useful Features
Many digicams can't zoom or adjust focus while capturing video and don't let you use the exposure and effects settings that are available in photo mode. To get the best video capture, check whether your favorite photo settings remain active in video mode, and look for these features:
1. Optical zoom in video capture. Although zooming too much can make viewers dizzy, it's good to have the option to adjust your focal length. Look for one of the few models that can zoom without dropping audio capture and don't record much motor noise in the process.
2. Focus during video capture. Many cameras force you to stop recording video when you adjust focus automatically or manually. Obviously, you're better off with a model that can focus and record simultaneously.
3. Image stabilization. A feature that minimizes the effects of camera shake is standard on camcorders and becoming more common in still cameras: Canon, Kodak, Panasonic, Pentax, and Sony have all added it to some models. Optical stabilization generally produces the best image quality, but a digital system is better than nothing, especially at long focal lengths.
4. Simultaneous photo and video capture. Some of the latest cameras can take stills while recording video. This prevents you from missing a great photo while in video mode and provides context to still images. But, the video freezes momentarily while the photo is shot and sometimes records a shutter-release sound.
5. Video frame printing. Some cameras — such as newer Canon PowerShots, the Casio Exilim Pro EX-P505, HP Photosmart R967, Kodak EasyShare P712, Pentax Optio A10, and Samsung NV series — can extract a video frame and send it directly to a printer. The quality of the prints isn't great, but having a series of images to choose from gives you a new way to photograph spontaneous moments.
Our examples of video standouts, whether still cameras or traditional camcorders, aren't exhaustive, by the way. And there are sure to be plenty of new models with strong video features out in time for the holidays.
Canon PowerShot S3 IS ($420, street)
Besides 6MP photo resolution, a stabilized 12X zoom lens, and lots of advanced photo features, the new S3 IS offers excellent video quality. It zooms smoothly and quietly while recording, and though the autofocus doesn't keep up with changing scenes the way a camcorder's does, you can use it during video capture, along with manual focus.
This camera records sound in stereo, too. Its flip-out 2-inch LCD and electronic viewfinder lend themselves to video capture, and the camera has a dedicated video record button so that you can start recording video with the mode dial turned to any shooting mode.
The S3 IS saves videos in the Motion JPEG format, which means they take up a lot of space; in 30 fps VGA mode, you can save only about 8 minutes of footage on a 1GB card.
However, the format lends itself to Canon's video printing feature, which lets you send video frames directly to a compatible printer. The S3 IS also lets you shoot stills while recording video.
Panasonic Lumix DMC-FZ50 ($650, MSRP)
One of the rare still cameras that can capture widescreen, 16:9, 30 fps video at 848×480 resolution, the Lumix DMC-FZ50 features an optically stabilized 12X zoom lens and 10MP photo capture. Like the Canon PowerShot S3 IS, it records Motion JPEG video, which eats up lots of memory. However, this just-issued Panasonic supports the new SDHC standard for SD cards with storage capacities as high as 4GB.
Among this model's other desirable qualities: a flip-out 2-inch LCD, high-resolution electronic viewfinder, advanced photo controls, and RAW image capture, as well as the ability to focus and zoom during video capture. The manual focus ring on the lens makes focusing especially easy.
Sony Cyber-shot DSC- M2 ($420, street)
You can see right away that the M2 isn't an ordinary digital camera. When its sharp 2.5-inch LCD is folded against the body, it looks more like a snapshot camera, while it resembles an ultra-thin camcorder when the LCD is scissored out and swiveled.
This hybrid camera devotes equal talents to photo and video capture, recording both 5MP stills and lengthy 30 fps VGA MPEG-4 video segments, along with stereo sound. Its 3X optical zoom and autofocus operate during video capture. Although the AF hunts a little as the scene changes, it's quicker and more camcorder-like than most digicam video autofocus systems.
The M2 can capture stills while recording video, and when you activate its Hybrid mode, it automatically saves video of the 5 seconds just before each photo you take and the 3 seconds after it.
| | | | |
| --- | --- | --- | --- |
| Name | Description | Pros | Cons |
| MPEG-1 | Reduces storage size both by compressing each frame and by discarding information repeated in successive frames (interframe compression). | Broad compatibility. Good image quality. | Interframe compression can cause artifacts in rapidly changing scenes. |
| MPEG-4 | Sophisticated format open to many variations in implementation. Also uses interframe compression. | Combines good image quality with small file sizes. Broad and increasing acceptance and compatibility. | Flexible implementation means that video quality varies among devices that use the format. Interframe compression artifacts. |
| MPEG EX, VX, HQX | Proprietary Sony versions of MPEG-1. | Good image quality. | Interframe compression artifacts. Less software compatibility than plain MPEG-1. |
| Motion JPEG | Composed of series of JPEG files. Uses intraframe compression only (each frame is compressed independently). | High-quality images without interframe compression artifacts. Several compression levels, usually selectable by user. | Very large file sizes at highest resolution and quality limit clip lengths. |
| DivX | Very similar to(and based on) MPEG-4. | Emphasizes file size over quality, but with good results. Compatible with many playback devices. | Interframe compression artifacts. |
Capturing video with a still camera is great. But if you want to shoot a lot of video and gain more creative control (including better autofocus), you're better off with a camcorder. Nearly all of them have an optical zoom range between 10X and 32X, electronic eyepiece viewfinder, flip-out LCD, and stereo microphone.
Even the most basic ones give you exposure and color adjustments, scene modes, and effects. High-end models offer photo capture, three CCDs for better color fidelity and sharpness, larger sensors, optical image stabilization, infrared night shooting, 16:9 widescreen capture, external mic and headphone jacks, accessory shoe, s-video port, Dolby Digital 5.1 sound, and other goodies.
Camcorders come in a variety of designs. Only a hands-on exploration will tell you which style suits your shooting needs. To help you decide which recording medium and video format combination to pick, here's an overview of what's available.
| | | | | |
| --- | --- | --- | --- | --- |
| Medium & Format | Price (Street) | Pros | Cons | Example |
| MiniDV cassette (DV) | $250-$1,200 for consumer models; $1,000-$4,500 for semi-pro models. | $250-$1,200 for consumer models; $1,000-$4,500 for semi-pro models. | Ongoing cost of cassettes.No random access to recorded video on cassette. Video transfers from camcorder to computer take a good deal of time. | Panasonic PV-GS500 |
| MiniDV cassette (HDV) | $700-$1,600 for consumer models; $1,800-$9,000 for semi-pro models. | Records high-definition video with outstanding resolution and image detail. No need to transfer video to another storage medium from cassettes. | Ongoing cost of cassettes. No random access to recorded video on cassette. Lengthy process of transferring video to computer for editing. Compatible editing software is expensive. Interframe compression artifacts possible. | Sony HDR-HC3 |
| Digital8 or Hi8 cassette (Digital8 DV) | About $250. | Same benefits as DV models that use MiniDV cassettes. Can play back analog footage on 8mm and Hi8 cassettes.Some models can digitize analog footage on 8mm and Hi8 cassettes. | Outmoded format. The last newly assembled Digital8 camcorder should be rolling off the product line any minute now. Large cassette makes camcorder bulkier than MiniDV models. Image quality slightly lower than DV. | Sony DCR-TRV280 |
| MiniDVD Optical Disk (MPEG-2) | $400-$1,000. | Easy playback with compatible DVD players. Quick access to any part of recorded video. No need to transfer video to another storage medium from discs. | Ongoing cost of discs. Interframe compression artifacts possible. Recording time per single-layer disc: about 20 minutes at highest quality. Flexible implementation means that video quality varies among devices that use the format. Different manufacturers use different DVD standards (DVD-R, DVD+R, DVD-RW, DVD+RW, DVD-RAM), so compatibility with playback devices and editing programs varies. | Canon DC100 |
| CompactFlash or SD memory cards, or HDD* (MPEG-2 or MPEG-4) | $300-$1,300. (Lower-priced models that record MPEG-4 are available, but not generally recommended.) | Reusable recording medium. Quick access to any part of recorded video. Very compact camcorder design possible. No moving parts susceptible to damage in CompactFlash and SD cards. | Video must be transferred to storage medium when camcorder drive or card is full. Flexible implementation means that video quality varies among devices that use the format. Interframe compression artifacts obvious in lower-priced units. | JVC GZ-MG505 |
If you buy a digital camera with strong video capabilities, chances are it will come with a basic video editing program. The free Windows Movie Maker also offers basic video tools. You'll probably also be able to do some rudimentary video editing in-camera with features such as trimming.
If you want to do more, you can buy any of these software packages for $100 or less. All of them let you edit video, apply effects, and burn DVDs. Make sure that the video format your camera captures is supported by the software.
Adobe Premiere Elements 2.0
This consumer-oriented video editor supports just about every video format. Along with a well-designed interface for editing, it packs strong audio tools and many special-effects options. And like its Photoshop counterpart, this Elements program can serve as training wheels for Adobe's pro software. Price: $100 (direct). Download a free trial from www.adobe.com.
Apple iMovie HD and iDVD
These programs are not sold separately, but come in Apple's very affordable iLife '06 suite, which also includes the self-explanatory GarageBand, iPhoto, and iWeb. For those who use a Mac, iLife is a good deal. iMovie supports plenty of video formats, has strong audio-editing and effects, and provides handy automated tools. Price for the suite: $79 (direct). Download from www.apple.com.
Apple QuickTime Pro 7
Chances are you already have QuickTime Player installed on your computer for watching video clips on the web. For a very affordable price, you can upgrade to Apple's QuickTime Pro 7, which adds basic video and audio editing and effects. The program can import and output a wide variety of file types, notably those that are useful for streaming video online or playing it on a mobile device. Price: $30 (direct). Download from www.apple.com.
Ulead VideoStudio 10 Plus
This program lets you edit a range of video types, from humble camera-phone footage to fabulous high-definition video. It can output your creations in a large number of formats, as well. The many effects available include practical options such as filters that brighten dark shadows or make shaky video look less so. As for audio, you can create surround-sound tracks, and other automated tools help finish the video-making process quickly. Price: $100 (direct). Download a free trial from www.ulead.com.