Kodak's New Inkjet Printer — and Bold Claims — Put To The Test
10-cent prints? Not quite....and not quite "lab quality."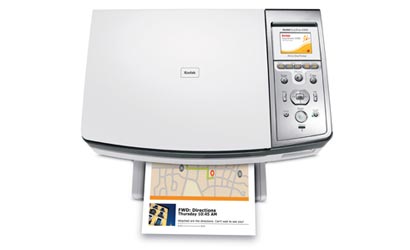 We may earn revenue from the products available on this page and participate in affiliate programs. Learn more ›
Eastman Kodak's recent entry into the inkjet printer market came with much fanfare and bold claims. Among them: 4×6-inch color prints for as little as 10 cents each. That's up to 50% less than their competitors.
In an exclusive analysis in the Pop Photo Lab, we put Kodak's boasts to the test.
According to Executive Technology Editor Michael J. McNamara, the Kodak EasyShare 5300 All-In-One printer ($199, street) turned out only 165 borderless color photos from an $18 package of paper and ink that is billed as producing 180 photos.
"That's about 11.5 cents per print," said McNamara. "But more importantly, the quality of the prints was so low in color saturation that they could be deemed no better than 'draft' quality by professional or lab-print standards."
To get what photo enthusiasts would judge "lab-quality" prints, says McNamara, requires more expensive Kodak paper, which boosts the cost to more than 35 cents each.
Hundreds of prints showing a range of colors and subjects were produced on the Kodak unit, and the results were analyzed in the magazine's $1-million-plus testing facility.
To see how the Kodak stacked up against other all-in-ones in a range of prices, McNamara pitted it against units from Epson, Canon, and HP (ranging in price from $150 to $379). The AIOs were tested on various criteria, including printing and scanning quality and speed.
"For the price, the $150 Epson Stylus Photo RX580 features the highest print image quality and extremely fast print speeds," said McNamara. "While the more expensive Canon and HP machines offer high print quality and more features."
"For it's price the Kodak is not the ideal choice for photo enthusiasts," he said.
Read the full test results and further details.