International Shooting All The Time Day
Photographers share their experiences from 15 hours of picture-taking. And the images are pouring in.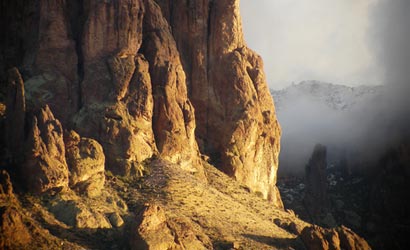 This contest is now closed.
Photography is hard work. Just ask the photographers who took part in Popular Photography & Imaging's International Shooting All The Time Day. But chances are, these photographers also will tell you that there's not a better way to spend a day.
On Sunday, January 21, Pop Photo's editors challenged the world's photographers to a day-long shootout. The idea was for photographers of all stripes and all skill levels to shoot, shoot, shoot. The ground rules called for 15 hours of photography with at least one shot every five minutes, for a minimum of 225 photos.
What did the photographers have to shoot? Anything at all. There were no guidelines as to subject matter. Instead, each photographer was encouraged to pick a range of topics and force him or herself to capture them on film or digitally. The goal wasn't merely to fire indiscriminately, but to take a hands-on approach to learning with each shot. As the editors of Pop Photo pointed out, the more you photograph, the better photographer you will become. And 15 hours of intense shooting certainly can teach you a lot.
Here are some photos submitted by photographers who took part in the project, along with some of anecdotes from their day behind the camera.
Anyone submitting up to five photos from this shootout is eligible to win a 6.1MP Pentax K100D digital SLR with two lenses and a 4GB SanDisk Ultra II SD card. This prize package is worth about $1,100. (For complete rules, click here.)
To submit your five photos, e-mail JPEGs, along with your name, address, and phone number, to shooting@PopPhoto.com. The deadline for submissions is noon Feb. 21.
The complete entries can be found here****.
My step daughter and I set out on Jan 21st with one mission and that mission was to take a lot of pictures of anything and everything.
My step daughter is eight years old and we had a blast. She had her camera and I had mine. I think that we may make this a regular on weekends. Just listening to her scrolling through her pictures was funny. I could her here saying "oh that's a good picture … this one is OK … what was that one of … and oh that is bad I need to delete this one."
I think that this is just what we needed to bring us closer together.
Angie Birmingham
Corpus Christi, TX
***
On Sunday, January 21st, my son participated in a soccer tournament.
It was the All Star Regional Tournament for AYSO for the Santa Clarita Valley in California. I was already planning to take pictures but your contest inspired me to take more and better pictures. I started at 8:00 am and took pictures all morning and a good part of the afternoon. I even exceeded the 225 photos goal you had set. And as the day progressed, my pictures got better and better. I learned to follow the game through the lens… never put down the camera! It only takes a few seconds and you could miss a great photo opportunity. Soccer is a fast-paced game and I found it easier to take pictures from the end of the field rather than the sidelines. I also realized that it is important to anticipate where the ball is going since having the ball in the picture makes it a better shot! I usually take between 30-40 photos at every game and end up with maybe one GREAT one and a few good ones. This time I had a few GREAT ones but a lot of good ones! But most of all, I learned a lot about sports photography.
Thank you for the challenge!
Nathalie Seguin
Newhall, CA
***
I would like to say that I am glad that you thought this up. I can't tell you how many times I have looked at objects or places on my way to and from work and said to myself "Someday, I will stop and take a picture," knowing full well that that would never happen. But on the 21st, I stopped and got my shot. Plus, it was a great bonding experience for me and my three-year-old son. He has a twin sister, so he doesn't get as much one-on-one time as he should. It snowed almost all day, so we have a lot of memories and pictures to back them up.
Thank you,
André Wright
Eau Claire, WI
***
I live in a very small town in Northern California, Coloma, just outside of Sacramento about 40 miles. It was here on January 24, 1848 along side the South Fork of the American River where James Marshall discovered gold and changed the course of the world. At one time almost every educated person in the world was aware of Coloma and most wanted to come here to seek their fortunes.
I am a Tour Director and choose to live in this historic community. My travels take me to the far reaches of the world but this is the place to live. I take advantage of the opportunity to take pictures of not only the world but this little corner. It was quite an experience to walk around this community for so many hours and look for what makes me enjoy the area. I hope these five pictures show a glimpse of this very special community along side the South Fork of the American River.
Thank You,
Jerry Moorman
Coloma, CA
***
I have had a camera since I was six years old when my parents gave me a 110 camera with a built in flash. I shot many pictures with that until I was given my first 35mm point and shoot camera with true auto focus at the age of 12. That camera saw a lot of use especially during my six weeks in Spain at the age of 19. When I returned I was given a Pentax IQ Zoom camera that I started to take many pictures with on cross country motorcycle trips. Then a couple of years ago my mom gave me her old Pentax Spotmatic with a 50mm Super Takumar lens. I started shooting pictures with it and reading everything I could about depth of field, manual focusing, lighting, contrast, you name it. Last year I purchased my first digital SLR camera and have been getting more and more into photography ever since.
When I read of this contest in my new subscription to Popular Photography magazine, the article touched the aspiring amateur photographer in me and said "Go do it. Win or loose, it will be fun." I woke up early Sunday morning on January 21 hoping to catch some of the dawn light and start my day of shooting. I eagerly looked outside and saw a dim gray light through the whirling snowflakes falling on Fort Collins Colorado. Suddenly I realized that someone who has spent his time trying to capture the most beautiful landscape and fit as much as he can inside the lens was going to spend most of the day inside. I made the best of things and got another hour of sleep since the light would be a dull gray almost all day. When I got everything ready, I protected my camera with a plastic bag, bundled up, and headed outside despite the snow. On my way out, I glanced at the clock an noted 8 AM. My day of shooting had begun.
I took a few shoots, walked about a block from my house and decided to get home before frost bite set in on my fingers. Back inside I fetched my tripod and started experimenting with available light and my pop up flash. I found that all my reading about white balance began to pay off since using the manual settings is much more necessary indoors. My girlfriend then wanted to go out shopping and I thought that it might be an interesting challenge to make a good picture in a store.
We went to a few antique shops were I tried my hand at framing various junk on the walls and shelves. Then we went to an import store were everything apparently comes from a single pier. After taking a few shots there I was quickly told that cameras were not allowed in the store and that a photo of any item would be supplied to me on request. This was not the type of challenge I expected. We went to another big box store for some home supplies. I began to take pictures once more and found no resistance there. We then returned home where I photographed various household items and rooms playing with reflections in a mirror for a while. It had gotten dark outside so I decided to head out once more.
I went to the historic part of town where there are many old buildings that now mostly contain bars and restaurants. I made several shots using my tripod when the wind came up and the smokers forced outside by our no smoking law were forced back inside by the cold. I warmed up in the car for a bit and then headed over to an old church. I took a few shots and then the church bell started echoing through the cold night air. I looked up and the large clock on the steeple read 12 AM. My day of shooting had officially ended.
Throughout my day I learned a lot about going outside of my comfort zone for subjects and using my equipment more effectively. I also learned that unless there is a stated rule about taking pictures, people don't seam to mind someone walking around with a camera and pointing it at everything they see. That lesson, most of all, will help me go out and make photographs more often. Thank you Popular Photography for having a great idea and inspiring me to have a fun and creative day.
All shots were taken with a Pentax *ist DL using the 18-55mm kit lens and shot in RAW format. Pictures converted and resized for email file size.
Brian Vos
Fort Collins, CO
After recently moving to Rhode Island from California I bought an Olympus Evolt-500 package and haven't had time to learn anything about it. This article made me realize I wasn't going out that much to shoot since I got here. Well I searched on the Internet for interesting locals around and found a cemetery. I figured if I was going to spend all day shooting at least the stone artwork would keep me inspired. Being my second time using this camera and the fact that it was 13 degrees in the wind that day, this is what I called a victorious shoot. Two hundred and twenty four pictures later here are my favorite five.
Thanks for the kick in the butt,
**Scott La Bella **
East Providence, RI
***
I had planned to wake up early and head down to Chicago to catch shots of the sunrise over the lighthouse just off shore of downtown. However, a snow storm blew in overnight. I decided to go anyway, just to shoot what I could. Arriving at Soldier field at 7:00 a.m., I discovered an already long line of fans lined up to get a parking place out at old Mieggs field when the lot opened later in the day. Fans were out throwing footballs around in the snow.
Although the snow was coming down, I could still see across the yatch harbor that a couple of buildings had lit their lights in support of "Da Bears." Finding a little shelter from the wind and snow, I kneeled behind a bus-stop shelter and shot the buildings (DaBearsCRW_5277). Next I looped back to Soldier field, parked, risking a ticket, and climbed a snowy knoll to get the shot of the New Soldier Field. You can see in the darker parts of the building that the snow was almost horizontal. ( SoldierFieldCRW_5292).
With no parking in the area, I had no choice but to move on. Parking under Millenium Park, I went up to the Park. I was surprised to find not another soul around the reflective Cloud Gate sculpture. I took a self portrait reflection looking up into the underside of the bubble. ( Cloud Gate CRW_5311). Next I took a shot on the outside of the sculpture, shielding the lens from the snow with my red umbrella. The reflection is Michigan Avenue looking south. (Cloud Cate CameraNorthViewSouthCRW_5328 )
The fifth shot was taken at the back of the Jay Prizker Pavillion of the interesting sharp-edged benches against the hedgerow. When I looked at the image, it was almost devoid of color. Using Photoshop CS2, Channels, I left only the green channel, which brought on the best detail in the benches, and converted to gray scale. Hence the Black and white image. (Back of Jay Pritzker PavilionCRW_5341). It was still snowing.
Bill Burnett
Libertyville, IL
***
Dear PopPhoto,
Here are a my top five pictures from the day that I will now call "the day I found my eye again." Even though I do not consider them my best work ever, I have now found the spark that I had lost in the past couple of years. Lately I have been feeling very sluggish about the way I have been taking photographs, just taking them to make a quick buck and then be done with it. But after today I feel what I felt the first time I shot my first roll of film and it was an amazing feeling. I now know that I can continue doing what I love and not worry that I am becoming obsolete. There were many obstacles on my way to finding myself again; first I was sick and so I did not feel up to par, but I wanted to do this anyway and I am glad I did. Second, the Bears played today, so having my husband help and encourage me was hard for most of the day. But again I am really glad that I did it no matter how my photos turned out because I know that I still have it and I will continue this new tradition so I keep my spark.
Thank you very much,
Angela Bursell
Bloomington, IL
***
Well here's my shots I got. Yesterday my wife and I drove from our home town of Charlevoix, MI, to Rudyard, MI, looking for wildlife in the winter snow areas from here to there. I enjoyed taking images most of the day and did look at different things I generally wouldn't take the time to look at.
Thanks for the idea and it was a good experience.
Dave Christiansen
Charlevoix, MI
***
For my Sunday, I decided to take a journey to Muir Woods in Northern California. I brought my tripod but to my dismay I realized I left my tripod mount at home and therefore could not lock my camera into the tripod. I decided to shoot in the dark forest anyway even though I knew I'd be at the mercy of possible blurring. Since this contest is about creativity, I used the wood posts on the fences of the Muir Woods paths and got some steady shots that way. The result I feel is a nice theme of color and light. Even with the blurring, the pictures start to look like impressionist paintings (and my family thought sometimes Jackson Pollack). I hope you enjoy these images. I think in the end, regardless of focus, like all good photography, composition won.
Thanks,
Jonas Fields
Menlo Park, CA
I don't know what was tougher…the shooting, or the narrowing down of my choices. It was fairly easy to get it down to about 20, but getting it down to five was grueling. Well, maybe not grueling…
Saturday, Jan. 20, was a FANTASTIC day here. It was sunny most of the day, with just enough clouds to make for a gorgeous sky. We had about eight inches of fresh snow from the day before, and it seemed that everywhere I went I came up with photo ideas. I should tell you that my first choice for shooting is outside — I live in a beautiful area. I had some good plans for the first few hours of Sunday, and I was starting to get stoked about the whole event. I have some friends in a nearby town who were also planning to spend the day behind a camera, and we were really getting each other excited about the shooting to come.
Sunday morning broke with a sunrise that was…BORING. A heavy overcast, and dead calm. I remember reading an article by a famous nature photographer, and he made a comment about Midwest skies commonly being WHITE…which is exactly what I was faced with on this dreary morning. A check of the NOAA weather radio didn't bring good news — more of the same for the rest of the day. Suddenly the plans for a lot of my AM shooting were in the same boat as my previous days ambition…and that boat was sunk. I fed my dogs, and went back to bed. I had all but given up on the day. But as I lay there trying to go back to sleep, I remembered a paragraph in John Owens editorial…"We improve as photographers by forcing ourselves to shoot; by finding the photograph when there doesn't seem to be one; by studying the light — every kind of light we encounter — and seeing the photo potential in it." So even though I was getting a late start, I got my gear together, and before leaving the house, checked to see if my bird feeders were full. There was only one bird there at the time…an Evening Groesbeak. But that one bird was a kick in the head — I was basically LIVING inside a huge softbox. The colors of that bird were spectacular. The Evening Groesbeak is gorgeous ANY time, but under these lighting conditions, they were so saturated that it was almost unnatural. I set up a portable blind, a tripod, a remote release, and spent the first couple of hours right outside my back door. No one who photographs birds with any regularity will find this next comment unusual — the Groesbeak never came back. But there was a steady stream of my usual birds: Chickadees, Red and White Breasted Nuthatches, Downy, Hairy, and Pileated Woodpeckers, even a couple of Pine Siskins. But the bird that looked the best was the lowly Blue Jay…their colors really popped. It was quite cold that morning — about five degrees — and this picture just really seemed to express the mood.
As the day wore on, I was struck by the absolute lack of color in the general landscape…totally desaturated. But where there WAS color, it really came alive. Hence the No Trespassing sign. This photo was not touched at all in the computer…just slight levels adjustment. I caught a few Beech leaves in the background to the left to try to exhibit that…these posts really were that gray, as were most of the trees, limbs, etc.
This desaturation is very evident in the shot of the river. It was getting pretty late in the day, and the already flat light was beginning to go away entirely. The long shutter speed did manage to blur the slush floating in the water to give a slight sense of motion, and help give a little interest to an otherwise lackluster shot.
Because of the late start, I knew I would have to shoot for quite a while after dark to be able to get in the entire 15 hours. I opted to take my break just after the sun went down — I assume it went down because it got dark…there certainly was no sunset to shoot — so I stopped at Schultz's Party Store in Wolverine to get something to eat. Fortunately, I know everyone at Schultz's, so they weren't entirely put off when I started wandering around the store and taking pictures of anything that looked interesting. The shot of the row of different flavors of Pucker bottles came out a little different than I had expected. I wanted to use available light to keep some of the store atmosphere, but with the small aperture necessary to try to keep as many bottles as possible in focus (oops!) the shutter speed was too slow. So I tried to freeze things with a little fill flash, and all that did was add a few highlights in the bottles. But I guess if the bottles look like that to you, you have already had "Too Much Pucker." (Actually, this photo was a quick shot taken a couple of hours earlier when I stopped for gas.)
After they kicked me out of the store — actually they had to close at 9 o'clock — I realized that I was about done with what had turned out to be a very interesting day. But I was still only at 175 photos (by the way, 15 hours of 12 photos per hour works out to 180 shots, not the 225 quoted in the article) and wanted to get home and burn up the last few capturing my dogs in hopefully interesting poses. On the way home I noticed that the stop signs were glowing in my headlights at roughly the same intensity as my dash lights…another idea! At the last stop sign before home, I knew there wouldn't be much traffic this late on a Sunday night, so I stopped about 30 yards short of the sign and went to work. I set up my tripod on the driver's seat, and composed the best I could to replicate the driver's perspective. I wanted everything to be in focus, so I set the aperture at f/22, but this necessitated a long exposure. I set it at 30 seconds, and hoped for the best. By checking the LCD after each shot, they were looking pretty good…but something was missing. At this point I was getting pretty tired, and focusing was even becoming a challenge…and that was the subject I was looking for. Too tired to drive, what might the hazards be? So the next attempt was shot using the timer, and it gave me time to run up into the headlights and get set before the shutter tripped. Unfortunately, the snow was coming down pretty good and made it hard to keep the windshield clean…which turned out to be a benefit. I think it adds to the whole story. This series of photos were the only ones that I shot all day that needed some major manipulations in the computer. All of the photos were shot in RAW, so they all needed conversion in Digital Photo Pro, and most were treated to levels adjustments in Photoshop Elements. But this group needed a little something else. Since I shot this with the engine off to avoid vibrations, the tach showed 0 rpm, the speedometer showed 0 mph, and all of the idiot lights that come on when the key is on but the engine is not were glowing brightly and giving things away. So the idot lights were all cloned out, the tach and speedo needles were selected and moved, and then the 0's that were semi-destroyed by the move process were cloned back in. The only thing not fixed, something possibly noticed by the sharp-eyed in the crowd, was the oil pressure gauge. It is still at zero, which would be a very dangerous thing driving at 30 mph. Just wanted to see if anyone would notice.
All-in-all, the day went very well, and was a good learning experience. I have to admit that I didn't stick strictly to the one-photo-every-5-minutes rule. There were a couple times that I had to spend time changing locations, so there were a couple of gaps that were then made up for by shooting a little faster for the next few photos. And one of the hardest things was the fact that in many cases I would decide what I wanted to shoot next, but had to wait for the five minutes to be up. I think I may have rushed a few of those by a minute, also.
I may even end up doing this on my own some time…although maybe in smaller doses. Since I don't make my living as a photographer, it is hard to be able to set aside a whole day away from work and home responsibilities to do something that to most people is just a very miner hobby…but I guess that is one thing that sets photographers– professional AND amateur — apart from the crowd.
Craig Bridges
Wolverine, MI
Thanks to everyone for participating! The complete entries can be found here. And for those who shot but haven't yet submitted, don't despair: the deadline for receiving entries to be eligible for the Pentax K100D prize package is noon February 21. For a complete list of guidelines, see our Rules page.