Images of the Year 2006: Wedding/Portrait
Ted Sabarese from New York City is the wedding/portrait winner.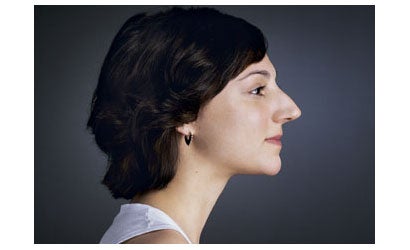 Ted Sabarese
New York City
After seeing this series of portraits by New York-based photographer Ted Sabarese, our judges asked the most obvious question: "I wonder what his nose looks like?" Upon telling Sabarese that he'd won our wedding/portrait category, we put the question to him.
"Oh, I've got a big Italian schnoz," he replied. "I guess you could tell that was my inspiration."
Sabarese, 36, has been shooting professionally for the past three years, focusing mostly on commercial work for clients like Microsoft, Domino's pizza, and (naturally) Kleenex tissues. (See more of his work at tedsabarese.com.) He has also begun to do editorial work for several magazines and is working on a personal project about Armenian-Americans who survived the Armenian Holocaust of 1915-1917.
Unlike many pros, Sabarese never apprenticed as an assistant for another photographer. Growing up in New Jersey, he began borrowing his father's camera, later taking photography classes at The New School in New York City. He spent several years working as a copywriter at a New York ad agency. "I was shooting for clients on the side, and I finally decided to just take the plunge and do photography full time," he says.
As for his series on prominent proboscises, another personal project, Sabarese says the secret was "all in the casting." He spent a month walking the streets of New York looking for the right profiles, as well as searching through the files of modeling agencies. "I was interested in showing people you might not ordinarily see in photographs," he says. "What I love about portraiture is just working hard to try to get something interesting from a face." He shot the entire series with a Hasselblad 503CW over a two-day period in his own studio.