Images of the Year 2006: Photojournalism/Documentary
Ghada Khunji, a native of Bahrain now based in Brooklyn, is the grand prize winner in American Photo's Images of the Year competition.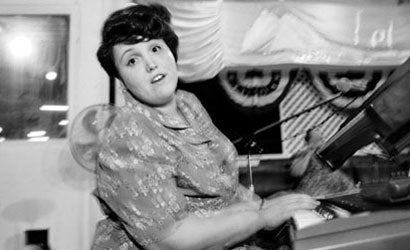 Ghada Khunji
Brooklyn, New York
Photographer Ghada Khunji shot these scenes of an evangelical church in Virginia as part of a large project to document out-of-the-ordinary places and people across the United States. "My inspiration is Diane Arbus," says Khunji, who studied photography at Parsons School of Design and the International Center of Photography. "I like to shoot things that are a little bit different."
Through a friend, Khunji heard about this church, based at the Calvary Pentecostal Campground in Ashland, Virginia. "The church's leader was Ruth Heflin [left], who claimed that she could heal the sick and also that gold dust was appearing on members of her congregation," Khunji recalls. Along with the group's dramatic worship rituals, Khunji was attracted to its broad ethnic makeup — "a nice mix of people" — and its openness to her work. She photographed at the church for two days in 1998, then put the negatives aside.
Several years later, Khunji decided to revisit the pictures and enter them in photo contests, including this one. She researched the church and learned that Heflin died in 2000 at age 60. "She had cancer and refused extensive treatment," Khunji says. "She was unable to cure herself."
A native of Bahrain, Khunji says the Pentecostal Church is far removed from her own background. "I'm Muslim, but I love things about all the religions," she says. "My pictures are not making fun of these people or anything — I find them fascinating."
Khunji, who worked as a darkroom printer "until digital came along," plans to keep traveling and shooting documentary photography. "I want to show people the world," she says, "or at least how it looks from my perspective."