Images of the Year 2006: Editorial
London-based Julia Fullerton-Batten is the winner in the editorial category.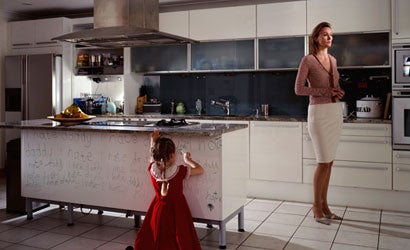 Julia Fullerton-Batten
London, England
As an assignment for the men's lifestyle magazine Best Life, Julia Fullerton-Batten was given the phrase "I hate daddy" and asked to come up with a striking image. What you see here is the result.
Fullerton-Batten, whose work has been exhibited at the photography festival in Arles, France, and in galleries in the U.K. and U.S., says she relishes editorial work like this for the creative freedom it affords. In the accompanying story, a mother who is disillusioned with her marriage brainwashes her children to dislike their father. "I developed the idea of a daughter portraying the end result of that brainwashing, scrawling the statement 'I hate daddy' on the kitchen furniture," Fullerton-Batten explains.
Our winning editorial image was shot with strobes and a Linhof Technikarden 4×5 camera with a 120mm lens set between f/32 and f/45. Fullerton-Batten says she is fond of playing with color, as she does here with the little girl's red dress, which "zings out," while the mother's muted tones throw her mental absence into relief by making her seem to recede physically into the background.