Images of the Year 2006: Advertising
Vincent Dixon takes the top prize for his Wonderbra campaign for Publicis.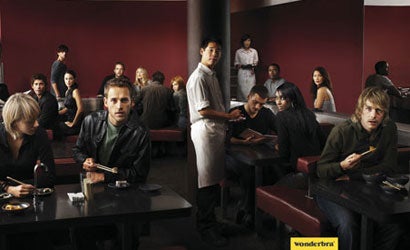 Vincent Dixon
New York City
Not many ad campaigns turn the viewer into a character, as this one does. Who could you be, to garner so much attention simply by walking into a hip restaurant? The meaning of the scene becomes clear when you learn who the client is: Wonderbra.
The 2006 campaign was conceived by the French Publicis agency and appeared throughout Europe. But the key to its success was masterful execution by photographer Vincent Dixon. He was born in Ireland, but has been based in New York for the past eight years, and holds a Ph.D. in molecular biology. For this image, says Dixon, the goal was to achieve "a Caravaggio-like illumination" in which each character is fully defined by light. To that end, Dixon lit each model's face with a separate Profoto strobe head. "The humor of the ad is brilliantly understated," says Dixon, "but the lighting certainly isn't."